They say the only way to create change is to `be the change' first. This soiree was unlike the others, as we know that no two sisters or recipes are the same. So, when BIJAN threw a red carpet welcome to The Stiletto Foodie Empower Experiences with guests from industry and society, even the rain gods decided to concede with approval.
"When I started writing my explorations of food in Malaysia for my International Lifestyle Influencer website www.etheldacosta.com as my spiritual journey of discovering myself, life and travel through food, little did I realise it was going to turn into a book!! The Stiletto Foodie – A Blog Binge in Malaysia endorsed by the Honourable Minister of Tourism, Arts & Culture, Malaysia, Dato Sri Hajah Nancy Shukri, goes global worldwide.
And then I woke up after completing the book, after long hours into the night writing and snacking on crackers and cheese, an idea struck me hard. I believe it is synchronicity. All things happen in alignment with the spirit. I was meeting fabulous culinary talent in Malaysia, big names and names with potential. And yet, all worked in somewhat isolation. As a guest now turned local, I felt a pattern arising from the vision I was myself building to align and connect two countries very dear to me – India and Malaysia. The Stiletto Foodie Empower Experiences was born on November 7th 2020. An auspicious number for me, since it is my Life Path number too. Since its launch, I have met fantastic local talent, lovely people who have become friends, as we share life, interests, passions, stories and connections with each other. Over FOOD ❤ My vision is to connect quality talent with quality connections in Malaysia. Thereby adding VALUE this way. My chef buddies in India are now also excited seeing the buzz of the soirees, wanting to come to Kuala Lumpur and contribute to the food, travel and tourism landscape with Indian food. The big picture is to learn, connect, share, support and grow together," Founder, Think Geek Media, and Author, Ethel Da Costa told The Stiletto Diaries.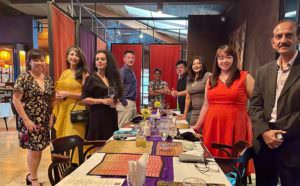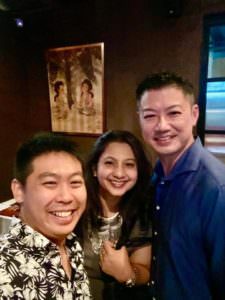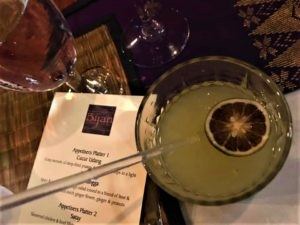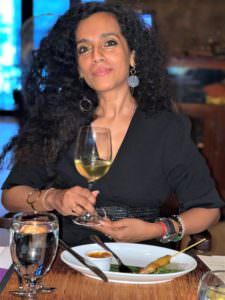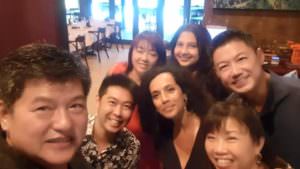 The generous and sumptuous five course meal curated by Chef Mohd Ghazali aka Chef Ujang of BIJAN for the December 5th soiree was exceptional, bringing a synergy of the modern to traditional Malaysian recipes, local produce, local ingredients, and sentiment shared over wine and new friendships. Selena Mak (Sales & Marketing Head) of BIJAN graciously welcomed the soiree guests over Appetiser Platters Cucur Udang (crisp morsels of deep fried prawns and vegetable strips in a light batter), Kerabu Mangga (spicy and sour young mango salad tossed in a blend of lime & chilli dressing with torch ginger flower, ginger and peanuts), and Satay (skewered chicken & beef fillets, marinated in spiced honey and grilled over charcoal fire). Setting off the soiree on a vibrant note, as guests mingled and networked forming a bond of jovial comraderies.
Introducing his passion work of supporting a community of underprivileged single parents and empowering women with his brand MMKGLO (started in 2010), CEO, Mohan K Nair, spoke passionately of his eco-friendly food paper packaging company inspired by the skill of sowing. "My father was a tailor. I would watch him cut and sow suits and become very influenced by this technique of cut and design," Mr Nair shared.  Turning these elements into creating ideal packaging products tailor made to suit personal customization, Mr Nair along with his Co-Founder, Ms Cecilia Mary Lee, grew the idea commercially and embraced a social objective of providing employment to and feeding as many marginalised single parents and disabled individuals with home-based jobs. "A way of creating more labour and therefore a source of their income," Mr Nair elaborated.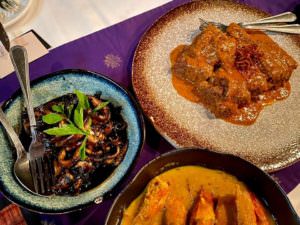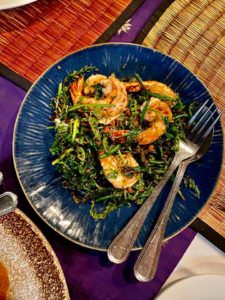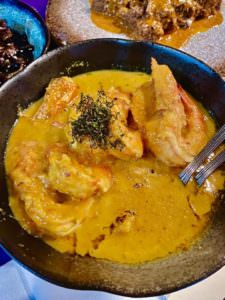 "The soiree gave me a great sharing platform with all the other business entrepreneurs. I am glad the atmosphere was so cool and calm in conducting the session of the discussion. Moreover, the food really was appealing and fantastic Malay food. I was very happy to  share my company MMKGLO's business operations on paper packaging, and our direction towards the empowerment of women and marginalised families. Lastly, but not least, Ethel's mission for Malaysia is a great one and very lovely.  Thank you of meeting up and I bless her for her journey ahead," shared Mr Nair emotionally.
Curtain raising the lunch with warm Laksam (prawn and fish rice parcel), over wine, Carol Ng, head distributor of AIRSteril and a foodie, shared her professional experiences in Malaysia, adding how COVID-19 had also inspired new opportunities for business innovations. Her product helps reduce virus inflections and removes odours and smoke from spaces where they are installed. A UK brand growing fast in popularity in office and industrial spaces, "AIRSteril is the only steriliser machine in the market that operates without a filter," Carol shared, as curious questions popped around the lunch table. It was a great experience to meet and chat with everyone coming from different industry sectors." Carol complimented.
For Selena Mak, "Good food is all the sweeter when shared gathering around the table bringing people together," she told The Stiletto Diaries as lunch progressed with Opor Rusuk (beef ribs cooked in a thick gravy of aromatic spices, toasted coconut, palm sugar and coconut milk), refreshing Masak Lemak Udang dengan Nenas (prawns and pineapple chunk cooked in highly spiced coconut milk), Ayam Goreng Berempah (spiced marinated fried chicken leg with onion and curry leaves), Sotong Hitam Manis (squid cooked with chilli paste, lemon grass and squid ink), Pucuk Paku Goreng Tahi Minyak (wild fern stir fried with chilli, caramalised coconut and shrimp) and Nasi Minyak (flagrant rice). Feast for the senses and taste buds, agreed foodie Kavitha Krishnabahawan and designer and fitness trainer, Shameena Abdurahiman.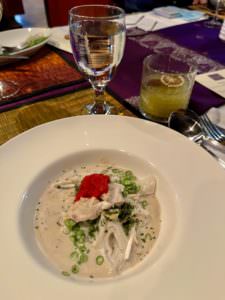 Excited over making new connections, the flamboyant duo of Tham Wai Hou and Mohm Hisyammudin (Syam to friends), ardent foodies, passionate divers and meat explorers at Just Sear, dived straight into their passion project. Which is searing great steaks (beef, duck, chicken, lamb) with their own choice of spices, condiments and pickles. `Defrost, pat dry and just sear' being their philosophy. Sounds like a great party waiting to break out. Tham summarised his experiences,  "We are about having your own steaks at your own convenience anytime anywhere. I believe the purpose is to bring value to end users. And the soiree for both of us was about creating value to business partners," he told The Stiletto Diaries, with Syam adding, "We want to make meat accessible to everyday Malaysians. May sound like your typical everyday meat supplier, but what we do differently is that we also engineer all our meats to make the cooking process so easy and exciting. We like to push boundaries on creating ideal meat experiences. So, if there's a party we want to be there searing steaks,"  Syam joked.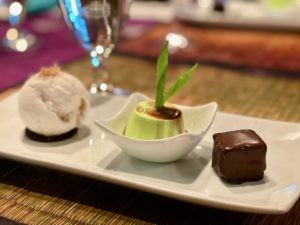 As the Dessert Platter made it to the tables, the mood had already spread across BIJAN with loud laughter echoing across the spaces. The Choc Durian Cake, Pandan Pudding and Ais Krim Kelapa coconut ice cream – signature BIJAN desserts -brought in the silence, admiring the visual display of the presentation. Fragrant, sweet, nostalgic and tasteful. Prompting ice cream entrepreneur Ch'ng Kiang Aun of OriPlus ice creams to showcase his fabulous fresh fruit popsicles, and the most delicious and creamy roasted white coffee ice cream to the guests. A home based manufacturer growing his business by word of mouth making original fruit flavour as his USP, Ch'ng grows his business as passionately as taking care of his child and family. His Musang King Durian ice cream has a fan following, he jovially informed The Stiletto Diaries, adding "The satisfaction of pulling strangers together and breaking ice was very commendable. I think we achieved more than expected, going by the free flow of conversation and participation. Good Synergy. I'm very happy," he smiled broadly as he shot videos of the afternoon taking his online audiences through FB LIVE posts of The Stiletto Foodie Empower Experiences.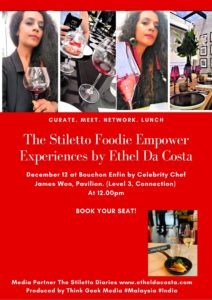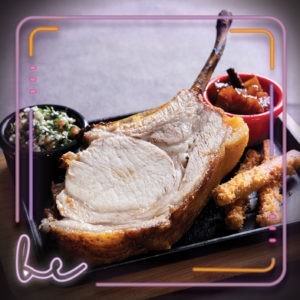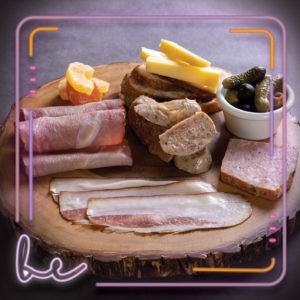 This Saturday, December 12th the soiree showcases Celebrity Chef James Won's newest French food with a Malaysian twist, Bouchon Enfin recently launched at Pavilion. Rave reviews are already setting in from foodies young and connoisseur, for his chic café style menu that gives locals a taste of the Chef Won trademark finesse.
We recommend you BOOK YOUR SEAT, make new friends and have a blast at the same time.
Time: 12.00pm. Dress Code: Very smart
Booking & Inquiries: Whatsapp +601161781642
Photographs: Shameena Abdurahiman, Tham Wai Hou, Kavitha Krishnabahawan, Bouchon Enfin