Like sudden thundershowers that break monotony and work appointments, Malaysia's weather is like an erratic lover who makes you walk on eggshells. Blow hot, blow cold. You just never know what discussion could trigger a thunder clap, and a sound and light show. Like a heated debate I had with my girls over Mr Big and Aidan – love interests of Carrie Bradshaw #SexAndTheCity – the writer from New York with a death wish for drama 😊 With neither parties coming to no conclusion over which `man type' was `my type,' I decided to dress up, set my curls, slip into my Charles & Keith heels and head out to the city, for an afternoon lunch with Selena Mak, Senior Sales & Marketing Manager of Bijan (3 Jalan Ceylon, Kuala Lumpur 50200, Malaysia). We had both juggled schedules to make this luncheon happen, and no man nor thunder was going to come between this date.
Nestled under a huge canopy of rain trees in between a winding road and a neighbouring construction site (Kuala Lumpur is full of them now), Bijan (pronounced bee-jahn. Meaning sesame in Malay) sat like a monk deep in meditation, and yet distracted with one eye open to the world. `All `monks' are writing books these days, aren't they? I stated to my Sri Lankan Grab driver, giving me a lowdown on Langkawi. `It's just so difficult to sell the Ferrari and embrace oblivion.' 😉 o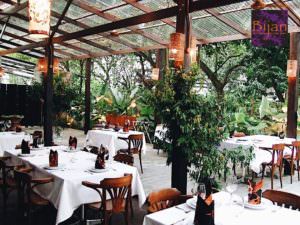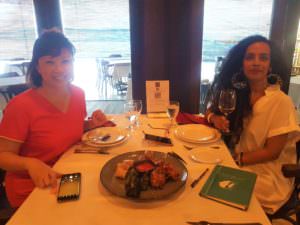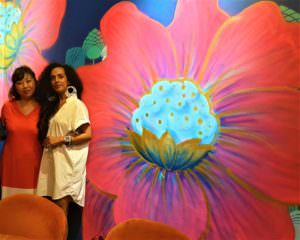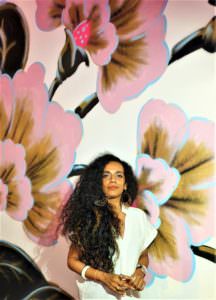 Selena greeted me with a graciousness befitting old Malaysian hospitality. Her eyes serene, the interiors of Bijan warm with shades of burnt orange traditional décor, a breath-taking dragon fly canvas on wall, red Chinese lanterns throwing warm light, old furniture and modern design in balance, large oil paintings by local artists capturing a synergy of Malaysian and Chinese story telling, artefacts of Feng Shui for good energy, beautiful celling to floor murals of exotic flowers by a Malaysian-Swedish artist, and soon we were seated at a table with sunlight streaming through the trees and into the large windows. Romantic I thought. My mind drifting to images of East Malaysia, which I have to see, or disappear into 😉 `I would love to come for long dinners, candlelight, cognac and love whisperings,' I said aloud, and blushed at an old memory.
Soon, glasses of South African white wine were clinked for good health, and prosperity, while Selena presented the menu she had curated to showcase to me –  The spirit of her land, a multi-cultural foreplay of her mixed heritage.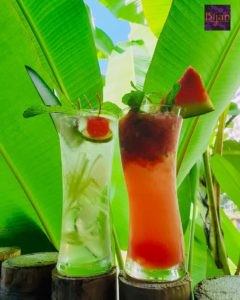 MALAY DINING EXPERIENCE FOR THE MODERN MALAYSIAN
Established in 2003, Bijan has pioneered refined Malay dining in Kuala Lumpur.  Not to be mistaken for "fine dining," Bijan pairs wines and marries traditional recipes with modern day ingredients to create a total dining experience for the modern Malaysian. By the reviews I heard, it had built a formidable reputation for itself over the years. "Our dishes are a mix of recipes handed down over generations, and innovations are added to produce forgotten favourites with delicious new flavours and textures," Selena told me between bites from a humungous platter of appetizers.
Located a mere stone's throw away from KLCC and Bukit Bintang, Bijan has won Best Malay Restaurant in 2004 just a year after it was opened. "We were voted "Best Malay Restaurant" by the general public in Timeout KL Food Awards consecutively from 2009 till 2013. We were also shortlisted as the Top 5 restaurants in the "Best Independent Restaurants" category by T Dining Food Awards under Malaysian Tatler Best Restaurants Guide, The Lonely Planet Guide to Malaysia, and The Miele Guide's Top 500 Restaurants in Asia Pacific," Selena shared proudly.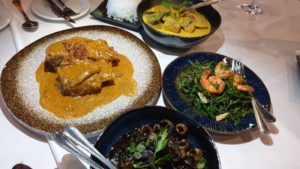 The menu for our day were Bijan's signature dishes showcasing the modern with the traditional. "It is about using techniques and ingredients that are not necessarily associated with Malay food. Dishes like the rusuk panggang and rendang itik represent this philosophy. The flavours are old and familiar, and yet they are new and exciting. No matter the technique, the flavours are always unmistakably Malay," explained Selena. As the flavours drew me in deeply narrating a storyline of deep forests, ingredients that tasted like the earth upon which they grew from, an old feline, raw sensation grew from the pit of my stomach spreading across my muscles. When the Opor Rusuk (beef ribs) and Masak Lemak Ikan Kurau dgn Pisang Kapas (Fish) were presented, I had given up control and dived deep into its flavours and textures. This garden of Eden opening herself to me seductively, with all of her vitality, strength, and goodness of soul. Like Alice in Wonderland, falling deep into the rabbit hole, taking my senses along with me at each bite. The beef peeling off the bones cooked for over eight hours, each tendril delicate and succulent, simply falling apart to my touch. Hints of cinnamon and peanut dancing at the back of my throat. Eat it warm.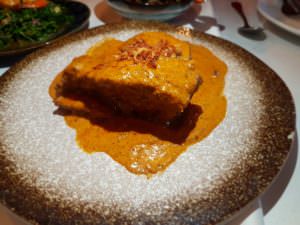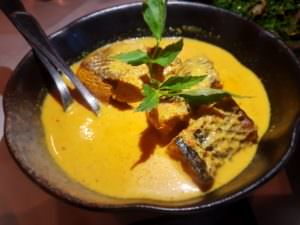 The coconut in the Masak Lemak Ikan Kurau dgn Pisang Kapas (Fish) in synchronicity with the tangy notes of lemon and turmeric, infused within the marinated fish and curry cooked on slow fires. It seemed even the fish might have enjoyed giving up its ghost in submission to this melody. White rice bowls that seemed never enough to do justice to this mix and match of textures and flavours.
The Sotong Hitam Manis (Squids) in black ink with enough elasticity and salt in its soft white flesh, bitter and dark mixed up generously with Pucuk Paku Goreng Tahi Minyak (wild fern) vegetable. Fresh local vegetables sourced from local markets or vendors from Sarawak. Vibrancy and vitality to its crunch. Between refills of wine, silence, and chatter we had drawn dibs that dating a chef would be a better idea, than just mere mortals who couldn't fry an omelette 😊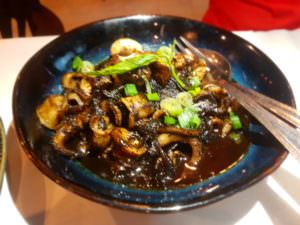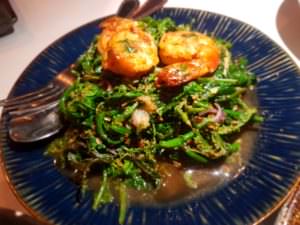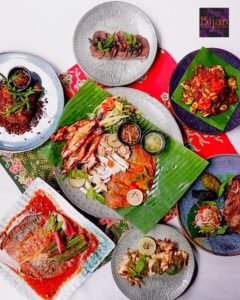 A GARDEN OF FLAVOURS FOR YOUR SENSES
Spaced out with an indoor dining, outdoor al fresco, gorgeously decorated private rooms set against low down chandeliers and live size wall murals of vibrant flowers and foliage, and a spanking lounge style tapas bar with easy seating and a generously well stocked open bar, Bijan normally hosts around 200 guests at a given go. "Though now reduced to 100 keeping SOPs in mind," Selena mentioned. Chef Mohd Ghazali (fondly known as Chef Ujang) and his culinary team regularly update the menu, keeping in mind a hands-on approach to taste and constantly updating flavours to meet the multi-cultural diversity of their diners.
Having said that, Bijan does take creative license when it comes to Desserts. Bijan's owner, Lissa Yeoh has been responsible for all of the restaurant's signature desserts – the Pandan Pudding, Durian Cheesecake, homemade ice cream in local flavours and the Chocolate Durian Cake to name a few. Selena decided to keep it traditional with the Sago Gula Melaka, Coconut Creme Caramel and the Gula Melaka Cake (flavours drawn from Melaka). I admit I've never been a fan of desserts in a previous life, until I came to Malaysia and turned.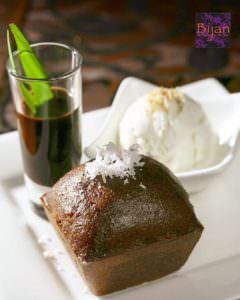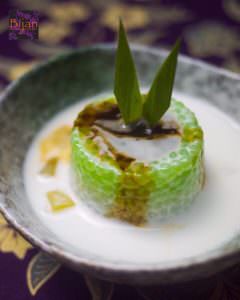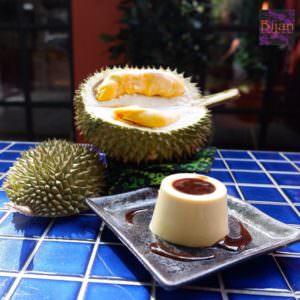 Inherently traditional, each flavour distinct and capturing attention, I indulged in them knowing that pain always follows pleasure and that there is always a price to pay for the choices we make. I must say that the slightly smoky caramel richness of Gula Melaka went well with the caramelised palm sugar sauce and coconut ice cream that should be eaten in one spoonful. This explosion of flavours, combined with the opposites of a warm sponge cake and cold coconut ice cream with palm sugar, is a trip to be enjoyed at absolute leisure. That I finally finished my lunch at almost 5.00pm (a good 5 hours) says all that needs to be spoken for — how a Malaysian lives his life — for the love of food. And now it has become mine!
Opening Hours : Monday to Sunday from 11.00am to 11.00pm
Reservation at :03 2031 3575       
Website: www.bijanrestaurant.com
Photographs: Bijan, Selena Mak, Ethel Da Costa
For restaurant/food/product reviews, content and brand collaborations, hospitality staycations/interviews, connect etheldacosta@gmail.com