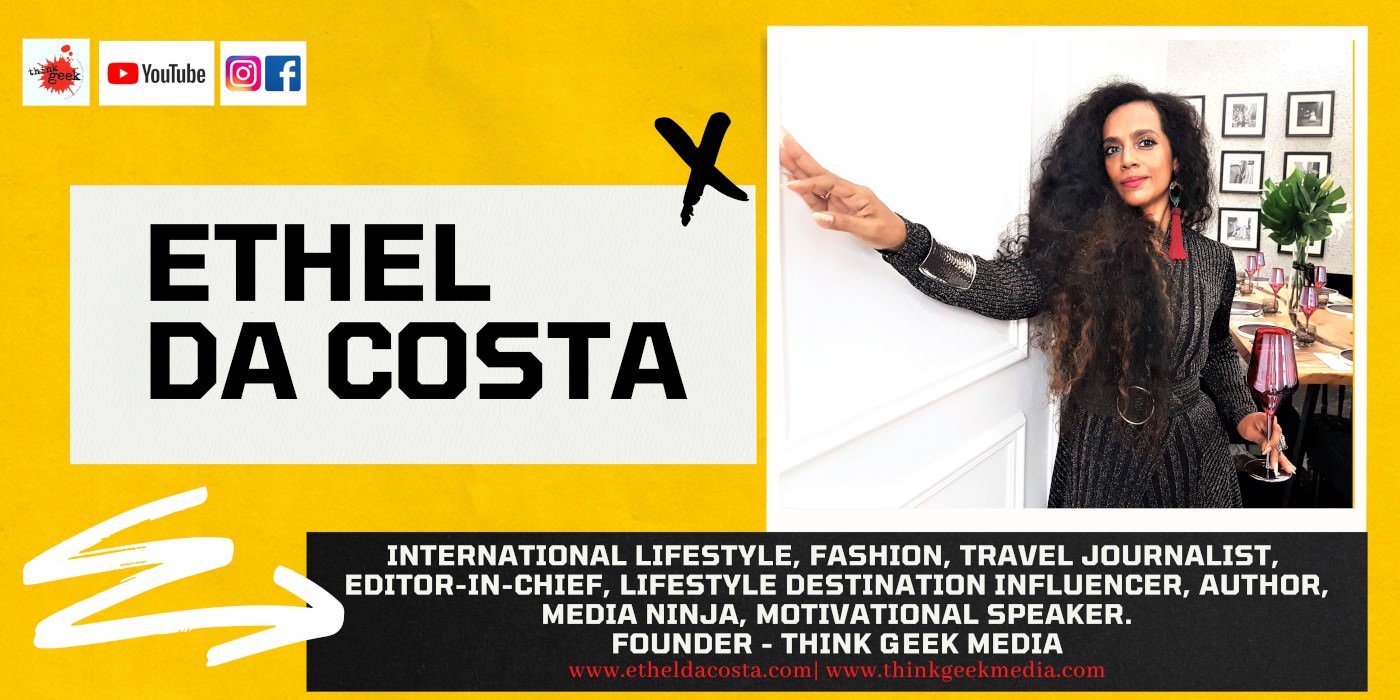 Editor-In-Chief  – www.etheldacosta.com
Award Winning International Lifestyle Journalist-Destination Influencer; Fashion, Travel,  F & B, Hospitality Consultant; Author, Women's Empowerment Speaker, Media Entrepreneur; Branding, Marketing, Content, Concepts, Communications Expert; Radio Professional.
Founder-Managing Director, Think Geek Media, India, Malaysia  www.thinkgeekmedia.com
An Award winning Fashion & Lifestyle Journalist, International Lifestyle Influencer and successful Media Entrepreneur, Ethel Da Costa is a passionate, feisty, purpose driven, content, communications, Media & PR maverick.
Ahead-of-her-time `Forward Thinking Media Entrepreneur' with a successful, multi-faceted media career spanning over 30 years, Ethel writes her own creative narrative, a story only she can tell with passion, purpose, conviction and social influence. 
An active Star Blogger with Independent Fashion Bloggers (USA), Indiblogger.in  (India), Women's Web (India), she was instrumental in driving digital visibility and lead Fashion Content for India's premier Fashion Design Council of India (FDCI) Fashion Week with Weber Shandwick (India), spearheading Media & PR for Mysore Fashion Week, India Beach Fashion Week. Invited Guest Fashion Journalist for Lakme Fashion Week (India), Kuala Lumpur Fashion Week (2022), New York Couture Fashion Week, Malaysia (2023), besides attending fashion events and launches in India, Dubai and Bangkok. 

Ethel works in close collaboration as a LIFESTYLE TRAVEL INFLUENCER with MALAYSIA TOURISM since November 2019, promoting travel products and destinations available for international travellers in Malaysia.
As an EXTERNAL JURY MEMBER for India's government owned apex fashion institute – NATIONAL INSTITUTE OF FASHION TECHNOLOGY (NIFT) India since 2017, Ethel adds a holistic global perspective to fashion and its approach to the Indian market. 
Invited as a HONORARY MEMBER of THE INTERNATIONAL WEDDING PLANNERS AND TRAVEL AGENTS ASSOCIATION, IPWA INT, ITALY,  2021
LinkedIn Profile : https://www.linkedin.com/in/etheldacosta/
Facebook Profile: https://www.facebook.com/dacosta 
Facebook Brand Page: https://www.facebook.com/dacostaethel/ 
Born and raised in the Middle East, Kuwait, and based in Mumbai-Goa, India and Malaysia, Ethel Da Costa holds a Post-Graduate Masters Degree in Economics from the Goa University, India, with a celebrated media career which includes The Times of India (Editor-Goa Plus), Femina (Features Editor), Tarun Bharat Publications (Editor-Groove), OHerald (Reporter, Magazine Editor), Radio Mirchi 98.3FM (Programming Head & Station Director, Goa), International Film Festival of India (IFFI) (Head of Media & Publicity), Govt of Goa among few. She continues to freelance for publications in India and abroad.
Ethel Da Costa is Founder & CEO of the award-winning Media, PR, Fashion & Lifestyle Content and Communications media company, Think Geek Media, and works across India (Goa-Mumbai-Delhi), UAE, Malaysia, creating Media stories, managing Clients, PR events, Launches and Celebrity management across verticals of fashion and lifestyle. 
A Published Author of `Eve's Revenge: Stories of Nemesis,' (2008), The Stiletto Foodie – A Blog Binge in Malaysia (2021), her third book Eve's Light: Stories of Passion is in progress for a 2021 launch. 
A `can do' creator, innovator, disruptor, rule breaker, path finder, Ethel loves shoes, food, fashion, travel, music, and is a hard-driving Geek on the field, a multi-tasker who believes in and passionately drives her CREATIVE LEADERSHIP that CONTENT IS HER KING.
Awarded the Global Indian Award 2020-21 by The Indian Achievers Club, IAC, Mumbai, 2021
Awarded the 99 Indian Women Achievers Award 2021 by The Indian Achievers Club, IAC, Mumbai, 2021
Nominated for TIMES SHE UnLTD Entrepreneur Awards 2020 in the category of Travel & Experience #TheTravellingPinkCrocs, Mumbai, 2020
Nominated for Women in Corporate Awards (WICA) by Women's Web, Bangalore, 2019
Goa State Best Brands Women Achiever Award 2018 for excellence in Media, PR, Lifestyle by World CSR Day and CMO Asia, Goa, 2018
Goa Chamber of Commerce & Industry, Women's Wing in Recognition for Valuable Contribution toward Women Empowerment in Media, 2018.
The Goa State Brand Leadership Award 2017-Women Achiever Award 2017 by Devang Mehta Business School and World CSR Day, Mumbai, 2017 
Nominated for #FundYourOwnWorth Advantage Woman 2017 nationwide campaign by ICICI Bank, 2017
Woman of the Decade Achievers Award 2015 by the Women Economic Forum 2015, New Delhi. Media Icon distinction for Up-scaling Media & Entertainment through eclectic creative connections' 2015
Jaycee Creed Award 2013 (JCI Goa) for `Media Exceptional Contribution to Society' 2013.
The Pillar of Hindustani Society Award, 2010-11 by Trans-Asian Chamber of Commerce & Industry (TACCI) Mumbai, for `Dedicated contribution in the field of Media, Radio, Entertainment' 2010-11.
Top 4 Finalist `Flame Thrower' 2008 Non-Revenue, Radio Mirchi 98.3FM Goa, 2008.