What do they say about your vibe attracting your tribe? Exactly what happened at FLOUR, as 14 strangers met under the gorgeous roof of the Sun Room on November 28th participating at the 3rd edition of the very successful soiree series `The Stiletto Foodie Empower Experiences' curated by International Lifestyle Influencer, Ethel Da Costa. A Doctor, engineer, artist, interior designer, former corporate honcho, seasoned chefs, home grown entrepreneurs, they were all there, drawn to food and making new connections.
Creating a menu to appeal to a cross-section global palate, Chef Yogi presented his culinary selections with a finesse and flair only he can master effortlessly. The 4 course menu comprising of the Sago Patty (Starter), Mango Chicken, The Mushroom, Lamb Chop & Mints (Entrée), Chicken Tomato, Cottage Cheese & Coriander, Baby Eggplant & Ajwain, Chicken Biryani (Mains), an assortment of Breads (naan and roti), Suji Halwa (Dessert), and generous cups of Masala Tea had many encores.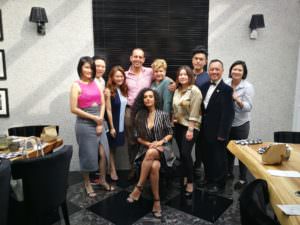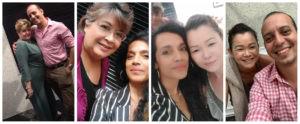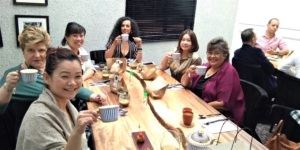 As guests met each other and networked over delicious Mango Lassi and high decibel animated conversation, Ethel Da Costa introduced the gathering to the concept of the soirees, and showcased an NGO in Malaysia `Pertubuhan Komuniti ELITE (www.elitekomuniti.org) that works with single mothers and marginalised communities of rural Malaysia. A cause very dear to her own heart, Ethel introduced Alice Teoh, Founder of the charity organisation, detailing the work done by this NGO in upskilling single moms so that they learn a skill and contribute economically to their families. "Instead of giving them fish, we teach them how to fish," Alice informed the gathering.
Rising to the challenge of Covid 19, these single moms stitch fashionable looking fabric face masks made from European Swiss Cotton with 3 layers of protection (priced between RM 33-19, sizes and designs available as per gender and size). Guests at the soiree were later seen happily buying the masks as per style and colour to show their support to the NGO's cause. "Our soirees will soon showcase multi-cultural talent. It's a great way to give talented citizens a platform and take their work to the outside world," Ethel told The Stiletto Diaries. "When one is surrounded by people who see the good in each other, the goodness in us is ignited, and we will never be the same again," Alice Teoh remarked. "Delicious food, beautiful ambiance, great company, interesting conversations and inspiring individuals! A therapeutic afternoon for me," she beamed.
Dressed stylishly and a jovial foodie by his own account, Tong Mun Yee, an entrepreneur who provides stock exchange listing advisory services through his customised culture building programs, made sure that he had met each and every guest at the Saturday soiree. His goal, he told The Stiletto Diaries, "is to mentor business owners to inspire possibilities. I am also passionate about sharing referral marketing strategies to the business communities," he shared. Complimenting the menu and the experience of his interactions, Tong Mun declared happily, "The Stiletto Foodie provides unique ingredients to creating connections; great food, fantastic ambience and a varied crowd! I'm looking forward to more."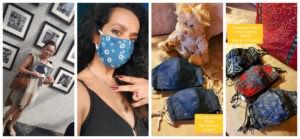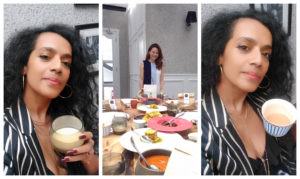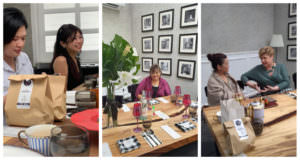 Dr Victor Ong, a seasoned physician and budding aesthetic practitioner trained by one of the finest pioneers in Malaysia – Dr Hew Yin Keat, is also an ardent foodie.  "I strive to empower lives through beauty. I treasure keeping everyone looking natural, authentic and confident through safe, non invasive, sustainable means. Quality and service above all; so that I make sure everybody can feel 100% themselves, 100% of the time," he stated. "The Stiletto Foodie Empower Experiences soiree inspires me, delightfully, to be more engaging, more joyful, more hopeful, the Malaysian way: Over a fine meal and great company," he laughed, raving about the menu and making new friends over lunch.
Grand lady of the day, who also celebrated her 60th birthday at the event, Joan Stevenson was all smiles and all praises for the opportunity and the experience. "Thank you Ethel for hosting a very memorable luncheon at FLOUR. An event that will always remain special to me," she told The Stiletto Diaries. "I am glad I accepted my friend Alice's invitation, though hesitant at first because the 28th of Nov happened to be my birthdate, and I thought Alice was going to spring a surprise, as she is known to do. Not one for fussing about birthdays, I must admit, I was so happy to be in the company of new and interesting friends. The reception as each of us arrived was so warm and friendly, like old friends meeting at a reunion. The conversations flowed so smoothly, with lots of laughter, as we got to know each other.  We exchanged some of our experiences, opinions, and got to know a little of our professional backgrounds in just a few hours. This was all in the comfort of the room readied for us so elegantly with attention to every detail. My compliments to FLOUR's staff for their polite and attentive service. The food, or I should say, feast prepared, was luxurious. Kudos to Chef Yogesh. Every course served complimented the passion the Chef had in creating each dish, so rich in flavours. Thank you Chef Yogesh."
"Though our group was small, yet thanks to Ethel our lovely, vibrant host, we had a few hours of enjoyment, enriched with very good food and meaningful conversations. Thank you Ethel and Alice for making the 28th a special memory for me," Ms Stevenson gushed.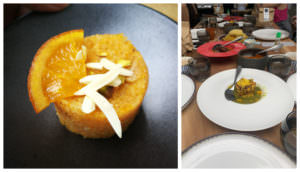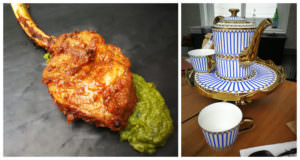 Federica A. Pellegatti, an Italian entrepreneur, business woman who has been living in Kuala Lumpur since 2009, attended the soiree as she admitted "out of curiosity." She is also the Founder and CEO of Palme De Or Technologies Sdn Bhd (www.palmedeor.asia). "Nothing in life happens by chance. The decision to attend The Stiletto Foodie Empower event on 28th of November was my best decision! Tell Ethel and she finds a solution. She has the ability to mix "the citizens of the world" in front of the most important thing in the world, food! A special thanks to the FLOUR restaurant, for the exceptional welcome and to Chef Yogesh Upadhyay's passion and history of Modern Indian Cuisine," Federica complimented.
Debbie Teong, Music Composer and Producer, Founder of Gentonos Music Production, and an expert in creating jingles, commercial songs, theme songs and soundtracks for films and games, also took the hot seat to the soiree. "Nice ambience, good food and great company with different entrepreneurs from all walks to life for a moment of sharing and inspiration. Thanks to the host, Ethel, for organizing such a memorable event. It was so much fun throughout the session. Thanks for organizing such a wonderful event for us. I appreciate it," Debbie shared.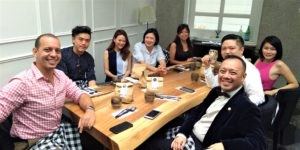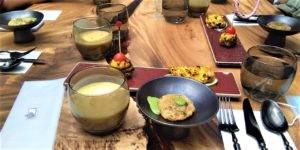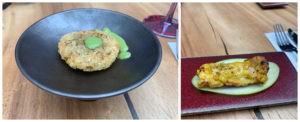 Another culinary talent making quiet waves in the city is Fei Wong. Having worked in a 5 Rosette award winning French restaurant in Canada called Toque (equivalent to 3 Michelin star restaurant), Fei arguably is the only female Malaysian that made it to 3 Michelin star Le Cordon Bleu Ottawa culinary school in Ottawa from 2008-2009. She then worked at Toque in Montreal, Quebec, from 2009- 2012 (as the Chef de Partie), and then later at Breeze at Cape Yamu 20012-2014 (as Sous Chef then Chef).
Smart and dashing, Aaron Kwan from AK47 Social Media Agency (a 10 year old agency known for creating compelling and revolutionary social media campaigns for affluent clients across industries), was also seen enjoying his meal and networking, along with foodie and entrepreneurs, Cheryl Law and Selena Mak. 
A former branding and marketing consultant, now a self taught Chef, Ivy Goh Mortensen of SMUK Catering joined in the soiree bringing each guest a goody bag of her excellent sourdough bread and dips. Taking a "leap of faith to listen to her inner calling," Ivy serves elegant Danish cuisine and is a master in bread making – Artisan Sourdough to be exact. A multi-talented dynamic individual with a deep understanding of consumer behaviour, it won't be long before she gets discovered.
Enjoying herself to the fullest, Ivy shared happily between sips of masala tea, "The Stiletto Foodie Empower Experiences soiree was a lovely afternoon, surrounded by uniquely amazing people, each a leader in their own industry. Our conversations flowed naturally as we are served fine food. Not your usual networking event, Ethel's warm hospitality turns her sessions into an intimate, powerful and pleasant afternoons," Ivy told The Stiletto Diaries.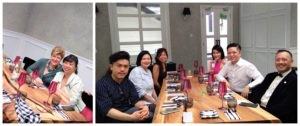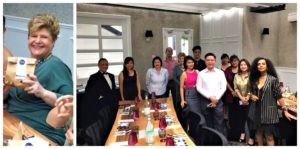 Co-founder of Pivot Studio, a Malaysian designer creating multi-faceted, experiential commercial and residential environments. As a designer, Sue Ann Hor believes in honouring history, location and architecture. "It is imperative to pushing the boundaries and challenging the rules. I like to describe my own design style as contemporary sophistication and eclectic, with a nod to the past and a wink at the future," Sue explained. Her landmark work can be see in the interior design of Concubine Bar on Petaling Street. "We rise by lifting others," she said of the soiree.
The life of the party as he mingled with guests sharing anecdotes of life and poetry, Aziz Gattoufi, a Tunisian artist living in Malaysia, believes that he is constantly inspired by his friends, family and nature. "I have dedicated my life to Art (painting) Photography (BW), Teaching (Art) and Poetry (new born baby)!" he confided. "The lunch was well organised and people felt at ease to talk to each other. The selection of people, food and the restaurant was just perfect. I would describe it as a delightful Saturday afternoon!" Aziz concluded on a happy note.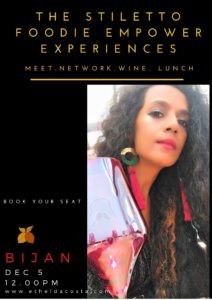 JOIN US ON DECEMBER 5TH as The Stiletto Foodie Empower Experiences curates a culinary journey of Malay cuisine at Malaysia's award winning restaurant – BIJAN.
Connect on whatsapp at +601161781642 to BOOK YOUR SEAT.
Photographs: Dr Victor, Sue Ann, Ethel Da Costa