There was a slight nip in the air. I had just wrapped a red-orange Zara scarf around my neck, and planted square dark sunglasses to shield the bright sunlight that had just burst open from the late morning clouds. Slipping into my gold kitten heels, a lame gold brunch dress flowing with the day breeze, it was going to be a long drive to Champignons by Gary Chang (B-G-02, Oasis Square, Ara Damansara, 47301 Petaling Jaya, Selangor).
Requesting the Grab driver to turn up the volume to the radio, my favourite tune `Sally Tomato' (Breakfast at Tiffany's, by Henry Mancini) floating into the cool spaces of the Silver Sedan, we sped down the highway, my thoughts racing with it. Chef Gary Chang had launched his `White Diamonds of Alba,' and I was  invited to sit at his table tasting his Fresh White Alba Truffle Menu.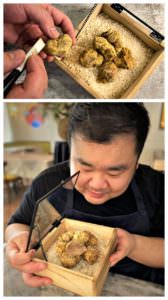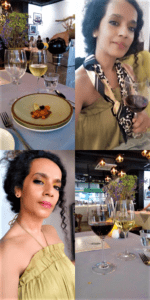 `She who leaves a trail of glitter, is never forgotten.'
Exquisitely crafted with minute attention to detail (having seen the menu a day before), I was excited to experience the femininity of his art, and the gracefulness of the ingredients he had bonded together, to create this piece of music. It was ringing faint slow bells in my head. Like a snow sledge driven across a white mountain curve, the slight whoosh of the wind caught in the tails of the huskies flying across white terrain. Puff of breath like bubbles in the cold air. Was it the music that had evoked these emotions, I thought? As the rubber and the running trees of my drive took me closer and nearer to the destination I wanted to be at, my senses excited, I was looking forward to meet Chef Gary Chang.
A Malaysian-born chef, a passionate and determined man on his culinary career to make a difference with his voice, Chef Chang decided to become a chef when he was 15 years old. And stayed steadfast to his dream.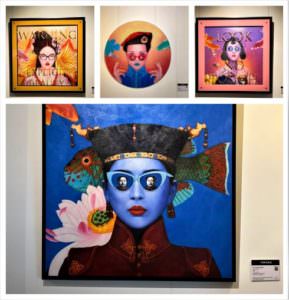 Starting his culinary training in Switzerland, his first job was in London. Excelling at his skill by joining the renowned The Roux Scholarship Competition in the UK, Chang achieved the distinction of being in the best 6 finalists list in the competition. With strong knowledge gained from his travels in Europe, Chang moved forward to expand and strengthen his expertise in Dubai. There he learned the very essence in Arabic cuisine, adding his significant influence to the creation of his dishes.
From Dubai, Chef Chang moved to Macau, exploring the fusion of Chinese and Portuguese cuisine. In Macau, he joined the Mandarin Oriental Hotel, rising up to become an Executive Sous Chef. The journey in Macau not only advanced his skill and knowledge, but took him to another stage of his career.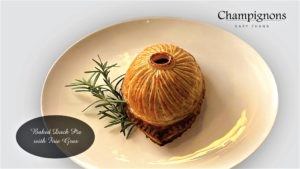 After a long journey overseas, Chef Chang finally decided to come back home and settle in Malaysia, starting his own French European restaurant, Champignons (after the famed mushrooms in France). Accolades followed quickly at the Malaysia International Gastronomy Festival 2018 where he won 11 prestigious awards as recognition for his hard work and creativity.
Leading his fellow young chefs to participate at the Culinaire Malaysia 2019 and Selangor International Food Festival 2019, awards and medals followed swiftly leading him to expand with two news outlets – – Taste by Champignons and The Champignons Cake Shop. Each displaying different culinary concepts as an expansion for his need to explore and experiment with new ideas.
"I'll pay for my own whiskey and don't you forget it!"
Classy, chic, delicate and nouveau, Champignons is to Chef Chang an extension of his very personality. Chinese Pop Art by Gung Ho on white walls, tall vases of flowers, modern furniture and kitten corners for the ladies. Graciously settling me into a cosy settee, wine ready, and the culinary orchestra prepped for the occasion, we flowed seamlessly into main stage.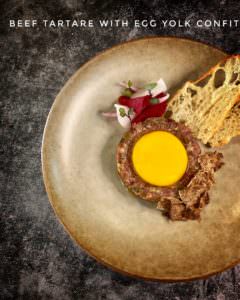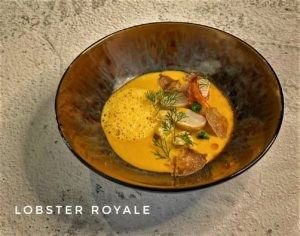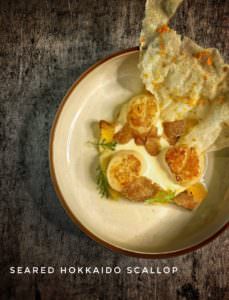 Beginning with the Amuse Bouche (Salmon Trout Escabeche with homemade bread) making the long journey to this slice of sunlight every minute worth it. Remember I mentioned earlier `femininity' was to be my companion at the table, as the Beef Tartare with Egg Yolk Confit (Starters with chips, root vegetable pickles and white truffle) danced little twirls on my tongue. A merry reminder of the delicate weaving of flavours that had brought this traditional French dish alive. The portion just precise to tease, and yet fully alert on duty to demonstrate the skills on display. Followed closely by the Lobster Royale (White truffle, Cauliflower and Lobster bisque). Like a spring in flow yet arrested in motion, presentation on point, each nuance of two varied flavours – one of the sea, the other of the earth forging a synchronised dialogue. As the Seared Hokkaido Scallop (White truffle, parsnip puree, orange oil and champagne emulsion) presented an interlude, wine flowing, conversation deeply personal, a poem in Rumi began to write itself in my head – `Come inside of the heart's house, there is peace and solace there."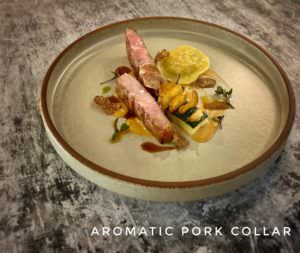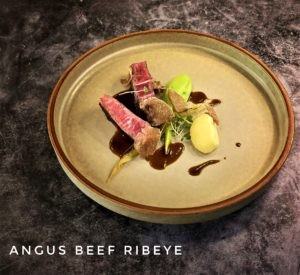 Chef Chang is a man who opens up to the energy of happiness. As he shared his memories of travels and discoveries of Self, the Aromatic Pork Collar (Main Course – King Prawn and pork ravioli, zucchini and prawn head jus) hit the emotive melody to a sharp bridge note. I had dived deeply into the deep end, and let my emotions take over the song that was writing itself spontaneously. Pause, hit a note. Pause again. The Seared Nordic Halibut (Vichy carrot, spinach gnocchi, pine nuts and white wine sauce) and Chargrilled Angus Beef Ribeye (Buttered potato puree, leeks and oxtail jus) highlighted just how experience, skill, passion and art had got Chef Chang to this very point of self expression. Around the tables, happy conversations were in full flow. A sign of success, sterling reputation and confidence in the talent of the house.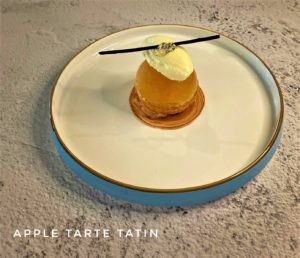 As the Dessert Apple Tarte Tatin (Puff pastry and vanilla ice cream), and Sepang Red Dragon Fruit (Calamansi Sorbet) came to join this ballet of my emotions now on full curtain bow, tiny tears stinging my eyes, I realised why Chef Chang had wanted to be a chef all his life. The man is a sensitive artist. With hands that match the softness of his heart. Deeply at peace with his calling, assured of his vision and his own expectations and that of his clients. "I'm happy doing what I'm called to do," Chef Chang shared in confidence. "And hoping that my contribution to cuisine and Malaysia makes a difference to her greatness, the voice of her people, and also educates global diners that we are much more than just street food," shared Chef Chang, his voice soft yet firm.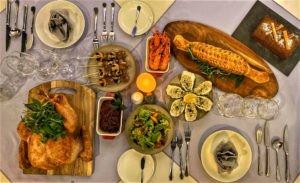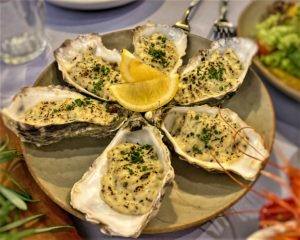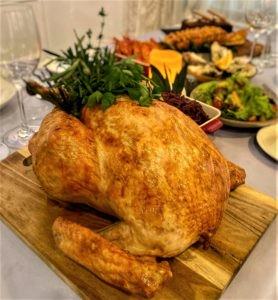 Of course, the Christmas and New Year menu of Slow Roasted Whole Turkey with Apricot Stuffing, Truffled Pork Wellington with Foie Gras, Roasted Rack of Lamb with Arabic Spice or Smoked Angus Beef Tomahawk, is just what the celebratory occasion is all about. You would do good to check in your reservations in advance, or, be sorry at leisure. The A la Carte menu is full of creative gems to choose from as well, including set menus for lunch and dinners.
For sure, it was a late evening when I finally sauntered into my reality, the light rain reminding me that hours had slipped away. Big happy smiles on our faces, acknowledging that a spontaneous connection of souls who understand poetry, and the madness that grips poets in creation, had happened over lunch. A beautiful day indeed. Au revoir Chef Chang.
Open: Monday to Sunday (11.30am-3.00pm/6.00pm-10.30pm)
Reservations: 03-7832 2629
Facebook : https://www.facebook.com/ChampignonsOasis
Instagram : https://www.instagram.com/champignonsatoasis/
For food reviews, promotions and content collaborations, staycations reviews, connect at etheldacosta@gmail.com/+601161781642