It was a much needed break that came after a grinding six months of work, and more work. The kind that reminds you of all the aches and pains that keep you awake at night. So, when Flory Gracias, General Manager, Projects, Karma Group India, invited I come and chase my blues away at Karma Royal Haathi Mahal, I gladly obliged. A weekend personalised with attention to detail, and curated to relax, excite and lull me into a state of well being. I was so looking forward to being pampered.
Karma Group is an award-winning international travel and lifestyle brand offering extraordinary experiences and exclusive curate entertainment in the world's most beautiful locations.  Created for five-star travellers who understand that reaching their destination is only the start of their journey, Ms Gracias' core team was manning this citadel in commando style full alert. Checking in visiting guests, and bidding farewell to departing friends with professional elan. We (my mom for some girl time) were greeted with happy warmth and quickly checked in. This sprawling property hosts 65 spacious hotel rooms with private balconies and 80 fully-equipped Members only apartments. I had my villa/apartment all ready and inviting. With 24 global locations including Bali, Thailand and India, elite European estates to exclusive retreats in Asia and Australia, a holistic and wholly extraordinary experience awaited me.
https://www.instagram.com/p/B4X7iHjDagl/
HEART THROUGH THE STOMACH: DRINKS
Beginning with a five course dinner curated just for us by Chef Kundan Jha, and General Manager, George Lobo. Of course, I had brought my appetite to the table, but first a pit stop at Attwoods Bar (the only sauve British pub in Goa named after the late Co-founder, Mark Attwoods) for a mighty session of liquid therapy was on the agenda. It takes hard work to impress me. Because I think character and personality, more than good looks, is everything. However, what I did not preempt was the dimpled grin and superb mixing talent of Karma's priced possession, the young and very effervescent mixologist, Joshua Mendes who floored me with his signature cocktails. Named after, no doubt, some saucy Goan belles from his village – sexy Succorine, and the shy, but deadly, debutante, Perpet, we had the evening rolling. My usual Single Malt sensibilities had thrown in the hat to this serious competition. As the evening progressed, we had all lost count of the suitors lined up for attention, and thrown ourselves head over heels into the arms of these delicious belles (now, now, we're talking cocktails here, fellas). Joshua Mendes is da man!!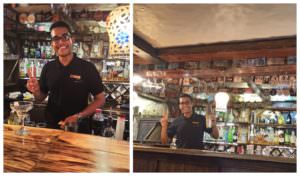 HEART THROUGH THE STOMACH: DINNER
The silent giant, Chef Kundan Jha on the other hand lets his food do all of his talking. A man of few words, he was eager that the 5 course dinner he had designed especially for this occasion, met all the approval ratings. It did, and more. The Beer Chocolate Cake delicate and sinfully delicious. Generous helpings must be shamelessly had. I did.
See more FB pics here: https://www.facebook.com/dacostaethel/posts/3210014049025409?__tn__=-R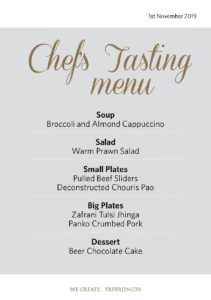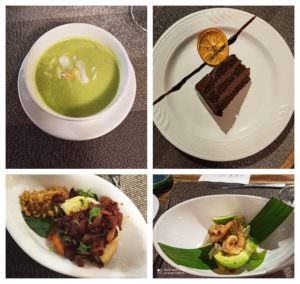 HEART TO HEART WITH LUXURY 
Karma Group is the inspiration of British-born John Spence, one of the world's most respected innovators and free-thinkers in the fields of travel, architecture and entertainment. "John's vision is to create a holistic, connected community of five-star destinations, linking like-minded individuals on every continent," shared Ms Gracias on a tour of the property.
Stylish and spacious deluxe suite rooms for solo or couple travellers, and superbly appointed air-conditioned Imperial luxury villas/apartments (1bhk/2bhk) with comforts of the home for families, fitted with state-of-the-art amenities, hand crafted teak wood furniture, home theatre, DVD player, wall mounted large LCD TV in the lounge and bedroom, full fledged kitchen with crockery, tableware, glass ware, an attached garden or terrace to laze or sunbath, outdoor jacuzzi for moonlit `me-time,' body and bath in-house spa facilities, and very tastefully done interiors, had me cushy and comfy. I lounged a little longer in bed, slept like a bear in hibernation and counted my blessings. Gratitude is a very powerful superpower. You must practise is every day.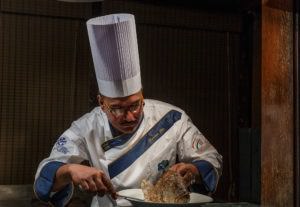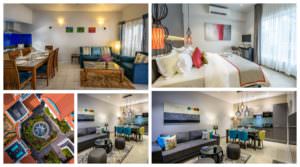 NO HOLIDAY IS COMPLETE WITHOUT A SPA APPOINTMENT
And that's exactly what I did. A Brazilian Coffee Body scrub was expertly performed by the staff at Karma Spa, as she relaxed me and discovered all the tension knots and pain points, pealing away old skin, setting blood circulation on active mode,  followed by a herb and oil massage that literally had me snoring. Something about facials and massages knocks me out completely. As she gently woke me up from deep slumber, I felt my skin as soft as a baby's paw. Note to Self: Need to do more of these, often. Very often 🙂
General Manager, George Lobo, who runs a good ship, aims to invite locals to experience day services (food, bar and spa) through the season. As more and more domestic travellers flock to Goa seeking sun, sand and nirvana, Karma Royal Haathi Mahal is poised with a excellent team who understand and deliver experiential holidays for the discerning and the frequently flying pleasure seeking individual. Oh yes, excellent fish-curry rice at Casa Lisboa (the restaurant). Do try.
Thank you Team Karma for giving us such a wonderful memory, and some mother-daughter bonding time.
Bookings and Inquiries: https://karmagroup.com/find-destination/karma-royal/royal-haathi-mahal/
Insta handle :https://www.instagram.com/karma.group/
Facebook at https://www.facebook.com/karmaroyalhaathimahal/
For media/blogs/review collaborations contact: etheldacosta@gmail.com