No words will do justice to Malaysia, if you don't experience the heart connect the country offers to seekers of the light. I mean, there are tourists, and then there are some different. I've travelled the world, but found happiness, vulnerability, and love in abundance in this sunny country with a big bit of cloud. Almost as if (and I believe) the Universe had stepped in to orchestrate an interlude of the soul. She had me caught off guard, with no defences except a resonance of emotion we danced together with. Malaysia wanted me to see Her. Bare, raw, passionate and compassionate. Or, perhaps, she had just mirrored by true self to me. And now I'm a changed woman forever.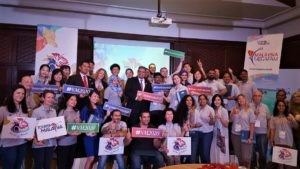 BUSINESS WITH PLEASURE
31 international media persons from India, Taiwan, Kazakhstan, Uzbekistan, UAE, Russia, France, Italy, USA, Australia, Canada, Turkey, Pakistan flew into Malaysia on invitation by Tourism Malaysia to participate at the `Reminiscence Cultural Heritage' #VisitMalaysia2020 campaign. Designed to give its guests a first-hand experience of the country's diverse culture, social, food, heritage, nature and history, Mr Iskandar Mirza Mohd Yusof, Senior Director, Corporate Communications Division, Tourism Malaysia and team threw us the red carpet welcome. Never in all of my 30 odd years of flying and plane hopping have I ever cleared immigration in 2 minutes!! I felt special, intuitively knowing that this was going to be different. Don't they say, listen to your gut? I do mine, all the time.
At the media interaction following our visit, Mr Iskandar shared that, "Visit Truly Asia Malaysia 2020 aims to target 30 million international tourists and raise RM 100 billion in revenue." The strategy was set. Bringing together the federal government, state government boards, the public and private sector, the population of Malaysia and strategic tech and aviation partners to empower this campaign with new tourism products,  Mr Iskandar said, "Malaysia hopes to earn her crown on the global travel map." The dedication and passion showed in the meticulous curation of our itinerary, was an indication of what was to come. Mr Iskandar also shared that their past focused vision, strategy and execution had recorded 25.8 million tourists in 2018 with revenue receipts amounting to RM 84.1 billion. "This fiscal year 2019 from January-June, Malaysia has been a hot travel favourite with a spike of 4.9% increase in tourist arrivals," he shared.  The country recorded an impressive 13.4 million tourists, as compared to 12.7 million same time last year. Thus generating a 6.8% spike in revenue with RM 41.69 billion so far. They must be doing something very right, I acknowledged. I was soon to see it for myself.
India, by the way, contributes significantly to this success story featuring in Malaysia's Top 10 tourist arrivals with 3,54,486 Indian travellers to Malaysia, as compared to 3,07,755 arrivals last year between January-June. A significant 15.2% increase, as more Indians get travel savvy, seeking family, shopping and leisure holiday destinations. Armed with robust stats, Tourism Malaysia also announced the FIM Endurance World Championship (EWC) and FIA World Touring Car Cup (WTCR) to be held in Malaysia in December 13-15, 2019, ending with the Malaysia Year End Sale (MYES) event across Christmas and New Year. Lessons, I believe, many countries, including India and Goa can and should learn from. My adventure was about to begin…
https://www.instagram.com/p/B4usjIzDjjj/
MALAYSIA IS TRULY ASIA
A beautiful cultural and ethnic blend of three main races, namely Malay, Chinese and Indian, and a significant expat community that has made Malaysia their home, my familiarization of Malaysia was astonishing. It did exactly what the famous Moroccan scholar and explorer Ibn Battuta said, "Travelling – it leaves you speechless, then turns you into a storyteller." My curated itinerary, that took me from Kuala Lumpur (KL), Ipoh (Perak), Selangor, was intended to introduce and acquaint (first timers like me) with the country's eclectic heritage, colonial history, natural beauty and culinary delights of the country. It left me spellbound, with a childlike happiness. A powerful energy and life force thriving in her land had certainly wrapped its fingers around me, the majestic limestone mountains tall and sharp as watch guards, elegant and age old trees bristling with strength and life, crisp clean air, the joie de vivre of her people, and the absolute gastronomy giant that is Malaysia's unbeatable food heritage. I was smiling so much, my face felt collagen pumped.
So, let me showcase to you, my dear readers, my soul turning `Must See,' `Must Do,' `Must Visit' recommendations, which is all that we could pack in 7 days. Of course yes,there's so much more to see, feel and experience, that I recommend atleast a 15/20 day stay for a deeper engagement with this fabulous country.
MUST SEE, MUST DO = MUST STAY IN MALAYSIA
Of course, the Petronas Twin Towers, Kuala Lumpur is unbeatable in awe, and enough neck stretch exercises 😊 All of steel and glass, according to the Council on Tall Buildings and Urban Habitat's official definition and ranking, they were the tallest buildings in the world from 1998 to 2004. 88 floors and 5 floors below ground, at 1,230 ft the towers touch the sky, and look surreal on a full moon night, or when viewed from the W Hotel terrace pool side or Hotel Impiana at night. Suria Mall KLCC located on the ground floor is one gigantic prescription for retail therapy, with a garden around the tower that is a favourite hang-out, and city views tower rides.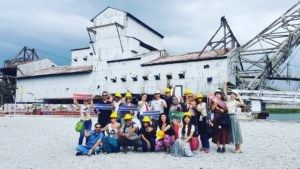 Tanjung Tualang Tin Dredge No 5 (also called TT5)
Lost World of Tambun, a theme park created in the bosoms of the limestone mountains of Ipoh, capital of the State of Perak, showcases – in an attempt to educate the younger generation – the old ways of Ipoh when Tin was mined, and tin mining a prosperous (but laborious) source of income for the local population. Sleepy Ipoh, it is said, shot to prosperity bringing British prospectors seeking glory and wealth. Thereby creating a lucrative industry, bringing in infrastructure and putting Ipoh on the global market instantly. A real life encounter of Tin mining operations can be had at Tanjung Tualang Tin Dredge No 5 (also called TT5), a floating tin dredge factory with giant iron bucket line dredges. A hands on tour explains the life of the then tin workers and mining operations in a bid to salvage the surviving dredge for posterity, and a reminder of Ipoh's rise to fame, and downfall, when tin prices dropped drastically internationally, and mining was abandoned.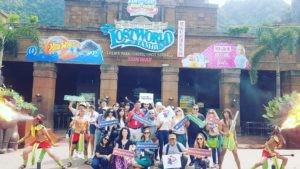 Ipoh Railway Station constructed by the British in 1935, who had settled in Ipoh to partake of the lucrative tin mining business, was designed by architect, Arthur Benison Hubback. This iconic white washed landmark is sweetly nicknamed the `Taj Mahal of Ipoh' with massive ceilings, round domes, Victorian architecture interestingly intertwined with Mughal/Moorish influences. Since the British were in occupation of India during the time, many design ideas were liberally borrowed from Mughal styles and transplanted in other British occupied territories. A beautiful garden memorial to Second World War POW commemorates the solemn landscape nestled against picturesque `Instagram-able' vistas. The British really went about celebrating their rise to wealth in Ipoh with lovely, majestic, grand buildings. Like a movie set in slow motion. Ipoh is hugely recommended for longer stays and explorations at leisure.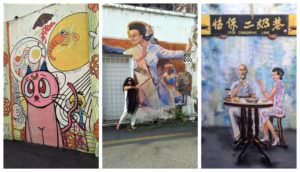 Concubine Lane, Han Chin Pet Soo museum at Ipoh are an art, heritage and culture enthusiasts `must do' checklist. As tin mining flourished in this charming town, so did vices, class discrimination and notoriety. A detailed walk-through of Han Chin Pet Soo Villa – a for men only Hakka Miners Club – is a story teller's delight of vintage furniture, artefacts, lifestyle memoirs and escapades with opium and dancing girls. And, of course, the close proximity of Concubine Lane, and you can connect the dots. Today, a bustling street market for food, drinks, and souvenir shopping preserves what was once an address for rich men seeking pleasures of the flesh. Close by meandering through pathways, the town's famous Mural Art Lane is beautiful and inspiring, turning old walls and building facades into fantastic art for the public. See it early mornings to avoid crowds. You can pick up free brochures and reading material from the Ipoh Tourist Information Centre on Jalan Bandar.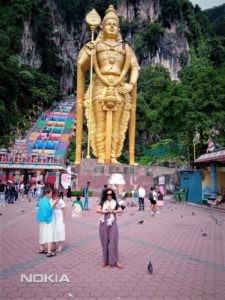 One of Malaysia's most prolific religious spots, the Batu Caves is a stunning and colourful head-turner. Dedicated to Lord Murugan – the God of War – a gigantic statue of Lord Murugan painted in gold stands tall and high towering over the landscape. Climbing steep 272 steps to the temple dedicated to Lord Murugan (you gotta watch out for the monkeys), I experienced a sense of deep peace and tranquillity of the spirit. 'Everything will come to pass.' `All that you are seeking, is seeking you too,' says RUMI. Breath-taking views of the city beyond, and nature's carvings of the limestone jutting out of the mountain, renews your respect and awe for Mother Nature. Really, God is everywhere around us. You have to feel Him/Her with your heart.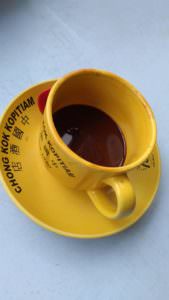 The Royal Klang Heritage Walk, an old town in the State of Selangor is everything that you do after a good day's lunch leading to evening tea time. Food, I fast realised, is the Malay shortcut to heaven. It was soon mine as I discovered my own hunger for Asian food, evoking at least a past birth I must have had in some time zone here. The easy walk around Little India told the story of Selangor's trade, monarchy, and the British colonial administration from the late 1800s to 1900s. We walked past Indian shops, Sultan Abdul Aziz Royal Gallery, Tengku Kelana the Indian Muslim mosque, Klang Fire Station, Klang Railway Station, Chennai Silk Sarees, and stopped for coffee at Chong Kok Kopitam a popular breakfast place known for its delicious Nasi Lamek and Chong Kok's kopi.  Incredibly rich, smooth and aromatic, and strong enough to wake up a time frozen Jedi from deep sleep 😊 Recommended to wear comfortable shoes and a hat walking about these streets.
Leaving Weil Hotel at Ipoh early morning to head to Homestay Kampung Labu Kubong at Kuala Kangsar, the mountains drew me in even before we hit the ground. Cool and cloudy on  open green fields, we met the women of Labu Kubong. Genteel and generous, age marking their rugged faces, smiles that penetrated to your core, reminded me why material success is such an over-rated ambition. Greeting us with mint tea, and a martial art welcome dance, they opened their homes to showcase the local cottage industry of honey making and bee keeping, rubber harvesting, black smiths, handicrafts made from palm leaves and paper, and traditional savouries and snacks that help to bring in extra income. Most important, their humility and graciousness as we all sat down on thatched mats eating together like a community. Some mind blowing beef curry and salted fish, two helpings later, I was asking around if I could be adopted. Happens!!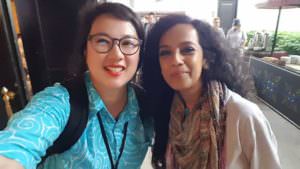 No visit is complete without a dekko of the local arts and crafts n Malaysia, so May Kuen (excellent tour guide and now my soul sista from another mother. Contact/Book her at www.jalanwithmk.com) led us to KZ Kraf in Kuala Kangsar, Perak, to discover the making of Labu Sayong – A traditional pottery craft (with a pumpkin like pot belly) that goes back centuries and still used to store water. Water stored in these jars are known for its healing properties, says artist Mohd Pareb Bin Zamari, who also teaches how you can make your own pot at the wheel, and learn a quick trick or two in clay design. I did try, I sucked!!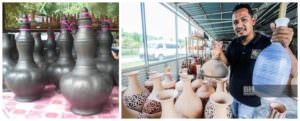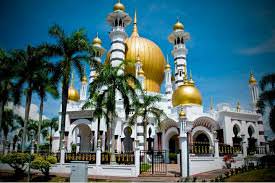 Other `must see' highlights included this shining jewel, the Ubuddiah Masjid. We arrived just as dusk prayers were breaking twilight. The serenity permeating through your skin and under your bones. Designed by architect Arthur Benison Hubback (who also designed the Ipoh Railway Station, Jamek Mosque in Kuala Lumpur, and numerous other colonial buildings in Perak), the mosque was the brainchild of the 28th Sultan of Perak, Sultan Idris Murshidul'adzam Shah (1887-1916). Story has it that upon his return from England in 1911, the Sultan fell very ill. While recovering in Port Dickson, he made a vow to build a mosque if he fully recovered from his illness as a thanksgiving. The striking facade with its gold domes stand as a beacon for the faithful and the fallen. Dress modestly.
Getting back to Kuala Lumpur for city sights, shopping, and the realisation that I was soon leaving, had my stomach pushed into my chest. A yearning so strong, it was sheer will not to be overwhelmed, even as I shed a tear or two sitting at a café in China town wondering why this déjà vu was growing on me. Thank you Sunway Clio Hotel, your warmth was amazing; Acapella Suite Hotel your food was exceptionally delicious; Weil Hotel and Hotel Impiana for your hospitality. Thank  you.
I'm coming home soon,Malaysia.
For collaborations contact: etheldacosta@gmail.com