I had just about settled in for a cosy Sunday with chocolate, our cats Gigi and Chico, and Netflix. The October rain had lulled us into a lazy siesta, when food connoisseur Sameer Malkani's invite buzzed me into attention. The cats looked at me with their Et Tu Brutus stare. Mama had to go. Just around the corner from my Mumbai home,  a close knit dinner at Chef Raji's Sunnyside Bungalow was not to be missed. Sameer promised the gathering to be intimate. Can you imagine a bungalow at noisy, busy Lokhandwala? So, I politely excused myself from our bed bound kitty fest, and into my wardrobe I dived.
Chef Raji's beautiful home shared with husband Ajay Gupta is spectacular, a two storey Tuscan influenced villa, stone arched entrance with wood frame windows, an open patio with garden, mellow Moroccan lights waving softly in the monsoon breeze. An interesting marriage of old school traditional charm, eastern vibes, and modern home aesthetics. A home meant to entertain. Warmly greeted by the hosts, a magical evening was about to begin.
https://www.instagram.com/p/B3cMmCqpAC0/
https://www.instagram.com/p/B3_hmJTJBXP/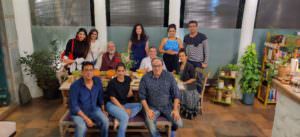 Executive Editor with BBC Good Food India, this was Chef Raji's first #homecooked #homechef meal to us select food and lifestyle invitees. Setting the eclectic mood for the evening – as the rain drizzled down and everybody got to know each other in an intimate setting of music and camaraderie – Chef Raji's conversation starters moved into position. Her team deftly moving into attendance, like a dance that was about to start, and the maestro setting the tone for the magic to come. Which was fresh, juicy, home made deliciousness. The blanched beetroot almost melting into my mouth.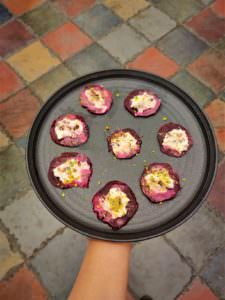 The home experience chef concept from home farm to table, and home kitchen to other homes is a wonderful idea to encourage, support and help flourish culinary talent we would otherwise not really know of. Giving opportunity to home grown kitchen divas (women and men) to market their recipes, promote good health, and bring back home curated wholesome eating. To say I binged would be an understatement!! I know when my tummy sings in tune with the heart. I could hear the happy chorus all the way to my ears.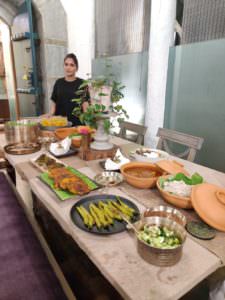 Bringing together the host couple's influences of the North and South, and home cooked memories of her journey thus far, Chef Raji pulled together a stellar menu. Cooked to delight, impress and stun in taste, presentation and flavour, each ingredient standing out, or muted, as per intention. An orchestra of intense colour, harmony of balance, each ingredient in the spotlight it deserves to be, loaded with nostalgia. Emotionally I connected with the flavours drawing deep from my sub-conscious.  Reminding me of the smell of wood smoked curries, boiled red rice cooking in a mud pot, memories pulled out of my childhood watching with fascination as my grandmother in Goa cooked her rice and food in earthen pots. Dried coconut leaves crackling in wood fires. Me watching the fire with hypnotic fascination… Yup, I had two serving of Chef Raji's delicious Black Pomfret Fish Curry with triphala, Goan Red Rice, Talaleli Surmai freshly fried with homemade fish fry masala, a generous serving of Salad (tossed with peaches and creamy burrata cheese), Kakadi (cucumber with tadka), and No! I did not look twice to the other side of the table laden with Northern delicacies of Kaali Dal, Jeera Rice (using brown rice), a family recipe of mutton chops, chillies stuffed with tadkewala aloo mash, rice bhakri, rotis, and homemade Butter Chicken. I'm a Goan. I take my Goa with me everywhere I go, I confessed between mouthfuls of Chef Raji's delicious home feast. Savouring each bite, slowly, lingering on the taste and the delightfulness of its spirit.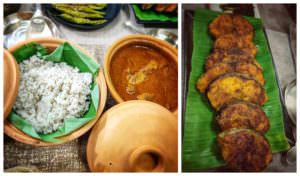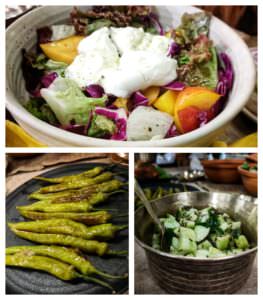 As the night smoothly clocked the hours in synchronicity with the rain — something so romantic about food and monsoon I tell ya – our excitement reached fever pitch  — great food that hits all the right notes does that to you. Of course, Chef Raji was still not quite done with us, for out came the desserts. This lady has a secret magic wand, a glimpse of which manifested in her Paan Ke Laddoo (Paan Truffles rolled in grated coconut), and the fairy like Chocolate Mousee with Pink Cotton Candy and rose water infused Bubble Gum Meringue. I did die and go to heaven!!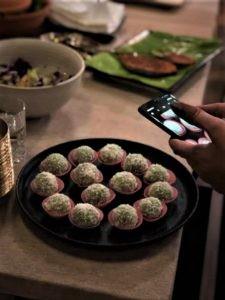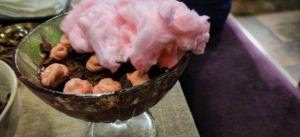 No compliments will do justice to words unless you really eat with Chef Raji. So, next time you want to throw a lavish party and impress your guests, simply dial Chef Raji for your home food, bar service and give your folks an unforgettable experience.
Email: raji.ankali@gmail.com
Contact: 7045097558