Local at Heart, Global in vision, Chennai based Playfiks, a niche active wear clothing startup, recently achieved global recognition by collaborating with O'NEILL, a world-leader in wet-suits, surf-wear and other active-lifestyle apparel from USA. They went about smartly and focused, keeping quality and community as their road to success.
This is the first time ever that a leading global brand like O'NEILL, whose products are popular in 98 countries, has collaborated with an Indian startup for high quality active wear. A synergy of two companies, one big and one small, coming together over shared values of innovation, high-quality, product integrity, ethical sourcing and sustainability.  Carving a niche for itself amongst the running communities of Chennai in a short span of time, Playfiks worked closely with the global surf giant to make beautifully designed specialized running tees from 100% recycled polyester for the popular Dam to Dam marathon run in Amsterdam – an annual event that attracts runners and corporates  from all over Europe.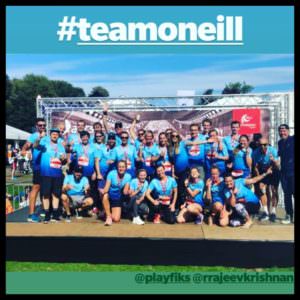 Proud moment for Playfiks at the Dam to Dam event, putting Make in India as an achievable philosophy for Indian entrepreneurs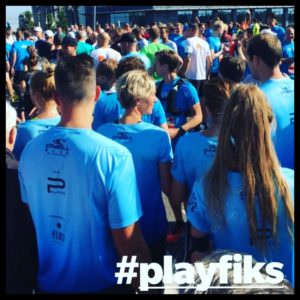 Started only in  September 2018 by Rajeev Krishnan, a veteran with over 25 years experience in the apparel export industry having made clothing for  some of the biggest global brands across lifestyle, fashion and active wear, his commitment to product quality and ethical sourcing comes from his earlier associations. Himself an avid marathoner, yoga and fitness enthusiast, Rajeev started Playfiks with the Make in India mission of making the highest quality active wear product that surpasses international standards, aligning himself with the #FitIndia mission of supporting active communities.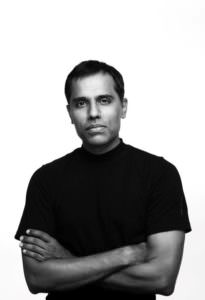 I've always liked home grown entrepreneurs, who are steady, spirited and focused. So meeting Rajeev in Mumbai met all the checklists of a driven-by-mission individual set on community building goals, whilst steering Playfiks as a leader in the sports apparel space.
Excerpts of our interview:
Ethel Da Costa: What is Playfiks all about and how did this name come about?
Rajeev Krishnan: Playfiks is high performance high quality premium active wear brand for runners. Playfiks actually started as a platform to connect active people and get them to be active wherever they are, and therefore the name Playfiks (fix your game/play). It was a FITNDIA initiative long before #fitindia became a clarion call.
ED: What makes your brand different from the rest of the sportswear available out there?
RK: Quality and community. Simply put.
Quality – Our products are made from the highest quality fabrics that are globally sourced to meet the high performance standards of moisture wicking, anti-microbial etc., required for serious long distance running. Our products are tested and certified by international testing laboratories for their performance properties. In creating products we bring our 25 year expertise in the international apparel industry across active sport, high fashion and luxury to bring the best in fabrics and fit to our active communities.
Community – Our communities are our lifeblood. Many brands today are looking to build communities as a market for their products. We do not build communities. We were born from the communities. As mentioned above, we started off as  platform to connect active communities and not as a brand. That continues till today in our active-tech platform. We are an intrinsic part of our communities. We belong to them and we are them. They are not our market. They are who we are and we constantly giveback to our communities to promote the benefits of a healthy, active lifestyle.
ED: Please describe what you mean by `wearable technology'?
RK: In simple terms it is technology that one wears on oneself day-to-day, everyday. This may be in the form of watches (which is most popular now), chest straps for heart rate monitoring, glasses and eventually clothing. These capture simple body metrics such as heart rate, sleep, number of steps, calories etc., to complex ones such as V02 max, cadence etc., depending on need and the level of activity one is engaged in. Wearable technology helps one understand their state of health or level of fitness in a simplistic manner thereby helping in motivation towards a higher fitness goal. Wearable technology  however are not medical devices and their data are not to be considered a medical report. They are fitness reports that are to be analysed for the purpose of fitness and sport.
ED: What drives you about Make In India, how do you perceive the growth of this philosophy despite the onslaught of international sports wear brands in the market, price sensitivity of Indian consumers, and fluctuating market shares between existing brand and your new entry into this milieu?
RK: Our 25 years of sourcing and manufacturing expertise in India and more importantly manufacturing for the biggest global brands across sport, high fashion and lifestyle makes us a firm believer in the great history, strength and the continuing opportunity of #MAKEININDIA. Although the world hears only about China, India has been a strong manufacturing destination for the biggest global brands for over 50 years, and will continue to do so, as the costs and expertise for value added manufacturing are still one of the most attractive. And as customers seek more value in their products than just low costs or fast fashion, it is India that stands to gain from this shift. International sports wear brands manufacture most of their categories outside India, and they are done keeping the global markets in mind as a whole – for purposes of scale, cost and logistics. These products have international fits, international colour preferences and higher priced for mid-range qualities on account of import duties. On the other hand, our products bring the best of everything to our customers and communities – best fabrics from India and all over the world, fitted for the  Indian active customer, in the colours of India and MADE IN INDIA. Needless to say our products are for seriously active people who value quality and high performance over cost.
ED: Is fitness the new fad, or is it here to stay? How do you plan to contribute to this momentum countrywide
RK: Fitness is never a fad. It is a necessity and that necessity has now come to the fore in India. This was always coming and we saw this 10 years ago. It is here to stay and will only get stronger in commitment, resolve and momentum.
Playfiks has been an integral part of the active lifestyle in Chennai and soon across other cities as well. We have sponsored many high quality running events in the city, supported forums and discussions on healthy lifestyle, helped in forming focused groups to train for International marathons. We have also sponsored specialised Obstacle Course Race events (OCR) for the young fitness enthusiasts and are in discussions to partner with a very high quality outdoor event in the Himalayas. Being part of active events and supporting the community is in our DNA because we are from the communities. Most of us are active marathoners ourselves and that is why we are who we are. Our biggest contribution would eventually come from our origin – the active tech platform where we bring the active communities together for a common purpose of propagating the benefits of a healthy lifestyle. In that sense Playfiks is perhaps the strongest embodiment of the twin movements of MAKEININDIA and FITINDIA.
ED: Your advise to sports entrepreneurs and the sporting community in India. 
RK: It is 'India Rising' in International sport. We are conquering the International stage with world championship titles that hitherto was muted. These motivate millions across the country to take up sport and fitness a lot more seriously than was ever considered before. This to me is the biggest change sweeping our country. Our country's sporting icons through dint of perseverance, handwork and determination have risen to the global stage, and with that rise they have lifted millions in our country out of a sedentary life to one of health, fitness and the resultant positivity. For this we are deeply grateful to our stars and look forward to the sporting community in helping grow this momentum across every city, town and lane.
The sports entrepreneurs can do their bit by supporting the sporting communities and giving back for a fitter, healthier and happier India. As we serve, so we grow.
If you are a runner of fitness enthusiast, you can be part of this fast growing community by connecting/following the handles below.
Website – https://playfiks.com
Facebook- https://facebook.com/playfiks/
Instagram- https://instagram.com/playfiks/