Winter is yet to set on the December skies of Mumbai. But when celebrated Chef Rajshri Gupta sends out a Winter's evening Thanksgiving invite, you respond. There is a lot to be grateful for this year, and praying this gratitude through a thanksgiving of food and friendship was a beautiful gesture I had to be part of. With fairy lights and pumpkin carvings warming up her front porch, Raji (as we call her affectionately) welcomed me with a tight hug and a chilled drink. Both great ingredients to kick-start a lively weekend, and it did mine right away.
Do you believe some people you meet suddenly feel like old souls, brought together by design through a synchronicity of moments created of a higher knowing? I do. Raji is of heart too, so it is but natural that this twain should meet, and that's that. It is by same design that Raji also orchestrates her food, knowing almost intuitively what will fall together in a pattern leading to a great note of music. As you, my readers know, food, music, fashion and travel are sensual, sensory experiences for me, as all these senses arrive together, committed to participate fully in creating a memory. Setting a dinner table that is always plentiful and in that abundance creating much gratitude of heart, it was a feast we all dived right into.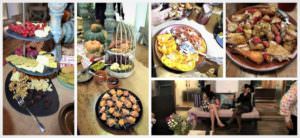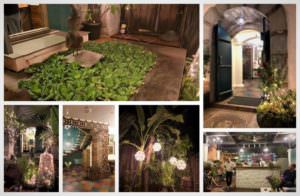 Assorted cheese, wines, crackers, dry fruits, grilled artichokes, prosciutto on melon, dark chocolate with cranberries, stuffed figs, leading to a cold cucumber soup… My favourites were the Stuffed Roast Chicken with bread sauce, Smoked Salmon on wood chips, Aglio E Olio Pasta (which was deliciously divine), Stirred Brussel Sprouts, I polished off all the yummy-ness on my plate with bites of Sourdough Bread. Hey, if you love what you eat, you gotta show it!! So if everybody went home that late night with silly satiated grins on their faces, surely we had it all coming.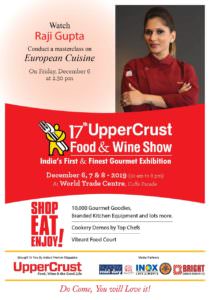 As Raji gets ready to showcase her Master Class on European Cuisine at the prestigious 17th Upper Crust Food & Wine Show on December 6th, 2.30pm at World Trade Centre, Cuffe Parade, Mumbai, it was time to deep dive and sit the lady down for an interview. As you can read, it was a blast.
Ethel: What is the `home chef' concept and how do you see it changing the scene for stay-at-home moms and dads who cook great food?
Raji : `Home Chef' is a concept in which your clients or your guest gets to eat home made food, but served in a restaurant style of table setting. I definitely see a big change in the way the concept has taken shape, because it is beyond cooking. Also there are many regional food home chefs as well now. So one gets exposed to different cuisines, creating an opportunity for goodness of food and flavor. With different digital and social platforms, home chefs get good visibility and opportunities to extend their work. It has created so many opportunities. Today's home-stay moms and dads serve tiffins to home or offices, they cater for events and for parties of discerning tastes, they make home food videos, and so on. With so many options, you can still earn good money staying at home. These are exciting times.
E: So, what wakes Raji up in the morning?
R: Gratitude towards life gives me a reason to wake up everyday. I look forward to each new day.
E: What is your mantra to stay healthy, beautiful and successful in life?
R: My first and foremost important mantra for everything in life is to stay fit. Because if you are not healthy and sound, you can't be happy. No matter what we achieve in life,  without good health it doesn't give you happiness. Once you are happy, your beauty reflects on your face. Being successful is a combination of many things. Hardwork, knowledge, happiness, good health, and family.
E: What did you learnt this 2019?
R: I have learnt one thing "Your Voice Matters."
E: Tell us five super foods women must include in their diet for good health and well-being.
R : We need to take care on consuming a balanced diet. With just having either of the super foods you won't expect good health. It's a package. Here's are some of my suggestions:
Probiotic Drinks (Kefir/Kombucha)
Different flours in daily routine. Eg : Bajra, Jowar, Rice, Rajgira, Ragi
Include Almond and Walnut
Avacado
Fish, if vegetarian then Lentils or beans
Want to know more? See you at Chef' Raji's Master Class on December 6th. Yes, do bring your pens and papers for notes. Stay beautiful, inside-out.
For collaborations, reviews. blogs, associations, email etheldacosta@gmail.com