When you are invited to a year ending hello December soiree called `Malt in our Stars' curated by The Perfect Pour, you pay attention. Not another run-of-the-mill evenings with small forgetful cocktail banter, this was going to be special, my instincts said. To women and men who like to whiskey and wine, Vaniitha Jaiin Founder of The Perfect Pour  (a wine, spirits and lifestyle firm) is the expert restaurant, hotels, lifestyle brands and HNIs trust for all things wine and spirits. Globetrotter, an international wine judge, Vaniitha conducts wine education, wine and spirits events, is a regular on luxury shows on TV and online, and writes actively on the subject. So, when the bar is already set high, you know that you will be in great company too. And it was!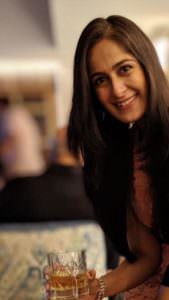 Mumbai has an ability to surprise me, time and again, especially when you walk into The Club Mumbai at Andheri West never expecting to be greeted by an expanse of green space in the heart of a noisy street. Tall columns of flickering candlelight set alongside tables, shiny glassware and dinnerware, the outdoor ambience set to the sounds of a LIVE saxophone at the `Gardenia,' reflecting an aura of romance, happy laughter, style, and seductive intimacy. And yes, a beautiful full moon, the last of this decade, as a witness to a bountiful table, and its beautiful people.
As the evening progressed, a delicious five course European menu created by the chefs  of The Club Mumbai, to pair perfectly with each exceptional Single Malt, was like a Master Class on `How to Fall in Love' with the Jura (10 year), The Dalmore (12 year), Talisker (10 year) and Glenmorangie The Original (10 year). Each dish exquisitely crafted to compliment the body, mood, elements and soul of each Single Malt, even as each flavor, note, spice, reference and spirit of the dish presented to us celebrated the culinary finesse, expertise and maturity of its creator. Bravo!!
I totally loved my selection of the non-veg menu – the Crab Tian (Appetizer) served with a fresh avocado puree, seafood dressing, cream cheese and watercress (paired with Jura); Confit Chicken Leg (Entree) served with Dauphinoise potatoes, sauteed asparagus and demi glaze (paired with The Dalmore); an exquisitely divine Mango Sorbet (Palate Cleanser) with strawberry salsa, mint leaves and cinnamon stick; Slow Roasted Lamb Shank (Main Course) with pressed doulangere potatoes, pea puree, roast shallots and rosemary jus (paired with Talisker), and finally, the Ginger Creme Brulee (Dessert) with orange shortbread and almond ice cream (paired with Glenmorangie, The Original). Bliss would be an understatement!!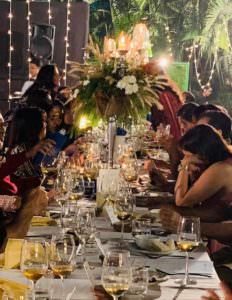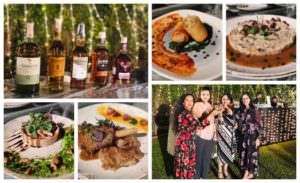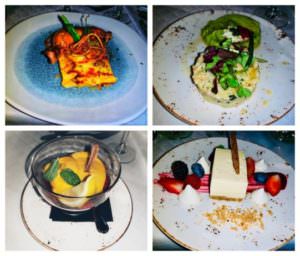 Fast growing to be a sought-after wine master, Vaniitha Jaiin is an example of passion packaged with chic intelligence, armed with a plan of action. Her exuberance around the topic of wines and malts in full display, as she led her hand-picked guests through the heritage of her single malt heroes. Totally impressed with the professional elan of her event execution, I sat her down for a short interview between sips of the deadly Rob Roy (whisky cocktail) that truly marches straight for your gut. You gotta go easy on this fella!!
Excerpts of our interview:
Ethel: What are the new trends in Single Malts, how do you see its popularity panning in India?
Vaniitha: Whisky has an age, but the single malts are increasingly not listing ages on their labels. Well, it does take years, sometimes decades to mature the Scotch to perfection. But it isn't just about the age anymore. It's about what the consumer wants, and the skills of the whisky maker, as this helps to put more emphasis on the flavor, rather than the age.
Also, now there is more wine in your single malts, as producers are adding more types of wine-cask finishes. We can expect to see more Scotches finished in barrels used for Bordeaux, Sauternes, Port etc., although Sherry cask-finished whiskies are extensively used.
India's increasing economic prosperity and a massive population of new consumers entering the legal drinking age each year, makes the overall opportunity extremely attractive for the Whisky business. It is good times ahead for the industry, as the Indian consumer awareness and interest is growing by the day around the world of wines and spirits. And with more single malts getting imported into the country, consumers have a wide range to choose from, either the domestic retail outlets, or, from the duty free stores.
E: Women have taken largely to Single Malts (WHISKY). Comment
V: Whisky was viewed as an older man's drink. However, across the globe whisky has been witnessing a renaissance, with brands coming up with targeted products keeping the millennials in mind.  And with social barriers to enjoying a drink being discarded, women have taken to whisky very well and want their palates to be tested, just as much as men. It's interesting to note that millennial women in their late 20s and early 30s are embracing whisky as their drink of choice.
E: As a curator and aficionado of malts and wines, what have been your experiences in the industry?
V: The industry has realised the need to curate quality experiential offerings in the alco-bev space, and they are at it. Consumers have lots to choose from. And if they decide to be a part of your experience, then it means you have touched the right chord. Therefore, the curator has a great opportunity to create unique experiences. Most importantly, the need of the hour is creativity and a fresh approach to position Malts and Wines as an essential lifestyle element, and not treat it as a promotional event. The audience and markets are segmented, and there is a opportunity to tap into each of it. It is an exciting time to be a curator and an aficionado of wines and spirits, as the importers in India are introducing newer and top notch brands into the country.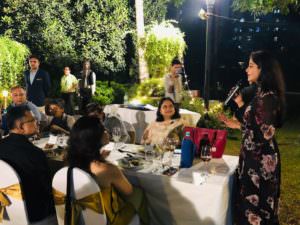 E: What is your absolute favourite in Single Malt and why?
V: The Kavalan Solist Oloroso Sherry Cask – A single malt from Taiwan that I love sipping neat.  It's matured in Spanish top quality oloroso sherry casks in special editions. Kavalan Solist Sherry is a smooth and rich whisky with a complex character. It is clean and complex with multi-layers of dried fruit, nuttiness and spices, with some marzipan and vanilla touches to it as well. Rich, oily and full with pleasant dried fruit and spices that linger on in the mouth, plus a hint of fine coffee.
Inquiries for Vaniitha at vaniithajaiin@gmail.com
For collaborations, reviews, fashion collections, travel, hospitality stays, contact: etheldacosta@gmail.com