They say Goans and Bengalis are country cousins. Well, almost. Like Goans, Bengalis too celebrate everything with a passion. Be it music, food, clothing, drink and football, sometimes all rolled into one, to make a huge song and dance about it.  However, perhaps the most unique Bengali joie de vivre celebration is the one to welcome Winter. Which we hardly have (Winter) in Goa anyway.
Food is serious business for a Bengali. And sheet kaal, as Winter is called in Bengali, inspires a culinary fest of fresh produce and ingredients that the season bestows. Those even casually acquainted with Bengali cooking will know of nolen gur, that's date jaggery, which marks the season and enlivens an already lively cuisine.
So, if you thought Bengali food is all about passion, wait till you meet the firecracker, Chef Ananya Banerjee. A lawyer by education she uses her legal finesse to argue a most convincing case for Bengali cuisine. Fiery eloquence flows when Ananya talks about Bengali food (or any food for that matter).  Her pop-ups showcasing Peruvian, Ethiopian, Moroccan, German, and Turkish delights are hugely popular in Mumbai. Author of a few well received cookbooks, painter, former Executive Editor at BBC Good Food, awarded Chef and leading food writer, Ananya's passion truly lies in curating her most beloved Bengali cuisine. One of which I was a witness to. The feast, needless to say, was a treat for a queen.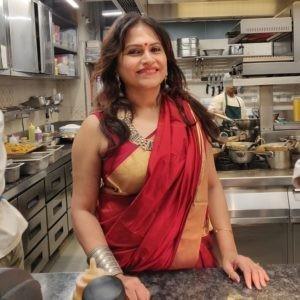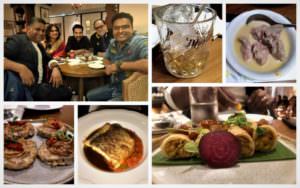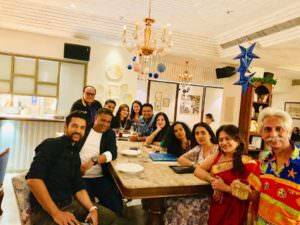 Invited to a pre-view of `The Winter Menu' launching December 23rd onwards at  Mustard – a delightfully chic restaurant at Atria Mall, Worli, Mumbai which showcases French and Bengali cuisine — Ananya says she "dug into the larder of her home-state culinary heritage and family recipes to curate the winter menu." Modern, exceptional and nostalgic. – the menu and the venue – the super packed restaurant that night spoke for itself. Bengali cuisine is what a seasoned magician prescribes for those who believe in an afterlife. If your slate is clean, you are definitely going to heaven!! I was awestruck with it menu's delicate flavours and fiery moods, teasing and seductive, all wrapped up in a dish.
Some of my favourites showcased at the preview night were`Dalpurite Moda Gach Patha Kosha' (jackfruit rolled in puris), `Oler Purbhora Chop' (Elephant foot yam croquettes), `Rui Macher Patishapta' (crepes stuffed with carp), `Puronor Kolkatar Cutlet' (mutton cutlet), Bandokopir Dhokar Dalna' (lentil dumpling and cabbage gravy), `Macher Horogouri" (fish in two gravies), the exquisite `Mangsher Doodh Korma' (mutton curry), and dessert `Nolen Gurer Payesh' (rice pudding/kheer) straight from Ananya's kitchen with date jaggery. This dessert has a cute story, so you must ask Ananya to share.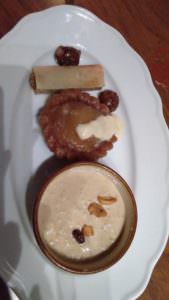 I wanted to know more about this incredible journey, and some insights into the industry.
Excerpts of our interview:
Ethel: Your comment on celebrating regional cuisine to showcase it to mainstream foodies. 
Ananya: India has some twenty plus states, all with their own unique cultural identity. As the popular saying goes, with every kilometre you travel, the language changes, the taste of the water changes, as is the food eaten. It hints at the sheer variety that Indian regional cuisine has to offer. And there are still many cuisines native to various Indian regions, that haven't yet entered the mainstream.
As people's interest in food is expanding, the desire to find something new in the familiar, to learn more about their traditional cuisine and even the desire to preserve recipes that are dying out, has seen them both searching for and offering never before seen regional cuisines.
Whether it's Saoji cuisine-Nagpur's spicy, fiery, and mostly non-vegetarian fare or Gujarat's Kathiawadi region's wood-fire taste, or, Kerala's Mappila community and their use of various spices, coconut, rice, banana and seafood, or, Franco Tamilian fare or East Indian etc., there's something for everyone. And all of it has such a unique history to go with it!
For a world that's constantly looking for new flavors and food trends, that means a treasure trove of deliciousness. The best part? We're still unearthing more recipes as we go!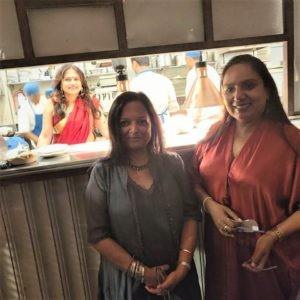 E: Why is India yet not the culinary giant is ought to be.
A: There are few reasons why I think this might be the case. For a long time, the world has had a very fixed idea of what Indian cuisine is. And that generally revolves around Butter Chicken, Chicken Tikka, their version of a curry, maybe a Dosa. But these dishes barely scratch the surface of what's on offer, and I think we need to better promote the sheer variety that we have.
There's also this strange idea that Indians have, that only an Indian can make authentic Indian dishes. Utter rubbish! Anyone can create any dishes, from any cuisine, should they be taught well. I feel that we haven't been forthcoming in teaching our recipes, methods of cooking and cuisine related specifics very well to interested chefs, due to misplaced pride.
Another reason why India is not yet the culinary giant is ought to be, is that Indian cuisine tends to be an encyclopaedia of recipes, rather than techniques, like say French cooking. This may make it difficult to change, or, apply modern cooking techniques to. An impression that I'm happy to see, many Indian chefs, like Manish Mehrotra and Gaggan Anand, debunking.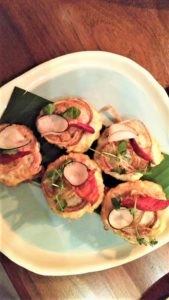 E: Please share your contribution to Mumbai's gourmet footprint
A: I love experimenting with both international and traditional Indian food. With both, my drive has been to bring to my audience an experience, a story and of course, delicious food that will inspire them to would want to try and recreate themselves.
I'm also a firm believer of the Farm-To-Table concept and I'm trying to incorporate that into my cooking and menus as much as possible. That means creating menus that are seasonal. This also allows me to focus on recipes that are also best suited for the body, according to the weather.
All in all, my efforts have been directed towards introducing people to new and fascinating recipes and to encouraging the use of local and sustainable produce in gourmet food.
For more food stories, watch Chef Ananya Banerjee's Youtube channel https://www.youtube.com/channel/UCDFEQvKIJvnOj39Gf7PUi0g
If the Winter menu at Mustard is anything to go by, you should be booking your seat NOW. The ladies in the house, co-founders Poonam Singh and Shilpa Sharma will ensure that you are most at home. And oh yes!! The music is magic. I even offered myself as a DJ whenever the occasion to present Funk comes up. As we know, all's good in love, music, food and great company.
`The Winter Menu' launches December 23rd onwards. For Reservations at Mustard call 9619991166/8657425080
For collaborations, travel stays, reviews. blogs, fashion collections contact email etheldacosta@gmail.com / Work cell: 9822121012