Beauty is a concept with an ever-changing definition. Today, as society evolves, the cosmetics industry must keep up to date with the latest beauty industry statistics and the latest trends.
And, it isn't easy. The beauty industry is as fast-growing and dynamic as the definition of the concept itself. With new products and services appearing on the market daily, it can be difficult to keep track of all developments.
Top Ten Beauty Industry Statistics to Remember
The global beauty industry is worth over 500 billion.
The cosmetics industry was worth $93.5 billion in the US market in 2019.
The global skincare market was worth nearly $135 billion in 2018.
48% of Millennials say they would purchase products with CBD oil for skin care.
4 out of 5 American women follow beauty industry trends and regularly use fragrance products.
There are almost 1 million employees in the service segments of the cosmetics industry.
21% of Americans are buying organic makeup.
Almost 40% of adults are interested in gender-neutral cosmetics products.
88% of consumers would be more loyal to a socially responsible company.
82% of women believe that social media drives trends.
*Inputs LoudCloudHealth.com
Armed with these inputs, I dialled one of Mumbai's fast rising make-up artist, Pallavi Murgai for a make-over chat and some girl time catching up over our favourite passion – Make-up. As coincidence would have it — since my prior brief to Pallavi was to create an Egyptian eye look –  I was greeted by a painting of Goddess Isis at her studio Aurique, apparently her partner's favourite goddess. Now, I am a firm believer of synchronicity, so it would seem that the Goddess of Life and Magic, protector of women and children, Goddess Isis herself had orchestrated this evening. And need I say, participating silently in our chit-chat 🙂
Pallavi, a former Radio Jockey who has dabbled in many avatars till she found her calling in make-up and wellness, got to work immediately. A busy schedule learning new trends, a sought after artiste at weddings, upgrading her skills to meet industry standards, Pallavi is a firm believer and an advocate of cruelty free products, going to great lengths to source her weapons of beauty that are eco-friendly, and natural. Some of her favourite brands being Tarte Cosmetics, Huda Beauty, PAC Cosmetics, LA Girls, Milani, Two Faced. A shout out to Fenty Beauty by Rihanna which has emerged at the global game changer for women diversity, empowerment and inclusion, as Huda Beauty and Bobbi Brown continue to hold power for their entrepreneurial chutzpah. Also, the many women make-up artistes I know who continue to hustle ahead with sheer handwork and cut-throat competition. Hustle on ladies!!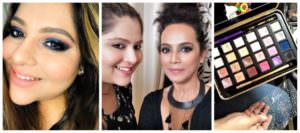 As Pallavi got to work on my face – I got her to share some insights into trends for the festive season, and what we should aim for at creating a self expression of empowerment through make-up.
Says Pallavi Murgai on achieving the perfect festive face this season, "Glamorous, dewy, and artful is how I will describe the makeup trend this season. For the skin, aim is to have gorgeous dewy skin with a touch of bronzer, and peachy cheeks with lots of highlighter. For the eyes, shimmer eye-shadows are back."
That's the face we created for me with deeper metallic green eye shadow, and a long eye with artistic details created with gel eyeliner. Shares Pallavi, "It's a powerful Christmas look I tried on Ethel to highlight her personality. I gave her subtle green shadow with a dramatic Egyptian eye style, super neutral makeup base and nude lips to balance out her distinctive look and her gorgeous face features." I loved it.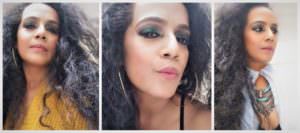 For the 9-5 working woman on the go:
"On a daily basis, one can apply subtle feminine colors of pink and purples on the eye lids, and for the go-out look, one can add gold and glitter to the eyes. Glitter eyes are certainly in and will compete with the smokey eyes this season.
For the lips, bold red lips are in this season. If you are partying, just add the red to your lips and be glamorous.
Trending on the no-make up look:
Apart from this, we also have the no-makeup look trending. Keeping things simple is perfectly acceptable, according to the fall/ winter 2019 makeup trends. You can achieve this look with ease with the help of concealer, lip balm, and just a hint of mascara!
Must do, must do, must do routine:
In the end, keeping your skin well hydrated and moisturized should be the aim. Do include Vitamin C in your daily skin routine. Just dab some Vitamin C serum after toning and before applying moisturizer for healthy looking skin. Keep dry chapped lips at bay and regularly moisturize your lips too.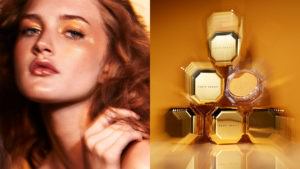 As for me, I've already told Santa what I want. Love, love and more love, and Fenty Beauty's Trophy Wife Fairy Bomb. What a dazzling way to strut into the New Year 2020.  Always stay glowing and be your fabulous self! Mwah!!
Connect with Pallavi Murgai at 9619156640. Also available for house calls for your party face/weddings/red carpet.
More on the global cosmetic industry, read here: https://loudcloudhealth.com/beauty-industry-statistics/ 
For collaborations, reviews, blogs, interviews, hotel stays, travel reviews, fashion collections, Email: etheldacosta@gmail.com/ Work cell: 9822121012