There's a well-known affirmation out there in the world. That no matter where an Indian travels, he/she will carry the soul of India in her/his heart, and bundles of Indian spices in their travel bags. And thus began my own explorations of finding India in Malaysia. Through her people. Her food. Through the spices, pulses, fruits and legends of the land that birth the ingredients, weaving tales of old handed down recipes. Bedtime stories of strength, valour, history, legacy, spirituality and memories passed through generations of genes, culture and life.
I tried to find these stories in Kuala Lumpur as I meandered from taste to flavours, temple to tables, looking for that one element that might connect me with its soul. The land of a billion taste buds, the oldest civilisation on the Planet, thousand ideologies cut and sowed into one formidable fabric that clothes the country from the south to the north, from the east to west. The search for India.
Here's my list through a maze of others, each bearing a unique interpretation of taste carried forward to resonate with the global Indian, and the traveller of the world seeking to understand the complexities of the second largest populated country on the planet. So, tuck in that table napkin under the chin.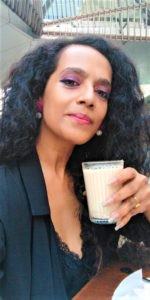 Thosai Café – The Curve Mall
Landing into Malaysia two and a half years ago, IT professional Mithun Mohanan from Bangalore decided to put down roots into a new dream, in a new land. A romantic liaison, says the grapevine. Mithun says otherwise 😉 Little did he know that his life was going to turn a 360-degree spin into something so different, that it took him by surprise.
Hosting very popular and successful weekend thosai and beer parties at his home as a way to chill post work, Mithun realised his entrepreneurial spirit was daring him to take a leap into unchartered territory. Assured that Malaysians love a good thosai (that's dosa for readers in India) – going by the popularity for his home cooked South Indian delicacies in Malaysia – Mithun hung up his IT boots and invested into a food cart. Imagination met experimentation, and soon super heated pans churning out thosai dishes met good word of mouth. The word spread fast and wide.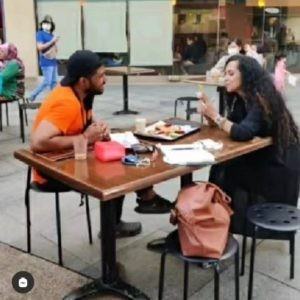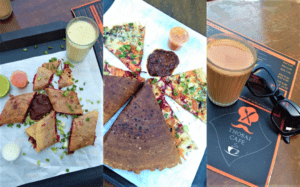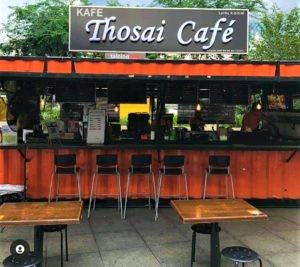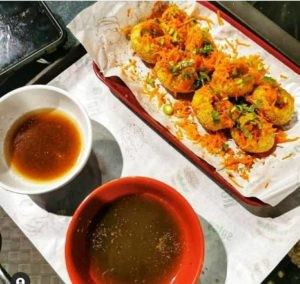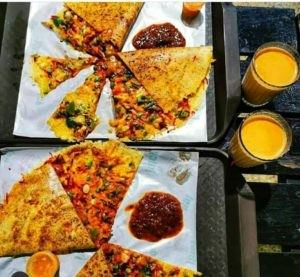 Sitting at the busy outdoor courtyard of The Curve Mall, Mithun laid out his favourite thosai plates for me, free flowing conversation and warmth reminding how easy it is for strangers to connect over good food. Chilled Badam Milk, Special Cheese Masala Mix Thosai, Mysore Masala, the Dil Khush Thosai (if you've had a bad day at work. Remember to ask Mithun the story behind this happy thosai), the Mac and Cheese Thosai, Me Goreng Thosai are everyday hits. Churning out 82 different thosai dishes to satiate tastes, hunger and curiosity, an ideal day out at Thosai Cafe requires that you are big on appetite, or, bigger with friends and family to enjoy a good meal with.
The courtyard outdoor setting accommodates 70/80 diners and all dishes are vegetarian and fresh. Strictly focused on local vegetables using flavourful semolina batter for that extra pump of fibre, hot thosai is rolled one after the other on pans with an extra twirl of olive oil. Fridays are special for women, Mithun confides, with group discounts and offers. Ask for a piping hot masala tea to accompany a beetroot thosai.  Perfect!! The LIVE band playing the blues at The Curve Mall courtyard is complimentary 😊
At The Curve Mall / Open all days: 11.00am- 9.30pm
Facebook: https://www.facebook.com/DaddyNoshsdnbhd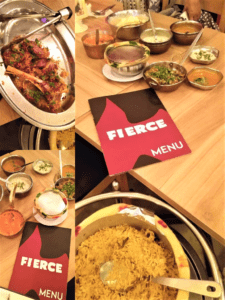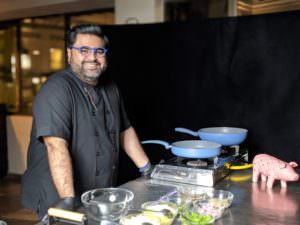 Fierce Curry House
Chef Herukh's Fierce Curry House comes as big on dishes, as it does on the starcast it has catered to since its opening as a basic banana leaf restaurant in 2011. An instant hit, the restaurant introduced Hyderabad's signature Dum Biryani in 2012.
By 2014, Fierce came to be known as the only restaurant to serve a full biryani menu, consisting of 14 different types of biryanis. Discontinuing the banana leaf concept for a full bodied North Indian avatar, word of mouth ran blazing like wild fire across Bangsar and major parts of Kuala Lumpur and its sister towns. That's how I was recommended a try-out.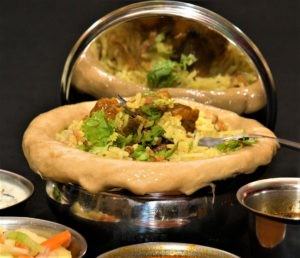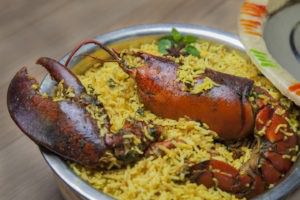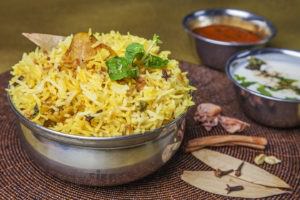 When I arrived all ready for a nostalgic rewind, Chef Herukh surprised me with a biryani list so long, I had to choose my own go-to very carefully. Here's what you will also have to decide for yourself 😊
1)Lobster 2) Crab 3) Mutton 4) Chicken 5) Fish 6) Vegetarian 7) Cod 8) King Prawns  9) Scallop 10) Mock Meat 11) Egg 12) Venison 13) Paneer  14) Lamb Shank  
Abetting with my good-to-try-anything mood, Chef Herukh decided his Lamb Shank and Cod Biryani would be the guests of honour at our lunch party for two. When  the Lamb Shank Biryani arrived, piping hot with a ceremony of its own, the meat was soft, moist, tasty. Like old times in India. As I would do at home, I ate it off the bone.
Balancing heat with the cool on the tummy with Butter Milk (chaas), the great North Indian feast spread vast across our well-endowed table – Prawn Curry, Butter Chicken, Palak Paneer, Bhendi Masala, Raita, Boiled Rice, Papad, Pickle, Naan, Dal Thadka, Tandoor Chicken and cool glasses of Lemon Juice. The party of two soon turned into a gathering of five, as Chef Herukh's family also joined me partaking of the festivities. The packed restaurant with groups of diners' eating and laughing loudly, proof that it was a local popular destination for Bangsar's neighbourhood.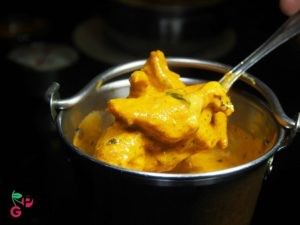 "I believe Indian Food is one of the most diverse and versatile cuisines out there. There's no real rule or instruction set in stone when it comes to an individual's adaptation of a certain dish. Our evolution at Fierce is to continuously adapt and innovate as much as we can to stay on the edge. This practice also allows us to avoid menu fatigue. As a restaurateur, I have a commitment to my guests and team to change and up my game every six months or so with new and different types of dishes, so as to keep guests coming back," Chef Herukh shared over hot cups of Chai.
Well aired spaces, smartly decorated interiors, a table cover for 70/80 diners, a bar for beers and juices, a prior reservation helps the team set the pace for the day, whilst also informing you if any specials are on the menu. The Prawn Curry reminded me why I missed Goa, so I ate it heartedly. Do look it up for your own taste of my coastal home's sunny side up. And then if you are lucky, Chef Herukh's wife who also whips desserts that are popular in demand, might just make a guest appearance with a portion of cake to complete your lunch date. Missing breakfast at home is highly recommended 😊
Call for reservations: 019-770 1945 / +60197701945
16 Jalan Kemuja, Bangsar Utama / Open: 11.00am- 10.00pm. Closed on Tuesdays.
Facebook: https://www.facebook.com/FierceCurryHouse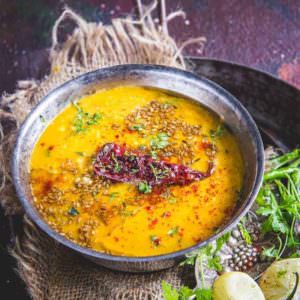 The Aryan
Very popular with Indians in Malaysia, and on the `must dine' lunch list of tourists during the erstwhile travel days of mega-fams, The Aryan — run by the effable, jovial owner, Andrew Ambrose — is one big popular hit for Indian occasions, weddings, birthday parties and anniversaries.
Joining me at my table in the delightful company of Dato A Aruldass, a veteran travel industry expert, and Hospitality professional, Vimala Sivasubramaniam, Andrew treated us to a grand lunch of Indian delicacies accompanied with old classic Bollywood music. The tunes so nostalgia of Radio Ceylon days – if you remember your mother glued to it every single morning –the ambience took me straight back to Mumbai's Lokhandwala. The aroma of freshly cooked food making the short journey from kitchen door to my table so delightfully appetising.
The vast menu choices at The Aryan beckons that you spend some time deciding what you would like to eat. I decided that a good Dal Thadka, Paneer Mathar and Chicken Tandoori with an onion and lemon salad would remind me of my visits to Old Delhi markets. A good detour from the regulars. The dishes did not disappoint. The thadka filled the room with a strong scent of spices like a dense cloud of memories. The kind you smell in old bazaars on hot humid days, or, loud rumbles in the belly when curry leaves and cloves hug together in a puddle of hot oil, tossed together on a gigantic iron thava. Delicious! The post lunch Gulab Jamuns and milky tea reinstating why Indian food is an indispensable cultural tapestry of Malaysia, that has firmly rooted its feet into the soil of the land. There is no escaping it.
Call for Reservations: 012-218 2644
Lot 10A, Level 2, Putra World trade Center 41, Jalan Tun Ismail / Open: 6.00pm-9.00pm. Closed on Sundays
Facebook: https://www.facebook.com/AryanRestaurant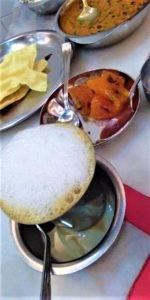 Saravaana Bhavan
My hunt for the Thali was wide, since banana leaf lunches are popular in Malaysia. I found it at the multi chain restaurant, Saravaana Bhavan on a cool Sunday with a buddy inviting her to join me for a Vegetarian Thali.  Ticked off right on all counts for simplicity, and no fuss- frills. Greeted warmly by the restaurant staff, a 12 dish South Indian thali with seasonal local vegetables, a tangy rasam complete with dry fruit halwa and a local south version of cutting Teh Tarik, had me glued to my seat 😊 The service was prompt, and the restaurant filling in as soon as I was settled at my table. Prompt service, a functional air to the venue, and just good, local food. What more can a good girl ask? 😊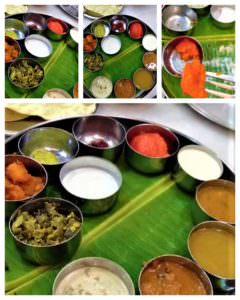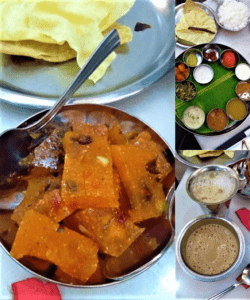 Managed by Shivaa Kumar, Managing Director of all Saravanaa Bhavan International outlets, seasonal festivals are also celebrated with great pomp with seasonal food feasts to mark Deepavali, Pongal and the Tamil New Year. Some heads did turn my side, and one diner walked up and asked if I was The Stiletto Foodie 😊 Word gets around real quick in Kuala Lumpur!! 😊
Here's to you, my dear readers, finding the India of your Soul. Happy times to you.
Call for Reservations: 03-2287 1228 / Open all days: 8.30am-11.00pm
52, Jalan Maarof, Bangsar : 03-2287 1228
7, Jalan 52/2, Bandar Baru Petaling Jaya : 03-7954 1755
26, Leboh Ampang, City Centre : 03-2072 2755
Masjid India, Kuala Lumpur : 03-2698 3293
196, Jalan Tun Sambanthan, Brickfields : 03 – 2260 3755
KLCC Food Court +60 14 9232 755
Reach out to me at etheldacosta@gmail.com for Reviews/Content/Marketing/Branding Services
Whatsapp +601161781642
FOLLOW my IG @etheldacosta
Feature photo courtesy Google