It was a bright sunny day my side of Kuala Lumpur when I woke up from a dreamless sleep. My social calendar looked dressed to kill, I felt like a million bucks, my lemon ginger tea just the right temperature hot, and then it started to rain… Make no mistake, I love the rain. Like the heavens had opened up, thunder striking some nearby construction tower with a flare of sharp lightning. Electric energy coursing through the thick air. Thor's hammer pounding the sky with so much angst, that it made my Grab driver jumpy, like a cat had bitten his toes off the pedal.  So,  how do you venture out into the night liked this, when Nature turns the streets into watery pools, and roads into serpentine blocks of running red light engines with impatient occupants? Like a daredevil. Creatures of the night don't fear the dark. And that's exactly how I stepped out into the thunderstorm on my way to Erina and Leslie's Frangipaani (The Republik, Lot No.M.03, Mezzanine Floor, Jalan Medan Setia 1, Bukit Damansara, 50490 Kuala Lumpur).
As the car wound around winding roads onwards Bukit Damansara, the radio for company spewing news and music, my car keeping a steady pace of speed, the hum of the engine grinding on restrained metal, I felt like I was in an old classic Hollywood movie scene. Part thriller, part romance. Waiting for something dangerous and brilliant to happen. A flash flood, said the radio jockey on air. Really? I asked the Grab driver, "Here in Kuala Lumpur?"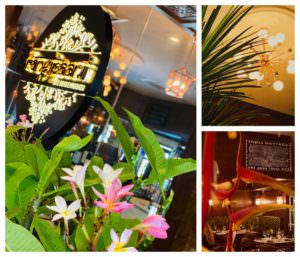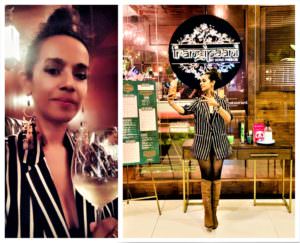 Frangipaani is everything and more home like when Kent greets you at the entrance. Graceful, courteous and a gentleman, the kind you would encounter on a Egyptian Nile cruise cut to 1950, he escorted me to my waiting table as soon as I arrived. A chilled bottle of Attitude, a French white, waited elegantly by my seat in a room full of laughter, sparkling warm chandeliers, the aroma of the kitchen floating to my nostrils, business men hunched over drinks and after work conversation, couples on dates.  Bustling action on a weekday. Letting me know that Frangipaani is the desired destination for millennials and baby boomers alike.
Just the right scene for the charming Erina to make her entry into my first curtain call. "I've been waiting for you," she hugged me, hints of the monsoon like an aura around her being, drawing me deep into the womb of Mother Earth. "I have just the menu for you to feel at home," she giggled in confidence, opening chatter around the table as smoothly as one digs into a succulent butter chicken laced with love, yogurt and ghee from India. The Chef can make you one on request 😊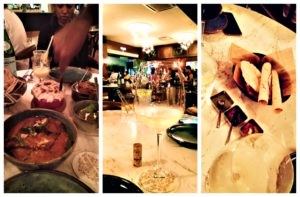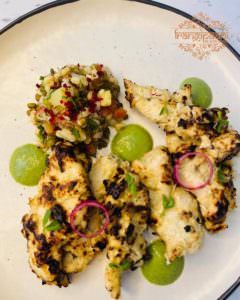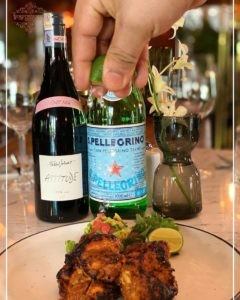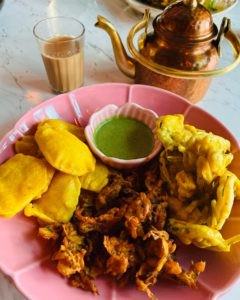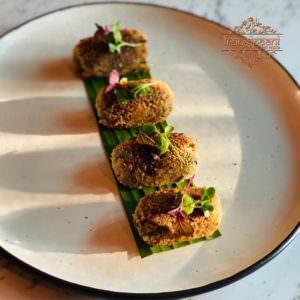 `You are what you eat,' said Count Dracula, his lips pressed tightly, eyeing the Countess of Windsor sitting alone at her table, nursing her glass of cherry. A bright, enormous Ruby sparkling at her throat, throwing sparkles of candlelight, as the ship hit the waves rocking cutlery to the floor….  
As I swirled my wine glass to open the bouquet of notes waiting to greet my mouth, Kent ushered in the menu for Appetisers. A mix of India and a nostalgic reminder of Goan shores left behind. Chilgoza Malai Broccoli, Paneer Tikka, Garlicky Chicken Tikka, Galouti Kabab and Goan Lamb Cutlets. Now, you can never hurry too much or too quickly whilst on this route. So exercise prudence and patience as Indian flavours demand full attention, and a full bodied discussion over anything that requires full hearted participation. Infused by wine and nostalgia, Erina told me how she had chose Malaysia as her new home, finding familiarity with the cultural melting pot of the land, the flavours of cuisine blending with her drive for enterprise, and creating it together with her husband, Leslie.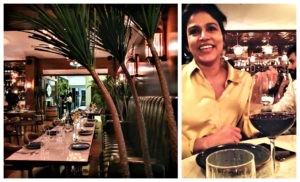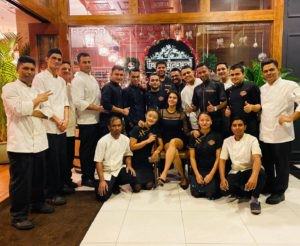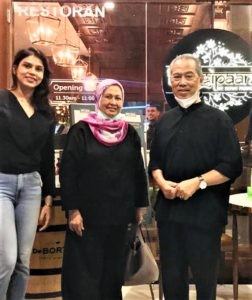 Excerpts of our tete e tete:
Ethel: How did Frangipaani come to be in Malaysia ?
Erina: We are a separate entity and not part of any other Frangipaani. We are part of The Olive Tree Group of restaurants and bars.
Ethel: What influences does your food draw upon ?
Erina: Our cuisine is more homely and most of them are derived from family loved recipes. It aims to take our guests on a culinary journey through one of the most colourful sub-continents in the world – India.
The menu is poised to set our cuisine apart from the rest with popular Indian fare, including curated Anglo-Indian recipes from native Goa, so as to create a rare, sensory experience. The menu is matched by fine wines, refreshing homemade drinks and a heart-warming atmosphere that blends Malaysia's lush greenery, with architectural nuances from British-Colonial India.
Ethel: What conversations would you say does the brand stand for, with diners old and new?
Erina: They are drawn by the charming colonial set up with an elegant modern touch. Also, it's evident from our menu that we showcase the finest Indian ingredients and flavour combinations, offering a modern Indian interpretation on renowned classics.
Ethel: What kind of special occasions/food festivals do you organise in your attempt to educate and acquaint food lovers of your special story telling.  What are the plans for the season?
Erina: We are planning a wine tasting and pairing dinner soon. May be a brunch with Goan vibes too. Also, a food fest celebrating the diversity of India by offering cuisines from the many colourful states with its unique touch.
Ethel: As a couple, what strengths do you both bring to your brand?
Erina: Leslie is an F&B maestro and a perfectionist, whereas I am more into the creative facets of the work. Our strengths compliment each other. While they are different, it allows us to excel in our individual areas of expertise, and thrive as a team. Leslie does the investment. I have invested my time as an investment to create a brand of quality, and a sense of timelessness to what we are creating.
Ethel: How much of Goa can we see in the nature of your business?
Erina: We have incorporated a menu touching every bit of India. From street food to authentic fine dine with nuances of a British colonial set up.
Ethel: The absolute dish you recommend every diner must eat/experience at Fraangipaani.
Erina: Without a doubt, Pomfret Mappas, Crab Xec Xec, Lamb Vindaloo. A heritage of where me and Leslie come from.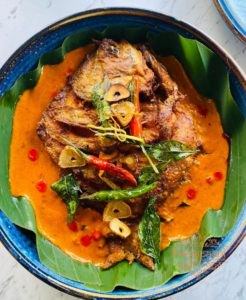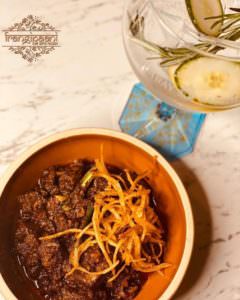 As Count Dracula escorted the ageing, but perky, Countess of Windsor to Cabin No 9, a streak of moonlight hit the trembling cheeks of Lady Godeth, anticipating a shudder of pleasure for the night of sin to come….
Outside, the rain continued to beat the drenched streets of concrete and tar, as more laughter drowned the cosy spaces of tables and chairs full with activity. Kent announced it was time for the Mains. Prepped by the wine to continue our journey on this food trail, Kent presented Pomfret Mappas, Goan Green Chicken Curry and Lamb Vindaloo, along with assorted flat breads (hot naan and roti), and a piping hot Prawn Biryani, which Kent ceremoniously cut open the baked flour covered earthen pot to good cheers and clapping.
It's commonly said in Goa that `You can take a Goan out of Goa, but you can never take Goa out of the Goan.' We take our Portuguese heritage very seriously – in food, flair and flamboyance – taking it passionately in spirit to all the corners of the world, irrespective of where we land up. With elements of the sea and soil, all Indian ingredients coming straight from India into the hands of Head Chef Faruk and Chef Mayur, with Laxman on the grills, this feast for a Queen had success written all over it.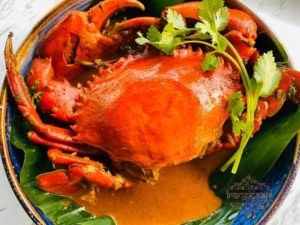 Leaving the shores of Mumbai for Malaysia and bringing the culinary treasures of their native homes from Uttarakhand, Kolkatta and Maharashtra with them, a bite of the food transported me straight to a robust Punjabi dhaba, sitting on choir cots, loud Bhangra notes hitting my mind's eardrums, and eating with the stomach. Which means, eating full-heartedly to your heart's content.
Silence at the table usually always translates into reverence for the food. I loved the Pomfret Mappas and the Lamb Vindaloo (soft meat, thick gravy, all scooped up with flat bread and potatoes. Such a happy no fuss vegetable this, that blends in and binds all ingredients and masters together). The Pomfret all moist and finger licking good.
Pleasure, in-evidently is accompanied by pain, as the Prince of Darkness stood on the starboard of the rickety ship watching distant waves crash into wails of agony. He had been satiated, but never quite full with the blood of lives coursing centuries of stories inside his veins…
Kent reappeared this time with a prize catch to dazzle the proceedings at our table with hot Masala Chai, just as the rain began to dissolve gently after the fury of the long evening. A menage a trio of classic Indian Desserts – Gulab Jamun, Kesar Phirni and Mango Kulfi set for last call and flirting for attention, took centre-table. Finding your way to bliss is the poet's most ardent journey to self salvation. I know this only too well. Those who know their Indian food closely, know this deadly trio can make or break a well spent night into ecstasy or boredom. They did not disappoint me! Deliciously succulent, the slight warmth of the Gulab Jamun with hints of saffron and cardamom, the Phirni gentle and teasingly tender, and the Mango Kulfi proudly holding court to remind me, and the Universe, why India is the culinary giant that needs more celebrants across the world.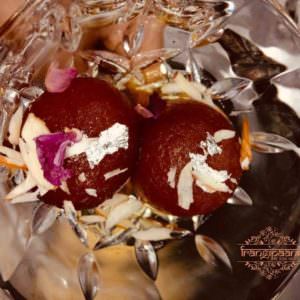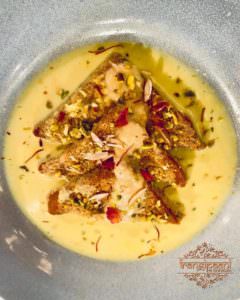 What really makes Frangipaani the go-to again restaurant is her people. Finally, that's what lends heart to her food. Oh, the cocktails, by the way, are for another night of joie de vivre. Being a glutton is so not ladylike 😉 What a beautiful, happy night of love and friendship, and yes, story-telling to you, my dearest readers 😊 Go feast on now.
Photographs: Ethel Da Costa, Shameena Abdurahiman, Frangipaani
Facebook: https://www.facebook.com/frangipaani
Open (Mon-Sun) : 11.00am-3.00pm/6.00pm-11.00pm
Reservations: Call or WhatsApp on +60 11 1173 6619 / 03 2011 0030
For reviews, content collaborations, interviews, staycations, connect: etheldacosta@gmail.com