"Going to Sicily is better than going to the moon."
– Gabriel Garcìa Màrquez
I nourish my body with my senses. `I'm Italian. I love pastas and rice. I love fish. I eat lots of chocolate,' said Valentino. Unbeknownst to me at the point of leaving home, I did not know this was to be.
It was the photograph of a juicy, ripe for the plucking, succulent, roast chicken basking in a neighbourhood of carrot, peas and broccoli, that had piqued my curiosity and wetted my appetite. It looked all dressed for Christmas. But Christmas was still three months away. So, I dialled the call number to ask where this new chick in town was from (ok, this phrase sounds too familiar to me 😊), and found myself led to The Source. To a back alley in Bangsar I had never been before. A tree lined pathway dotted with cool cafes, cosy outdoor sit-outs, twinkling fairy lights draped on tender trees, elderly folks lounging in the veranda of their villas – I presume after a long, lazy breakfast. The feel of a quaint froze-in-time Tinto (a public meeting place in Portuguese, as we are all familiar with in Lisbon and Goa). A familiar saudades rushing over me, like the wind had heard a longing and was stepping in with the scent of my hometown in Goa. The scent of salt…
A light drizzle of rain greeted me as I stepped out of my car, and onto the porch of Mangiare 21 (21, Lorong Kurau, Bukit Pantai). Opened a year and half ago and thriving during MCO, blood red chairs to waiting tables, empty wine glasses luring me in, like a flute to a snake charmer.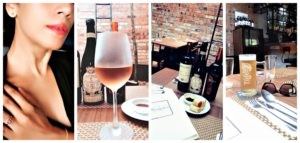 All things quaint, odd, old, and quirky are drawn to me, as I to them. Greeted by Sunder Arunasalam and his team, a warm wood laidback aura to the lounge, modern and youthful, an open bar the kind you would spend an entire day just chatting up Irish, the bartender from Philippines, over wine or whiskey (she's smart and friendly), and a wide makeshift chaos of wine – the wine rack yet to be outfitted I was told – that allows you to browse through the labels in person. Like people. You check out their personality, you feel their energy, and decide which one and who resonates with you. I settled for three as company – Vie en Rose (from Southern France), Baby Doll (Sauvignon Blanc, Marlborough 2018), and Luis Felipe Edwards (Chile). I had no other appointments for the day, except my own chill time to savour.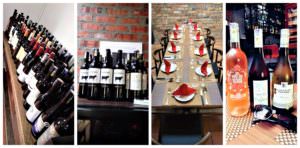 A precise menu designed for work lunches with a brunch like atmosphere, Chef Wan from Japan is the man in control of this tight Italian clan – kitchen, ingredients, meats and sea food, each performing a well trained drill of who meets whom, where and when. As Sam, the man on the floor, poured my Vie en Rose to happy chatter, I welcomed the Baked Fish Seabass on Spinach with Feta, and Lemon Dill. The salt had found me. It sat there gazing at me, lovingly, a canvas of nostalgia beckoning I dive in and swim with the current. So many times we've been told to swim against the flow. Not true. The Flow takes you to your Soul's destiny, if you surrender with faith.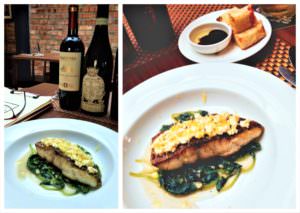 The right balance of citrus notes, fish meat and spinach integrity uncompromised (both being delicate in texture and composition), with Kanesh, who manages operations, keeping me company on first impressions. Encouraged by my smile, I felt the tension ease as Kanesh settled into his seat with comfortable relief.
"The purity of the outlines, the softness of everything, saggy of colors, the harmonious unity of the sky with the sea and the sea with the land … who saw them only once, he owns them for life."
– Goethe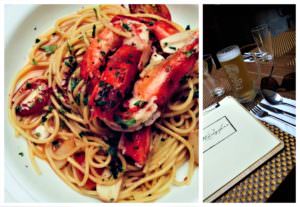 Pasta & Risotto
So, why was I in my mind's eye feeling the seas of Sicily? The sound of bobbing yachts in the water, seagulls overhead, and then flashes of Nice and Monaco and the sun kissed breeze on my face. I remember wanting never to leave these shores as the water washed over aged pebbles rolling over millennia.
It was time for my second course. Having been given the liberty to choose my own menu, I decided on the Garlic & Chilli Prawn Spaghetti. And then choosing to shift from my Rose' to a Sauvignon Blanc, with approval from Sam nodding at the far end of the bar with his consent 😊 A spaghetti aglio-olio can be like a tricky boyfriend who blows hot and cold, non-committal on whether he is in the team, or, just cruising along. When the dish arrived, a wave of aroma accompanied with the breath of sea floated to my table. Now, I've never been to Sicily, but I imagined sun kissed blonde grazed skin speaking of oceans passing through its fingers, and the soul of the salt infused into bones that will one day be swallowed by the Earth. It was moist, with a subtle wetness to the spaghetti – the Chef deliberately creates a barely there gravy that binds the spaghetti and tightly pealed prawns together, so you can laze on it. I did. Taking plenty of my time, prompting Kanesh to comment, "I've never seen anyone eat the way you do. You take your time on it. It's special," he smiled widely. The wine complimenting the experience, as if we were together taking our time over the flavours of each other. I loved it.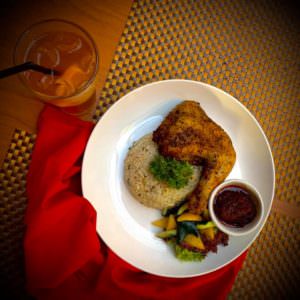 If you are in a hurry with no time to curate your own meal from the menu, a set luncheon at RM 25, inclusive with Iced Lemon Tea, is also available. Ideal for lunch dates on a budget. Ah, young love!!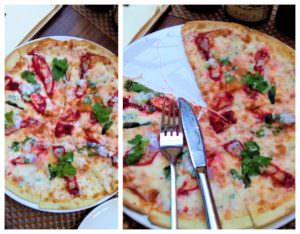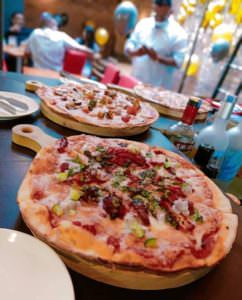 The thin crusted Tandoori Chicken Pizza – you can choose from a concise selection of pizzas – being another option for those on a Dutch budget, shared by two.
L Secondi    
Now that my brain had set its heart on Sicily, I decided to deviate off course and play along with a change in flavour. A Herb Crusted Rack of Lamb. Grilled New Zealand lamb rack crusted with herb, bread crumbs, broken roast potatoes, vegetable caponata and lamb jus. Chic platting, the herbs aromatic, the vegetable caponata generous in portion, and the meat intense in flavour.
I will suggest that the Chef be spoken with to decide how you want your lamb done, because unlike beef (which is my preferred meat, but not served at Mangiare 21), the texture, taste, density and flavour of the lamb will depend on how long it sits on the grill. Remember it is your food, and you need to enjoy every bit of it.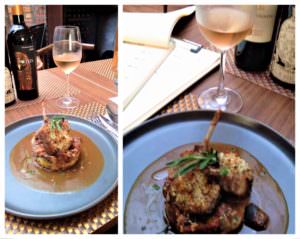 "I was enchanted… the limpidity of the sky, the restless splendor of the sun, the beauty of the countryside, a certain excitement of the fantasy…which brought to mind the time when in the fields one encountered the divine."
– Jean Houel, 1735 – 1813 French painter
Dessert
Having dredged so many feelings from memories yet to be made, it was time to choose a Queen for the day. And she announced herself in full regal fanfare. The Mangiare Tiramisu is like no other I've eaten.  A hot favourite on the menu, and highly recommended, the expresso flavoured sponge finger dipped in Kahlua liqueur, with mascarpone cream in crispy wafer cup dusted with cocoa powder, was sexy, full bodied, buxom and delicate at the same time. Like a fully attended Sicilian wedding by friends and neighbours. A party on a dessert plate. Beautifully plated and presented, I paused to savour it with my nose, picking off scents like a wooded forest, then digging my dessert spoon deep for a feel of the Earth. Every now and then between bites amazed at the feelings of delight I was experiencing. The Kahlua Liqueur like a veil dancing between the sponge soaked in an intoxicate mirage, as Chef Wan smiled back with pleasure watching my face. It is his star. I could see that. I realised I had spent four hours in a time capsule of warmth and romance. No way would I share this dessert even if the Devil sat on a waiting list at a Chanel year end sale, to grab his favourite winter boots.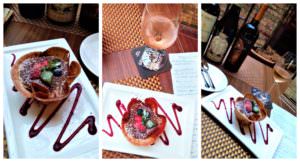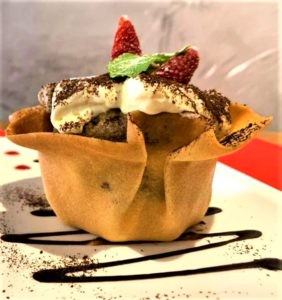 As I disappeared into the traffic lights and the rain thundering down the skyscrapers of Kuala Lumpur, it reminded me why I loved Sophia Loren, who said, "Everything you see I owe to pasta."
Malah cinta terasa indah di Itali (even love feels beautiful in Italy).
Photographs by Ethel Da Costa & Mangiare 21
Facebook : https://www.facebook.com/Mangiare21/
Open: Mon-Fri -12.00pm to 12.00am
Reservations: 012-7070427
For food reviews, interviews, staycation collaborations, content services, connect with etheldacosta@gmail.com