David Aames: I like your life.
Sofia Serrano: Well, it's mine and you can't have it!"
— Vanilla Sky
Long winding weekends are really the best. You move at light speed from one thought to another, the body follows suit, all cells and muscle in forward inertia, and you're on the road, once again, letting miles of concrete swallow the distance between you and the hustling city. A Journey of Flavours and Spirits said the invitation by Jessica Ovinis, General Manager, Chiqui Don (9G, Jalan Medan Setia 1, Bukit Damansara, 50490 Kuala Lumpur, Wilayah Persekutuan Kuala Lumpur), when it arrived with the seduction of a wine and food pairing soiree. A combination that I've loved ever since I picked up pen to paper in the global media universe as a lifestyle editor. These journeys have taken me across the Planet celebrating food, art, wine, fashion, a way of life and the stories of people and places entwined with it. This one was taking me to Bukit Damansara. Rolling expanses of green woods, clear blue skies, rain washed roads and fresh air.
Greeted warmly at the door by the attentive staff of Chiqui Don, and escorted to a table with my own name placard 😊 the afternoon warm with hints of Spring in the air. I'm a believer of first impressions. They always count and matter in the long run. Beautiful warm lights, chic interiors, cushy seatings, an aura of subtle class, and 24 handpicked invitees from different walks of life greeting each other over one of the smoothest cocktails I've had in a very long time –  The Chiqui Velvet. Sultry, dark, sweet, a trailblazer of smooth flavours, notes of spice and Rum (I highly recommend this cocktail) set off the afternoon to a flying start.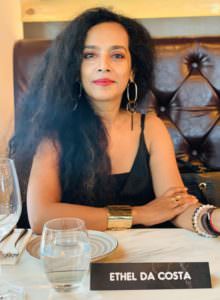 https://www.instagram.com/p/CELpDY1DR6m/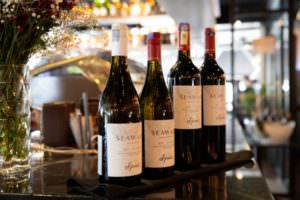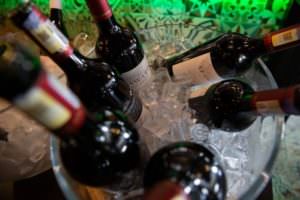 Hosted in collaboration with guest sommelier, David Stephan, the journey of flavours and spirits brought together the cuisine of the globe with cultural nuances of Asia. Paired through a three course lunch to showcase four distinct and complementing wines from South Africa – Spier Seaward Chenin Blanc, Spier Seaward Sauvignon Blanc, Spier Seaward Cabernet Sauvignon, Spier Seaward Pinotage – I was serenaded to a celebration of flavours that really are signature Chiqui Don specials. A sassy curtain raiser to a successful afternoon. As guests settled down and service began, I sank back into my plush seat surrendering to the flow of the occasion.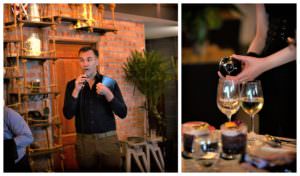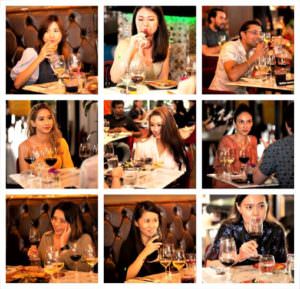 "If you are what you eat, then I only want to eat the good stuff." 
– Ratatouille
THE STARTERS
The Watermelon & Feta Cheese Salad (paired with a White – Spier Seaward Sauvignon Blanc), Chili Crab Dip (paired with a White – Spier Seaward Chenin Blanc), Garlic Chili Sea Bass (paired with Spier Seaward Chenin Blanc), and Greek Meatballs (paired with a Red – Spier Seaward Cabernet Sauvignon). As the starters flowed in quick succession, the wines effectively danced to the tune of the dishes, opening and complementing my palate to the taste of its ingredients, spices, fuelling emotions of love and happiness. Food and wine is a sensory journey.
As David took the august gathering of writers, media, food lovers through the journeys of each wine, Team Chiqui Don ensured that the flow of food to the temperament of the wine was kept in balance. My personal favorite from the clan of Starters was the Salad and the Greek Meatballs, allowing me to savour the frisky freshness of the Sauvignon Blanc (white) to the moody allure of the Cabernet Sauvignon (red).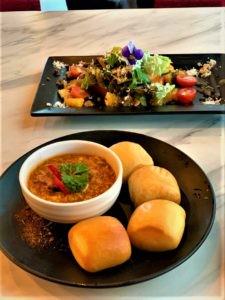 THE MAINS
As the noon progressed to high heat, and the chatter got louder, the Mains came floating by like ballerinas set to take over the opera.
Presenting an interesting showcase of five dishes to choose any one from – thus displaying a versatility in cuisine and professional back-end kitchen control – I settled for a Black Angus Rib Eye Steak to progress my journey further with the Spier Seaward Cabernet Sauvignon. Now, you must understand that the Malaysian climate – already hot, humid and bothered most times – is not really mating ground for the reds. Hence, caution and prudence is always invited when you open a bottle of red. I decided to swing with it any way, perfectly complimenting my mouthful bites of the meat, medium rare, grilled to perfection and served with potato gratin, mushroom sauce and sauteed vegetables.  My partner settled for a Seafood Trio, of which I sneaked a bite, loving the textures that came open into my mouth. The sea bass fillet, tiger prawns and half shelled green mussels drizzled with vongole sauce, and served with garlic bread was a hit. A lovely balance, and of course, paired with the Spier Seaward Sauvignon Blanc. As my emotions swirled and flirted with the sea bass, I realised I was liking the Sauvignon Blanc more and more (rich aromas of green figs, grass and ripe tropical fruit). Excellent wine for Malaysia to support, build up and compliment most of the Malaysian cuisine effortlessly. The Sauvignon Blanc is a happy trooper, getting along with most without conflict, happy to build bridges instead of breaking them.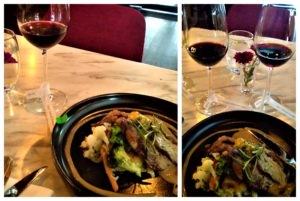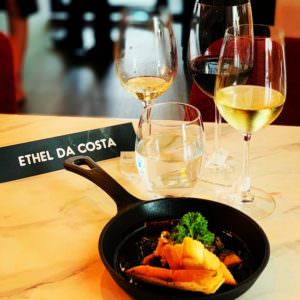 "A Bartender is the aristocrat of the working class."
— Cocktail
THE INTERVIEW
In between the soiree, I managed to catch a tete e tete with Jessica Ovinis, General Manager, Chiqui Don and Kuhan, Co-Founder of Chiqui Don.
Ethel: How often does Chiqui Don host curated events for its guests? And why?
Jessica: This is our first event and we hope to have another one by the end of the year.
Ethel: What would you say is the food legacy Chiqui Don intends to create?
Jessica: Chiqui Don is a melting pot of casual Asian and Western flavours under one roof. What makes us special is that we are continuously innovating on our food and beverage offerings with a community sourcing element. We also believe that Chiqui Don should be known as a place where everyone can come for daily dining and cocktails.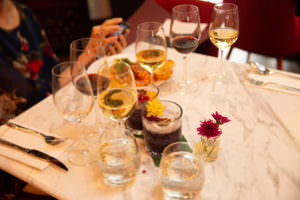 Ethel: What's your comment on this beautiful, fun narrative that Chiqui Don has tried to create with A Journey of Flavours and Spirits.
Kuhan, Co-Founder of Chiqui Don: The wine pairing initiative was conceived to exhibit how Asian flavours can be enhanced, as well as Western flavours, with the right type of wine. It is rare to pair wine with Asian elements. Even our western dishes have some form of Asian flavours or spices added to create a fusion cuisine that is unique to us.
"You see, there are two kinds of people in this world: the workers and the hustlers. The hustlers never work and the workers never hustle…"
— Cocktail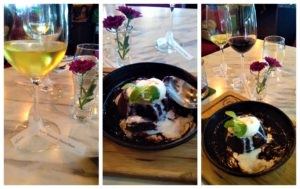 THE DESSERTS
As David moved from table to table surveying the journey of his spirits, and the mood of its disciples, we progressed to Desserts – usually the belle of the ball depending upon the satisfaction of the Queen (mains) and how she had held court. I decided we had to have both the desserts on the menu to allow a comparative analysis of who fared best. You must understand that wine can be held at fault for over zealous bravado 😊 The Sizzling Chocolate Fondant (warm soft chocolate fondant with molten chocolate core, topped with Tillamook vanilla ice cream), and Payasam Panna Cotta, so familiarly home ground (with Italian cream jelly) was dressed for the occasion. Gorgeous plating and simply lip smacking perfect. Each dessert with so much personality and charisma, and therefore worthy of attention. I must confess that the chocolate fondant with generous sips of the Spier Seaward Pinotage (dark fruits introducing a rich, complex, middle palate with hints of spice and vanilla) was my perfect curtain closing companion. I mentioned to David how perfectly both these elements had managed a have a happy `live in,' he laughed heartedly. As the three of us (me, Chocolate and Pinotage) lingered on with this foreplay of sorts, I reminded myself just how blessings ought to be celebrated with wine, food, song, great company, for the love of Malaysia.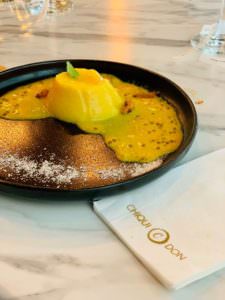 "Start 'em off with a single, then a double, then a triple, then back to a double, and back to a single. You want 'em drunk enough to get their credit card then sober enough to sign the check."
— Hustlers

THE COCKTAILS
If you're heading to Chiqui Don for a weekend night out (or long lunch), don't forget to try these knockout cocktails that is destined to earn you gold stars with a date, or a work promotion with a boss.  If both fail, atleast y0u've had a good drink and lived to tell it !!
Facebook : https://www.facebook.com/chiquidon
For reservations: https://chiquidon.com/
Contact: +6 017 212 5158
Open: 12.00pm-12.00am
Photographs: Ethel Da Costa, Chiqui Don, Shameena Abdurahiman 
For collaborations, reviews, content associations, contact etheldacosta@gmail.com
Cell +601161781642