There's a festive nip in the air and its contagious. Happy smiles, good weather, great food sums up my BLOGBUSTER weekend to celebrate Malaysia's 63rd Independence Day (on August 31). In the hullabaloo of a hectic social diary, wine tastings, food festivities, throbbing nightlife, new experiences and story telling, I met David Stephan, Director of Digital Development & Resident Wine Geek at Albert Wines & Spirits' at a wine pairing soiree hosted by Chiqui Don (9-G, Jalan Medan Setia 1, Plaza Damansara, Bukit Damansara, 50490 Kuala Lumpur).
A French professional sommelier, wine educator and overall wine enthusiast, David comes from a hospitality school background, having worked in a few locations in France and the Caribbean, before moving to China in 2003 to manage a French restaurant group.  In 2006, he switched work to start with an importer and distributor of fine wines.  In 2011, after deciding that it was time for a change, he moved to Malaysia where he has been present since, continuing to share his passion for wines.
Showcasing four distinct South African wines paired with an elaborate three course lunch served to 24 select invitees from Malaysia, David patiently took his august audience comprising of food writers, lifestyle influencers and media personalities through a journey of how to complement the flavours of the food with the spirit of his wines.  Four graceful beauties took a bow that afternoon as they preened for attention  – The Spier `Seaward' Chenin Blanc (a palate of generous fresh fruit and lively acidity on finish) served with Starters; Spier `Seaward' Sauvignon Blanc (a rich aromas of green figs, grass and ripe tropical fruit) served to balance the fish and meats of the assorted entrees, and components of the Main course – This wine opened up its bouquet of aromas to me like it was delighted to meet me. She became my special lady for the day. The Spier `Seaward' Cabernet Sauvignon (complex middle palate with balanced freshness enhanced by sweet oak). A good red building layers of complexity as the flavours of the food grew intense; and finally the Spier `Seaward' Pinotage (dark fruits introducing a rich, complex, middle palate with hints of all spice and vanilla) with an air of subtle mystery, curiosity and balancing the aftermath of Mains and Desserts. Palate popping, if you may say, with some heat lingering that could perhaps lead to siesta, or, a cigar. If you listen keenly, wines do communicate with you with a very discerning language a few can hear.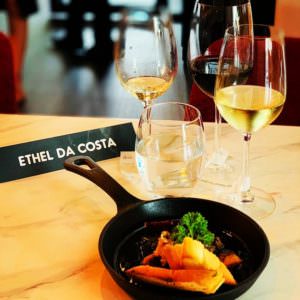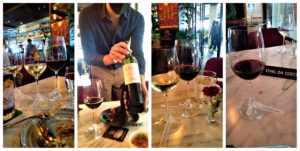 As David moved from table to table meeting his guests, aiding and enabling conversation around wine, travel and gourmet experiences, I noticed his calm energy working around a very animated room full of high decibel conversations. A skill I've learnt over time on how to centre myself, and orchestrate focus and attention outwards to get across a chain of thoughts. Soon, David was at my table talking on the growing wine culture in Malaysia, a French man finding his foothold in its diverse food history, Malaysia's unique climatic flexibility of hot, humid, rain sometimes experienced in a day, and how all these elements were actually strengthening more wine visibility and supporting a growing influence on its local population.
Excerpts of our interview:
Ethel: What kind of wines work best in Malaysia and why?
David: I think there is a difference between the wines which are popular in Malaysia, and the ones which I think are suited best for the weather, environment and food.  First, new world wines, especially Australia/New Zealand are the most popular in our country.  This is most likely due to the fact that those countries were the first ones to be imported into Malaysia 30 years ago, as they are the closest wines regions. But also, many Malaysians have lived and studied over there (Australia/New Zealand), creating connections to the brand and styles – which is indeed very appealing too!  So many Malaysians love their strong, full-body Shiraz, which I believe doesn't go necessarily with the warm weather and local food!
There is a large collection of food here, and, on broader terms, I think that fresh, aromatic white wines, or, even Rose wines are best suited for Malaysia. And yet, red wine still counts for over 60% of all wines imported.  Rose wines are perfect for the weather. They can be paired with a variety of cuisine and styles (steamed, BBQ, for either fish or meats), and they can also handle spicy food, which I think full-body reds often clash with.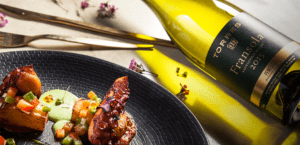 E: What is your take on the fantastic food culture in Malaysia and the potential it holds for building a strong wine culture through events and education
D: I love food, and I love the so many options we can find it here.  I especially love – like many Malaysians – street food and hawkers. Meanwhile, those are not very wine-friendly environments with the heat, no proper glasses, and the overall  'aromas' of the environment. Yet, there is a definite change of interest for more 'refined' versions of local cuisine, in a good location, which pair magically well with wines (Fraangipani Restaurant in Bukit Damansara comes to my mind).  I have also seen plenty of interest with different wine events we organize. Whether they are wine dinners, casual wine tastings, or, for proper guided wine tastings, for which, over the past few years, I have noted a much younger crowd with many being below 30 years old. Also pleasantly, many more young ladies (it changes from the cliché of the `uncle' wine lover!).  I believe that the Malaysia Wine Culture will continue to evolve with many people keen to discover more about different grapes, regions, appellations – and not keep on drinking the same wines over and over again.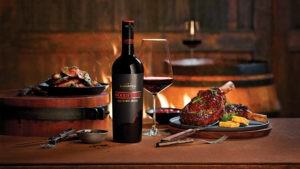 E: How did a French man like yourself land in Malaysia? What is the local wine culture that you have experienced so far?
D: I originally come from the hospitality industry, which is a job that I chose in order to allow me to do the main thing I wanted when I was a teen: Travel.  Doesn't matter what happens, people will still need to eat. So, it allows me to work in a few locations in France, in hotels, restaurants, or, for a catering company. Then in 1999, I got a job in a small French Island in the Caribbean, where I spent four winter seasons (coming back in France for 4-5 months in the summer), so I was predestined for a tropical life!  In 2003, I wanted some change, and I ended up accepting a job managing a French Brasserie in Shanghai, China – it was a big change!  I went there for a 1-year contract, arrived with two backpacks, and left eight years later with a wife, a daughter, a dog, and a container of furniture. Thereafter a couple of years later, I changed jobs again, moving to wine import, sales and distribution, yet still linked with my industry.  We came for holidays to Malaysia in 2005, spent one month across the country (Sabah, KL, Malacca, Perenthians), and fell in love with the country.  In 2011, we wanted a change of pace from the ever-changing China scene, and set our sails for Malaysia, where we have now lived for the past nine years.
Malaysians are passionate about food, and wines and spirits follow.  It is still a major market for spirits, with cognacs having an historical link to the country (it used to be the 2nd export market for brandy!), and now Whisky being more and more popular.  Yet, wines are reaching out to a wider audience, across ages and ethnicity, and are gaining more and more market share every year, whilst spirits and beer sales aren't growing as strong.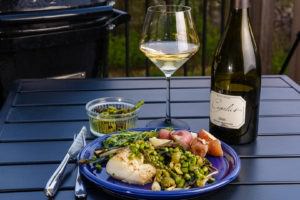 E: What are your favourite dining options, where do you like to holiday in Malaysia, what kind of food do you like to eat?
D: I am out often with my company, happy to taste delicious food of many of our trade customers, some of them being westerns, or local Nyonya, Indian, Chinese or other cuisines.  On weekends, I often don't go out to dine, except maybe in places around my area.  Meanwhile, I love to cook for family and friends, so I don't mind spending a few hours in to prepare a nice meal.  On holidays, as I said, I am a beach boy, so we love the many islands that Malaysia has – with my preference going to Pulau Perenthians for the stunning scenery, snorkelling and amazing atmosphere, and also Pulau Langkawi, for the big beautiful beaches, sunsets, and yes – cheap booze!
E: What is your role in telling the Malaysia story to the rest of the world?
D: When I go back home to France and meet someone I haven't seen in a while, and tell them that I live in Malaysia, many of them don't even know where Malaysia is!  They know Thailand, they know Singapore, but not much fame for our beautiful country, I am afraid. Having been here for nine years, we absolutely love it, and are happy to share the love and beauty of the country everywhere we go.  We are very lucky to live and raise our family in such a multicultural melting pot – which is what the whole world should be!
If you haven't already, you can stock up the armoury for this long festive weekend with wines from Albert Wines & Spirits (3A, Jalan KIP 3,Taman Perindustrian, Kuala Lumpur).
Contact +60362763993
For reviews, content collaborations and services, staycations, connect with etheldacosta@gmail.com