I thought the day was perfect. I had a restful night, a great chat with a girlfriend, answered some fan mail from male hopefuls, unfriended dead wood drifting around on my Facebook timeline, and Grab-ed all dressed and spunky to busy Bangsar – Kuala Lumpur's food haven for bars, cafes, assorted world cuisine, massage corners, shopping malls, narrow lanes with cheek-to-jaw traffic blocks and happy hellos from perfect looking strangers. Savvy for a girl out on town. The Sun was still holding perky on a noon sky and running late for the luncheon, I requested my Grab driver to step on the pedal.  `Are you sure, ma'am? He asked me, half amused, checking me out in his rear-view mirror. `Try me,' I retorted. Happy he had met a rare daredevil, the pedal pumped gas and off we were burning rubber and hugging road curves to get me on time to my brunch date.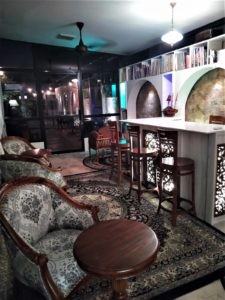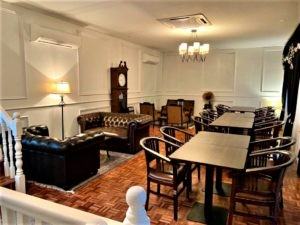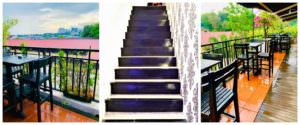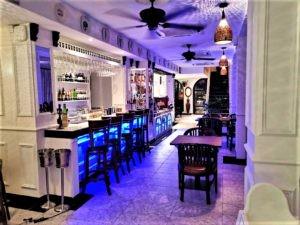 The location is unusual, so don't judge it. Instead, a lazy winding road took me a bit off Bangsar's busy townscape into a residential curb, locals going about their businesses as usual. Set into a cute, white washed, picket fence, spacious villa in a gated compound, Bunglow 37 (37, Jalan Abdullah, Bangsar, 59000 Kuala Lumpur, Wilayah Persekutuan Kuala Lumpur) rested quietly, hugged by tall trees and birdsong.
A smiling Ann Ding, Executive Marketing & Sales at Bunglow 37, greeted me, smiling through her face mask at the door. I was immediately escorted to my waiting table set against a beautiful Sun streaming glass windows, green leaves brushing against the glass pane, wine glasses sparkling and reflecting rays of sun beams, a well-endowed bar urging I come see, chic interiors for Cognac and Cigar soirees, an upstairs lounge with an outdoor al fresco dining area dotted with bougainvillea, private dining rooms, events space, colonial style furniture impeccably waiting for the weight of warmth, soft strands of jazz, and all was okay with my world. Why shouldn't it be? Gratitude was surging my heart for the blessings of a soul life in Malaysia.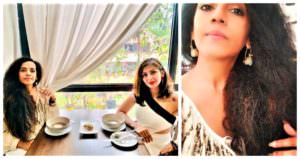 The 8 course Tasting Menu (priced at RM 180 per pax) requires a healthy appetite, so do come prepared for it. Designed to showcase the culinary skills of Chef Hafiz and the masterful blend of meat, seafood, vegetables, ingredients, drawing influences from global, eastern and western cuisine, the menu requires undivided attention to the food. So, do come prepared to flow with plenty of conversation at the table to take you through the long seating as well.  Preferred cocktails or house wines can be chosen to accompany the proceedings, so I settled for a Barren Jack, an Australian white to course through this discovery of taste. I was prepped and ready!!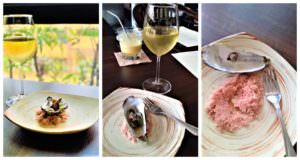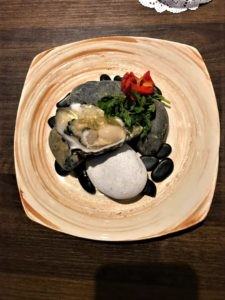 Amuse Bouche – Oyster   
Fresh premium Irish Oyster with wine jelly.
To lovers of Oysters, the menu opened with a refined sensibility of what's to come. Hence, choosing your wine, the right one, is all the more important at this juncture. Discuss the menu with the Chef, and the Head Bartender will recommend the pour.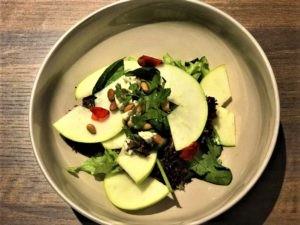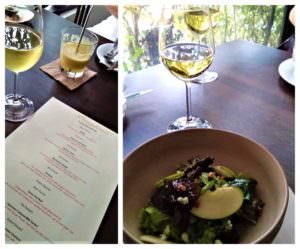 First course – Granny Smith Salad
Green Apple salad served with Blue Cheese, dressed with sherry vinaigrette and sprinkle of pine nuts.
You cannot go wrong with this one. Fresh, citrus notes, crunch and summer in the mouth. I love my greens always. The portions just right and not overbearing.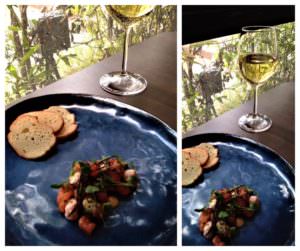 Second  course – Salmon Tartar
Raw Salmon flavoured with secret condiment, a creamy Salmon mousse, served together with toast.
I instantly liked this, flowing effortlessly from the salad to the salmon. The mousse taking care not to overpower the soft meat and flavours of the salmon, while the thin toast  perfectly lending an air of texture to your palate, in order to offset the creaminess of the mousse at the same time. Really nice.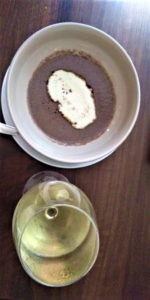 Third course – Mushroom Pontage
A thick and creamy Mushroom soup with a dollop of cream, truffle oil and sprinkled with porcini flakes.
A complex dish, since it attempted to change the synchronicity set by the earlier compadres into an arena of its own. I advise, go easy on this one, as the mushroom might come across as too dense initially, whilst the cream attempting to offset its overpowering complexities. Mushrooms are earthy, sturdy, strong sons of the soil. You can't take them lightly 😊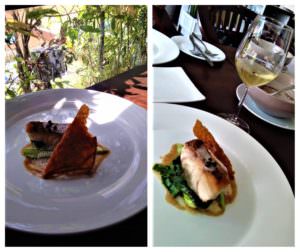 Fourth Course – Grouper
Pan seared Grouper served with sautéed local greens, capers and crispy soy bean skin, shoyu burnt butter, topped with dashi foam.
By now we were well into the flow of the luncheon, the wine flowing, the conversation hitting home, the Grouper youthful in texture, seared just right to enable moist bites. This is when Christine Ng, CFO, Bunglow 37, dropped by to check on the afternoon, and our party of two. "The menu goes through changes every month," she explained, "to enable guests a different perspective each time they come to dine." Thus keeping Chef Hafiz pretty much on his toes, and the team seeking a fresh narrative to compliment the menu's gourmet offerings. Story telling always requires a new angle to keep the juice on the bite. A good strategy.
Palate Cleanser – Pineapple Strawberry Sorbet
This came as a blessing in disguise. Much required to cleanse the palate and put a refreshed and renewed spin on the moments. You must remember to rest your stomach in between the courses, so as to allow nature and body to settle comfortably into the momentum.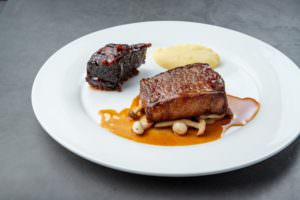 Main Course – Grass Fed Beef
Grilled striploin and `sriracha' honey glaze short rib, garnish with homemade mash potato and sautéed mushroom, served with beef jus.
By far, another favourite since I like my meats medium rare and talking back to me. The interesting blend of grilled striploin and short rib – both with distinctive textures, mood and meat flavours – was a marriage of convenience here. The mash serving as the glue between two identities and personal characters making it work. That's how relationships need to be, no? Two similar is too boring.
Must mention that my gorgeous companion, Sam, a non-meat vegetarian, requested for a Mushroom risotto which was delivered comfortably, and so peace reigned in this heaven.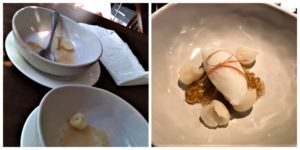 Pre Dessert – Japanese Cultured Milk Sorbet
Cultured milk sorbet, topped with Ginger flower, Earl Grey tea jelly and Longan
I've always wondered what would it be like to date a Chef?!! Especially when he creates an ensemble like this one. Take your time on this pre dessert, because it seeks for attention, telling you many secrets as you go through it. The Ginger flower, Longan and Earl Grey tea jelly (frankly, this requires sharp skills), made it happen effortlessly.
Of course, you must remember that each course has attempted to weave a tale of dexterity, finesse, skill display, thus alluring you with an escapism fantasy. That's life. A Yin and Yang is always a good state of being.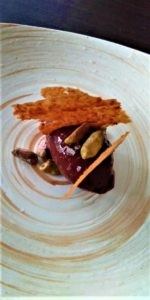 Grand Dessert – Chocolate Cremeux
Rich, creamy and thick chocolate dessert with Orange tulle, pistachio, smoked sale.
As the afternoon turned into early evening, this delivered the knock-out punch to state that I had managed to sail through the hours successfully. The creamy chocolate with a hint of salt might feel like it has taken hold of your mouth, but hang in there, and give it a 10 second rest. Like I did. Frankly, an 8 course meal requires the will-power of a General to stay focused in the middle of a war. But then, no General rises in rank being a sissy! Ann laughed when I told her this, as between deep breathes I had been satiated full to my throat. Now, this is what a repast for a Queen looks like. Remember, a Queen never hurries. Everybody else just simply waits for her.
Photographs by: Ethel Da Costa, Shameena Abdurahiman, Bunglow 37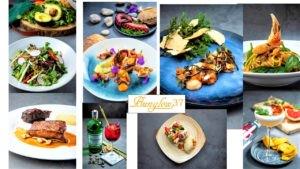 This August 31st head on down to Bunglow37@Bangsar to celebrate Merdeka, Malaysia's 63rd Independence Day. A 3-course Set Lunch for two, A set Dinner or a bottle of House Wine at just RM 63 are offers going hot. Reservations in advance is recommended, so book your table either on Sunday 30th August (today), or Monday 31st August. This crazy promotion is only valid for the two days. Bon appetite, friends.   
Open 10.00am-12.00am
Reservations at 012-630 8407
For reviews, content collaborations, staycations, Influencer collaborations, connect: etheldacosta@gmail.com