The COVID-19 pandemic that took place earlier this year has thrown the tourism industry in Malaysia into disarray. From the airline industry to the professional tourist guides like myself, we are still feeling its wrath. Needless to say, after months of non-activity, I was absolutely delighted to secure a private tour to Cameron Highlands with a German expat couple, Bodo and Andrea who were just as eager as I was for a change of scenery. We left Kuala Lumpur bright and early, driving towards Cameron with several stopovers to catch Instagram worthy Kellie's Castle and blissful Kek Lok Tong cave. We left Ipoh just as traffic was building up, glad to have escaped in the nick of time, not knowing what was in store for us at the top. Gleefulness turned into groans as we joined the Friday traffic. We finally arrived just as the sun's last rays went down and the stars came out to play.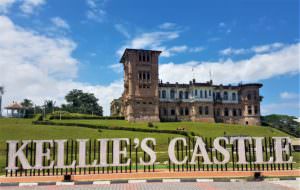 ONWARDS TO CAMERON
Cameron Highlands was founded in 1885 by William Cameron, a British colonial government surveyor who went on a mapping expedition of the Titiwangsa Range. The development of the Highlands into a hill resort and agricultural land was not in full swing until the late 1920s. In 1925, Sir George Maxwell visited the highlands and decided that the present Tanah Rata and Brinchang area would be developed into a Hill Station.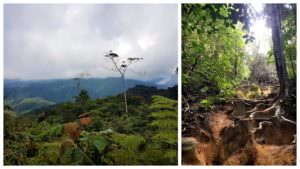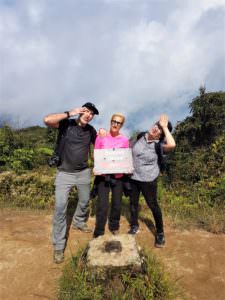 Saturday morning greeted us with beautiful skies as the three of us headed off to locate Trail 10 to begin our hike. 75 minutes later, the three of us finally reached the peak of Gunung Jasar. Nature therapy is a real thing; sitting at the top, inhaling in the beautiful, calming energy and exhaling the stress that has been piling on since the pandemic started. Two hours later, we were seated at the Barracks Café. As its name suggest, it was a former army barracks for the British army when *Malaya was under the British colonial empire. (*Malaya was Malaysia's former name before The Malaysia Agreement was signed, in which North Borneo, Sarawak and Singapore come under the new Federation of Malaysia. It was officiated on 16th September 1963. In 1965, by mutual agreement, Singapore left the Federation to form an independent state).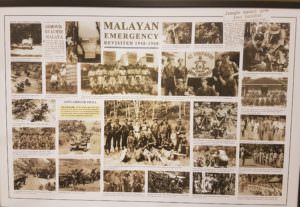 The place was divided into two areas; the barracks section and the garden section. History buffs would find the barracks section a dream, as the walls are  plastered with news and articles about Malaya's history. The garden section a stark contrast to the barracks. Light, airy and lush. A must try are their freshly baked scones with homemade strawberry jam. Crumbly, warm and buttery, it was heavenly. The combination of a great hike, rainy weather and great lunch lulling into a blissful afternoon nap.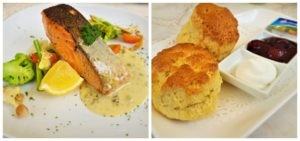 EAT. HIKE. REPEAT
A trip to Cameron Highlands would not be complete without a steamboat meal (commonly referred to as hotpot). Water Cress Valley farm and restaurant is both a farm and a restaurant. Perched on a slope, it is one of the more picturesque steamboat restaurants as it overlooks the farm providing a scenic view, with a `farm to table' concept guaranteeing the freshness of their vegetables. Within 30 minutes, Bodo and Andrea were scooping their first round of steamboat treasures. For those who don't know, the charcoal pot is an old school traditional type which uses charcoal as a source of heat giving the soup a distinct flavour, thus elevating the entire steamboat experience as well. It was the perfect way to end the last night in Cameron Highlands as rain poured outside while we enjoyed our steamboat.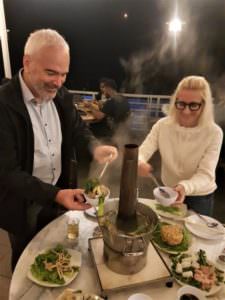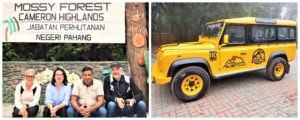 THE EARLY BIRD CATCHES THE SUNRISE 
At 7.30am the next day, we were eagerly waiting for Steve, our local nature guide from Let's Go Discovery to collect us and drive us up to the Mossy Forest. Touted to be the oldest forest in Malaysia, Mossy Forest is approximately 200 million years old. Stepping into the Mossy Forest is a surreal experience; one could imagine stepping into Fangorn Forest of Lord of the Rings. A guided walk with Steve is an experience in itself. Born and raised in the tea plantation, Steve grew up learning the secrets of the mythical forest from the Orang Asli (native people). From nature's tiger balm, berries that can cause diarrhoea to identifying a flower to save your life when bitten by a snake, Bodo and Andrea were in awe of the healing properties of Mother Nature. Steve's passion in sharing his knowledge was infectious; he told us that it is his responsibility to share his knowledge in effort that it will help preserve the sacredness of these forests.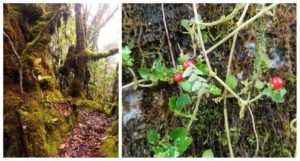 BOH Tea Plantation was our last stop. Walking through the tea plantation early in the morning was simply divine. The gentle rays of the sun with the cool, moist atmosphere provided a freshness that would lift any visitor's spirits. Rows and rows of green greeted Bodo, Andrea and myself. BOH, short for Best of Highlands was founded by John Archibald "Archie" Russell in 1929 in the midst of the Great Depression. Together with his partner A.B Milne, they transformed virgin forest terrain into the first highland tea garden in the country, now known as BOH Plantations.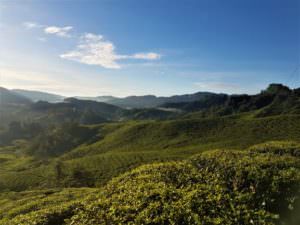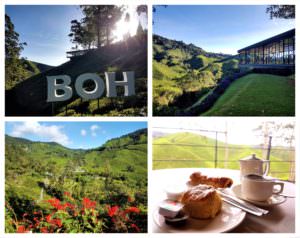 Steve, who grew up within the tea plantation community told us of how well the workers were taken care of; they were provided with housing and those with children would have access to education. Additionally, there was a mosque and a Hindu temple built for them. It is no wonder BOH celebrated its 90th Anniversary in 2019 and shows no sign of stopping. From a mere tea plantation to a must-see destination spot when in Cameron Highlands, BOH truly lives up to its name as the Best of Highlands.
Three days zoomed past and in a blink of an eye, we were back in Kuala Lumpur, saying our goodbyes. I was tired but happy to have shown them one of many Malaysia's beautiful treasures. It is always a humbling experience to have guests like Bodo and Andrea regaling their stories of being in Kuala Lumpur, and exploring Malaysia and all she has to offer. "Come as a tourist, leave as a local" is more than a tagline, it is a mindset that turns an experience from good to extraordinary.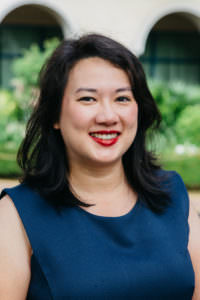 About the Writer: May Kuen is a licensed tour guide under the Ministry of Culture & Tourism and is the founder of Jalan-Jalan with MK, providing both private and walking tour services. Her ultimate dream is to put Malaysia on the world map. For more information, visit www.jalanwithmk.comPhotographs by May Kuen
For staycations, reviews, interviews, content collaborations, contact etheldacosta@gmail.com