I had woken up the right side of my bed to a beautiful day. The sunlight was streaming lazily through flowing curtains, my skin felt happy, my hair – after a good oil do-over  – ready to take on the day.
Travelling into Nature has always refreshed and rejuvenated me. An Earth sign (Virgo), my grounding with Mother Earth helps me power up on happy hormones, when a little tune up is required from the wear-tear of city life. This need for a reboot took me into the bosom of Kampung's mountainside, winding kilometres of green forests, narrow roads, fuchsia bougainvillea blooms hugging simple cottages, chickens and dogs running around freely, the wild and the untamed entwined in harmony. All this just 30 minutes from the bustle of Kuala Lumpur, and into a roaring river to share a lunch in the wilderness.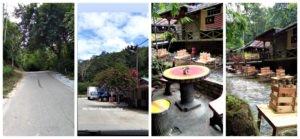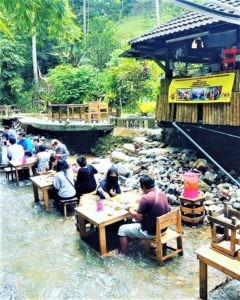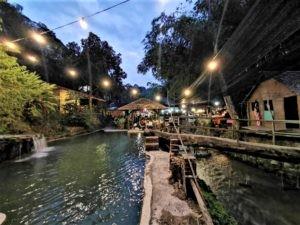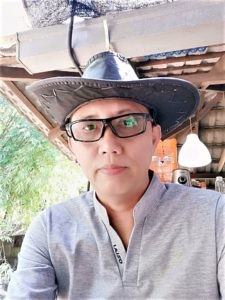 The first sight that greets you when you reach Kampung village is the change in air quality. Your skin feels the moisture, your nostrils breathe deeper, the sound of water like a love spell lulling your hormones to happiness, and then the smell… slowly enticing you towards your destination.
All SOPs begin at the entrance of the river-side restaurant as you check for your reservation, the menu for the day, and then your eyes connect with the source of what makes BBQ LAMB KL KEMANSAH  (Jalan Taman Zooview, Kampung Kemensah, 68000 Ampang, Selangor) the beauty that deserves more print space. Nestled into the crook of a river curve, like an elbow hug, a rushing rivulet from upstream mountains (it had rained ferociously the previous night) following playfully downstream, and lending a robust energy to the water. Fresh, strong, un-tethered, life-giving, as I touched it in greeting. Five minutes later, I was being escorted to cross the stream and take my table and seat in the middle of this drama.  Remember to wear sturdy slippers as the river rocks can be tricky.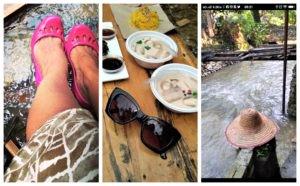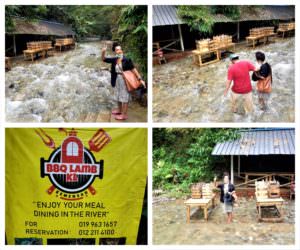 Owned and managed by the very enterprising Zainuddin, his two handsome sons, wife, and a well supported team for the last 3 years, Zainuddin declared himself a simple Kampung grown and raised village boy who played in the wilderness as a teenager, and decided to become an entrepreneur. "I grew up in close proximity with Nature. I know these areas inside out. Food is Malaysia's lifeline. As a local, that is our best story to tell," he confided as we sat down for tea, post a repast so huge and fulfilling I requested him that a hammock would have been ideal to knock back a siesta. Zainuddin laughed, "Imagine the fight that will break out if I give you a hammock," he joked, as he introduced me to his sons and wife, "the famous Lifestyle Journalist from India in Malaysia, and making Malaysia famous." Packed to maximum seats even on a weekday, trays laden full with smoked assorted meats, seafood, lobsters (no alcohol is served), passed hands up and down the stream. Happy chatter enveloping the wooded environs, conversations shared best over food with friends and family.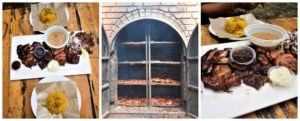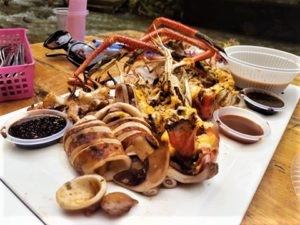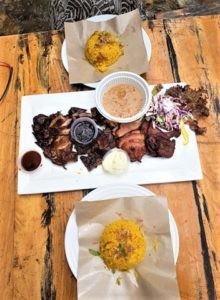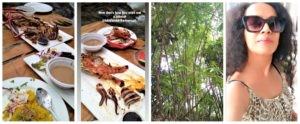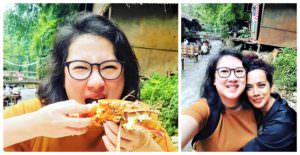 On an average day per week, 100 kgs of chicken, 100 kgs of duck, beef, fish and other meats sourced from local farms land into the self built smoke house/oven, all greased and brushed with spices and secret sauces. Fired with local wood sourced from the jungle, the meats embalm the spirit of the land deep into its tissue, giving it a unique Kampung flavour. Simple, strong, sturdy, all heart, unpretentious food. Just how I like my men and love to be 😊 For vegetarians, enough choices are available to experience a brush with the wild side (Prices start RM 30 onwards). Hands are washed directly into the river – as you eat with your fingers, duh!! That's what I did. Friendly servers wearing cowboy leather hats cross the rushing stream to reach you with barbecue platters full of meats and seafood, each with sauces, dips and salads, accompanied with turmeric infused flavoured rice with dry fruit, lemon ice tea, watermelon slices and chilled agar-agar (local milk dessert). I would advise you, please leave your city rush at the doorstep of this restaurant to fully enjoy the `right here, right now' experience. The venue is also an ideal picnic day out for children to play and bathe a little upstream, under the watchful eyes of mothers, then rest and eat a full stomach meal. There were squeals of delightful laughter around me, as little children splashed around as little children should. If you are in touch with your inner wild child as a grown woman, like I am, I washed my long hair into the river stream – the fresh water acting as a natural conditioner and my curls loving the natural bounce unaltered by man-made products.
https://www.instagram.com/p/CEBTjsMDWur/
Working in close tandem with local tour partners – hiking, nature and mountain bike tours are also available in the area – Zainuddin is a busy man, greeting his guest diners, keeping it simple and close to the heart. I believe that this philosophy is truly the formula for long term success. Walk-ins are allowed, but reservations in advance is highly recommended, so that you are not left out without the feast or the experience. On weekends, getting a table is like a long wait at war, with an average footprint of 200 diners. "This long weekend and till end August we are fully booked. For weekends, we request bookings at least 3 weeks in advance. Earlier, we would be open to dinners, but now with COVID 19 we prefer not to," Zainuddin warned, "But for you, just call and come," he smiled warmly as he saw me off, satiated and revitalised with the Vitamin D and Vitamin Love in abundance for the day.  Those who know me close, know that the route to my heart is really through my stomach. It is picky, but when she gives, she does so in surrender. Simple good men and women get it!! 😊
Facebook: https://www.facebook.com/Bbqlambklkemensah/
Open from – 10.00am-7.30pm
For reservations, call +60122114100
Photos by Ethel Da Costa & May Kuen 
For food, beauty, product reviews, content collaborations, staycations, interviews, connect etheldacosta@gmail.com
Contact +601161781642