Energy announces itself before it arrives. I'm told this often, by friends and strangers as I navigate through life, love, the hustle, and living my truest authentic self. The same resonance I felt when the young and vivacious May Chong, owner of Essence Kitchen – a home chef and a tough cookie with heart in the right place – met me. The afternoon was balmy, rain clouds gathering over grey skies, but we were a patch of sunshine talking animatedly, oblivious to the attention we were drawing to ourselves from passers-by. We had met online, and decided that our bonding could be extended in person over a meal. Basically, her food. Because, all is fair in love and work interviews shared over good food, isn't it? 😊
FOOD FOR MY THOUGHTS
A home grown enterprise run by May and her mother this February 2020, and taken successfully through lockdown, I discovered May had a simple process towards the growth, vitality and success of her family business. Focus on consistent quality, focus on quality ingredients, focus on digging deep into traditional Chinese recipes with a fresh, energetic flair of the modern, focus on the old wisdom meant to maintain and strengthen health. As May opened up the big customised delivery bag to show me the menu she had prepared for me, the aroma hit the neighbourhood as heads around us turned. The freshest crunchy veggies, canters of hot soup, chunky pink salmon dusted in pepper and olive oil, robust kampung chicken that must have foraged freely in the jungles and forest spaces of Kampung, delicious five multi-grained rice flavoured subtly with Himalayan salt, the 8 treasure tea with all the goodness of cool, heat, health, berries and other secret Chinese ingredients passed down generations. She had surprised me with her skilled virtuosity for a girl young of age. As she explained what exactly her cooking was all about, I was even more foxed. An unfamiliar USP for me, because I had never heard of May's particular food category before. A unique segment of her catered target population being strictly PREGNANT MOTHERS!! That is it!! Pre pregnancy –  during pregnancy – Post delivery mothers. I know in India food for pregnant moms is a no fuss occasion and almost taken for granted. "Everything cooked here is with heart for you, Because happy people deserve happy food," May smiled widely at me. Essence Kitchen followed a simple motto – "Leave the cooking to us, Just focus on recovering and bonding with your baby." I wish somebody had told me this decades ago!!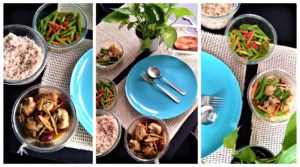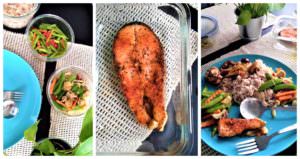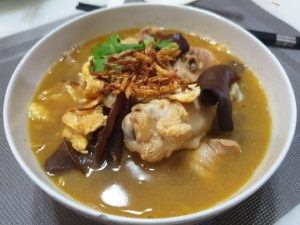 Whilst it is common knowledge that urbanisation has killed old school sensibilities, it is the truth of our sad times that we are so far lost with the deluge of packaged processed foods picked thoughtlessly from supermarkets, that I consciously decided three years ago to avoid food shopping in a super-market like I avoid a bad boy narcissistic ex that we've all met atleast once in our life😊 Yes, we don't need low quality, low value bad men, neither do we need processed preservatives and trans fats in our bodies. Unfortunately, we've forgotten, are lazy, or, don't take personal responsibility how to read food labels behind packaged poison. Time to change that, people!!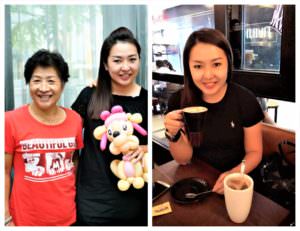 THE HAPPY HOME CHEFS
Picking up the ladle from her mother, "Who is a great cook. We remember wholesome family meals at home. Mom also cooked for Charity events. And then I decided to join her," said May chatting freely, our energies now in bonded kinship. As spoonful of her `happy' food left my mouth towards its journey into my excited tummy, I felt May's happy energy percolating through her spirit. Food is an extension of feelings. Happy chef makes happy food. With the exception of Gordon Ramsey, who I'm sure, his clients are too intimated to complaint otherwise 😊
As I navigate through the hospitality industry in Kuala Lumpur and Malaysia, I'm happily finding that the trend of home-chefs in Malaysia is robustly thriving. As it is in India, with most of my buddies being great chefs and a seat at their table always assured.
Bootstrapping their way to success with clientele based in Klang Valley, Kuala Lumpur, Petaling Jaya, May asserted she would prefer being small to medium scale in size. "We prefer slow and steady, so quality can be strictly maintained," she declared. Each day a menu is curated to ensure that every dish is freshly cooked, and all produce freshly sourced from the wet markets of Kepong Baru. A call of duty that May honours everyday to get to the first fresh stock at 5.30am. Then it's back at home by 7.00am to begin the day's work. Working closely with a TCIM nutritionist, the menu is then carefully designed for each of her clients, depending which stages of pregnancy they are at. A super speciality May has mastered. "Confinement food," as May enlightened me, "is very special, executed case to case, as no two mothers are alike. Even women who want to get pregnant need to eat certain kinds of food to aid and support the pregnancy. They need special care, so we prepare their food based on traditional Chinese physiology.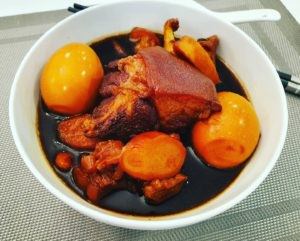 For example. Brinjal (eggplant), barley water, bitter gourds are to be avoided during lactation, sometimes pineapple too," she waxed eloquently, taking even extra special care to wash vegetables with salt and vinegar, double wash the dishes, and ensuring food reaches their destination piping hot. "Post delivery food is even more special, since the mother's body has already gone through so much wear and tear, and she and her new baby are susceptible to infection if proper care is not administered through food. So, we are extra careful about what she eats, when she eats and how she eats." May elaborated passionately. Most obviously loving what she does for her living, even personally going to extra length and quality checks before food is set out for delivery.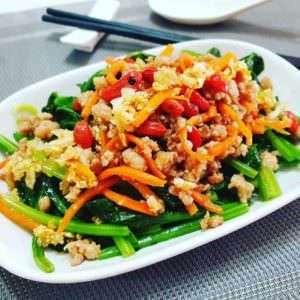 GOOD ENERGY IS GOOD VITALITY
Meantime, the delicious soup with delicate chunks of meat is so flavourful, she sees the `Queen of my jungle' vibe it has brought onto me. "It's boiled over night for taste and consistency," May mentioned.  Doesn't the temptation to go big (and make lots extra cash) get her thinking? May smiled broadly, a giggle like tinker bells echoing from her throat. "We want to stick to our roots. It is where we come from. Educating the clients with good health habits is a priority, because we guide them on what to eat. Somebody has to keep this tradition going. This personal relationship is not possible when you get too busy. I think cooking from the heart makes our clients happy, and we are happy with it," she stressed, elucidating that busyness was not the path to happiness. I concurred.
With a roster of over 30 clients to service (lunch and dinner), and meal packages to curate (available for 7 days/14 days/28 days from RM 999-RM 3388), there's enough action in the kitchen and beyond to keep the mother-daughter duo busy throughout the week. Is there chill time for May, the young lady with self assured head on her shoulders? I asked. "I'm figuring out what new dishes we can add to the menu," she laughed. A true entrepreneur. Suffice to say Essence Kitchen does embody the soul of its owners.
As I gorged and chatted over girl stories, each morsel speaking to me of vitality, the rain came down heavily reminding me why the Universe orchestrates her plans to nudge me towards self discovery and growth. I'm here to make a difference. And a difference I shall make!! Thank you May Chong. May your happy tribe increase.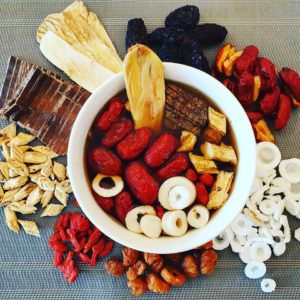 Eight Treasures Tea
Essence Kitchen's signature homemade Eight Treasures Tea is boiled for two hours using eight special ingredients which are excellent for mothers undergoing confinement. The magnificent eight are: Red Dates, Black Dates, Dried Longan, Goji Berries, Dang Shen, Astragalus, Rice Paper Pith and Eucommia (Du Zhong). The tea will help improve the mother's Qi, boost blood circulation and the immune system, calm nerves, promote new blood cells, increase gastrointestinal mucus secretion, regulate menstruation, relieve discomfort, reduce water retention, and also strengthen weak bones and joints, especially the knees and lower back.
Contact Essence Kitchen (strictly home delivery only) +6017-3489928
Facebook : https://www.facebook.com/confinementfooddeliverymy/
Food photos: Ethel Da Costa
For reviews, content collaborations, staycations, interviews, contact: etheldacosta@gmail.com