I am an intuitive creature of instinct, energy and first impressions. And they never lie. Because Truth is the lovechild of Balance. And Balance is hard work. It holds steadfast as you navigate life's tricky roads, sharp blind turns, and unexpected ravines. Even a extra peppercorn that can sully the road to nirvana.
Meeting Chef Yogesh Upadhyay (Chef Yogi to friends) from Mumbai was an occasion of rare birds in the same space. And like peacocks, our feathers fluttered in mutual appreciation, for the labour of love and passion that Chef Yogi pours into his raison d'etre – FLOUR. In its newest avatar at 12, Jalan Kamuning, Off Jalan Imbi, Kuala Lumpur, the very chic, French styled bistro and restaurant, all glass, block colour monochrome tiles, plenty of sunlight, re-defines its space. To old fans and new, re-creating Indian cuisine with a modern, contemporary, cutting edge re-invention of India, and presented in a story telling visual presentation with finely tuned flavours and cultural hegemony, is Chef Yogi's soul skill. Shattering every stereotypes I have been witness to in my own exploration of food and cross borders I've been to, including India, it was a revelation. Besides, my favourite colors of Coco Chanel dressing walls (Black, white, grey straight lines), the gold Unicorn that greets you at the entrance, stylish interior décor, cutlery and French nuisances of bourgeois living, had already doused my blood stream with endorphins. A reflective metal sheen new `look book` that details Chef Yogi's home coming story and the menu it showcases, being my first taste of dining class. When the refreshing and freshly opened Pinot Noir from Burgundy France, Coteaux Bourguignous (with notes of forest raspberries) was poured in to announce the feast that was to begin, I laid back in my chair. It was soul pamper time. No meetings of the like-hearted are ever accidental.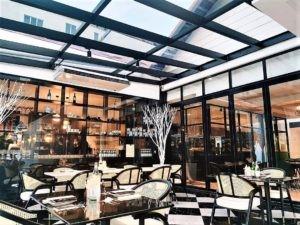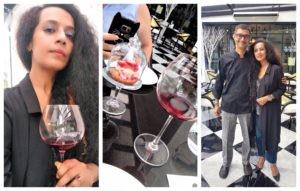 MAN WITH A MISSION
To say this `cheetah' is a walking encyclopedia of Indian cuisine, would be an understatement. This only comes for a deep passion for his craft, and dare I say, a mission of purpose. For it is a life less lived, if not lived with purpose, isn't it?
A known name in the industry, laurels on his shoulders well worn, Chef Yogi is an extension of the philosophy of FLOUR. That his food is also about culinary education. A task which he seeks to imbibe as part of the guest culture FLOUR follows in its guest service.
The passion he feels for his work, is the voice of a man deeply connected to his Soul calling.
Click the link to my Youtube audio interview: SUBSCRIBE & SHOW US SOME LOVE
FOOD IS BEST EXPRESSED WITH EMOTION
The menu is a look book with a difference. Sleekly glazed black in a coffee table book avatar, the story telling to FLOUR begins with a narrative to its Soul. The flavours of India. Clarifying that the relationship between chilly and spices is delicate, each element only needed to complement the whole, and not necessarily part of the ethos to define a cuisine. I found it fascinating and intriguing. Known as it is that Chili is the king of Indian cuisine and overdone till death does us part, in the marriage of Indian food and gut.
The five course meal of Starters, Entrée, Main Course, Desserts ending with Chai was a four hour gastronomy journey of happiness, reminding me why my work was a blessing. It takes me to places in my imagination, and fine persons facilitating the process all over the world.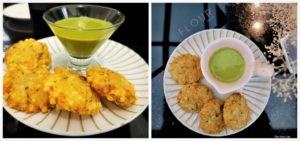 STARTERS – The Sago Patty
My years in Mumbai taught me one thing – That the cultural melting cauldron of `maximum city' would teach me major survival skills in negotiating tricky palates unaccustomed to my Goan-Portuguese food comforts. Sago, a favourite Mumbai snack served with a fresh coriander and mint sauce as a dip, was a nostalgia rewind accompanying the manic sounds of Lokhandwala market, the constant rush of humanity, torrential rain, and eating hot Sago patties with roasted groundnuts.
Mind you, the beverage or wine that you choose to accompany your meal, is most important at this point of time. It makes or breaks the experience. My chosen wine unbelievably `with it' like music orchestrated by an Indian match maker. Hints of ginger and green chilly in the patty hitting base notes with a sudden recognition of familiarity. Sticky and crunchy. Savor it slowly.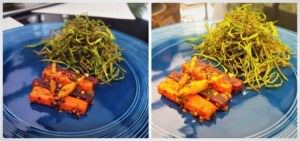 Finger & Roots
Presentation is everything, as visual sensory stimulation is imperative to my  taste buds. A delicate melody of roots, carrots, beetroot and slivers of fried okra, highlight and synchronize crunch and the palate cleansing roll of the tongue (that comes with the vegetable). All produce locally sourced in Malaysian markets, with emphasis on organic to support local producers. Chef Yogi is even particular how the vegetables are grown!! Sounds like a music lesson already? It is!! The narrative of Balance highlighting the attention to detail that goes into this delicate preparation. By now you must admire the artist.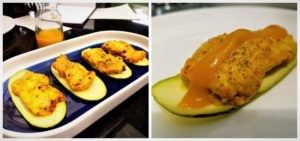 ENTRÉE
It was time for the Mango Chicken. Precision in weight management of precise pieces of chicken, weighed and cooked succulent, the tandoor delicately grazing edges for a hint of charred heat. The chicken must weigh a perfect 1 kg to execute this canvas. Marinated in raw mango, the chicken announced its presence softly as I bit into each piece. Served on a bed of thin slices of raw mango for an acidic balance, the accompanying mango sauce just in equal measure (with hint of yoghurt) to enhance its moist flavours. Chef Yogi must be a fan of poetry, for only those who understand a poem from prose will get the finesse of its literary separation. MUST ORDER.
MAIN COURSE
Chef Yogi's main course recommendation was to hit a nail into my head. And it went all the way home. Now, I never hurry over a great meal. My chef buddies know that I am the last to leave the table, as good food is a revelation of many feelings. I give it my complete attention. The Lamb Chop on a bed of Mint Sauce when it arrived evoked a momentary silence. In respect. Accompanied with hot Naan (Indian flat bread) and the generous dash of ghee (all the way from India, of course). A reminder of why meals eaten at roadside dhabas in Northern India is why road-tripping pals get together to partake of friendships over loud meals. So, I ditched my cutlery for fingers, because meat has to be eaten with mouth straight to the bone. That's how its done!! The hot Naan serving to scoop up the generous mint sauce wiped clean from the deep serving plate. I did say food is an emotion. And emotion requires deep dives to revel in its authenticity. No fake slackers for me. Same with life and good food. Chef Yogi enthused with the reaction of bliss and compliments, while also presenting a bhajra (millet) flat bread. A much coarse version of the suave Naan, and way more healthier. Gluten free being the restaurant's core specialty.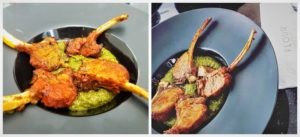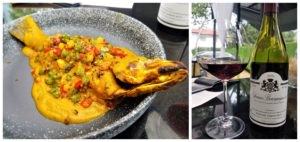 As the Seabass & Shallots dish sought my attention next, inviting, perfectly cooked, and generously doused in shallot sauce – Yes, I did the honors to chew the fish head like a true blue Indian too. Chef Yogi regaled the proceedings with table conversation and a quick lesson on the Indian spice route. "Indian cuisine is approximately 8,000 years old. Its cooking techniques defined and influencing food preparation styles across the globe. India gave the world pepper, and thus gave soul to global cuisine," he briefed. We all know that the flavour of a produce is determined by the climate, soil conditions, sunlight and quality of water. Similarly, Indian cuisine is an amalgamation of conquests and cultural influences that have come from the Greeks, Turks, Persians, Mongolian (Mughals) and Europe, including British, French and Portuguese. "However, one thing never changed, Indians knew to maintain balance in their food. Balance is critical for body. And that's why Ayurveda is so important to the Indian ethos of balance and wellness," Chef Yogi explained.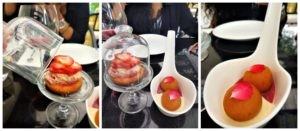 DESSERT
I'm not done yet! No Indian meal is complete without the dessert princesses taking the last bow. Here, the Gulab Jamun – Puffy, soft reduced milk balls with a gentle hint of rose water and saffron, and a delicious strawberry and reduced milk sauce. Please note, no overpowering sugar that otherwise hits you hard and destroys your palate in the process. Balance is always the key at FLOUR, it is stressed again. As the Cheese Cake arrived, I realised that nothing that I have known before this matches Chef Yogi's Indian food overhaul. A flattened base, sugar soaked white bread, while the cheese, home made from reduced milk, crowned with thin slice of strawberries. The dessert fork glided through its submissive walls, crumbling without effort, straight to my waiting lips. You have to smack the insides of your mouth with your tongue, as the cheese sticks to your teeth delaying the pleasure for long stay bliss. Also the golden rule of longevity to a relationship 😉 That's how, my dears, you enjoy a meal. Not for forget, the chai that drives home why India is a culinary giant, yet to be celebrated globally, who deserves a maestro like Chef Yogi.
It was a long siesta and skipping dinner entirely for me after this giant of a meal for a propah lady. Outstanding!!
Video credits: One Shot Still Motion, Malaysia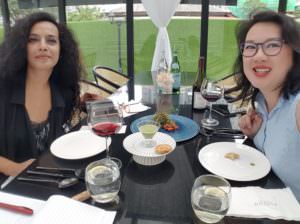 Photo credits: (R-L) May Kuen, Ethel Da Costa
Book your table in advance. FLOUR also curates sit-down meals in the private room complete with wine pairing, for a select few.
FLOUR 
12, Jalan Kamuning, Off Jalan Imbi
55100 Kuala Lumpur, Malaysia
Call: +6 012 960 0053
FACEBOOK: https://www.facebook.com/FLOURRESTAURANT/
Open at:
Daily 11 am – 2:30 pm & 6.00 pm -10.00 pm
SUBSCRIBE TO THE ETHEL DA COSTA CHANNEL 
https://www.youtube.com/channel/UCymyZOVU4HgWGgPHrhZRcrw/
For collaborations, reviews, blogs, hotel/resort staycations, content services, curated digital solutions, email: etheldacosta@gmail.com