Bao –  Also known as yeast-leavened steamed buns or baozi. To a novice, a Bao is a complete meal packed in a white, warm, soft bun. Bite into it once, roll it in your mouth twice, and you're a convert for life. Because that's exactly how I began my own story, sitting pretty on a hot afternoon in Petaling Street, swathed in neon lights bouncing off dry red brick walls, sipping on a chilled Petaling Street Sour and wondering how did I get so lucky living this dream. Of course, I worked for it, duh!! 🙂 Across the streets, blurry images of bedecked concubines appeared and disappeared into the full moon night, intruding into my present day reality. A time warp wormhole reaching out to me. These are old spaces, these places in Chinatown. Old energy lingering on after all.
Steeped in history and culture across the bowels of South East Asia, the story of the Bao's humble origins all the way to its current contemporary culinary royalty, is nothing short of fascinating story telling. As I was to find out in my first ever bite at Da Bao (145, Jalan Petaling, City Centre, 50000 Kuala Lumpur), reminding me instantly of our own humble Goan-Portuguese Sannas (steamed rice cakes bound together with coconut toddy) occupying a space of deep respect on the table of every Goan home on a feast day. Married forever in union with the Pork Sorpotel.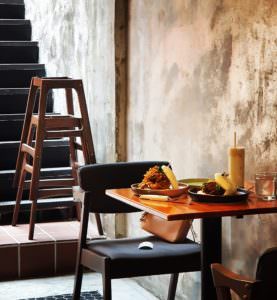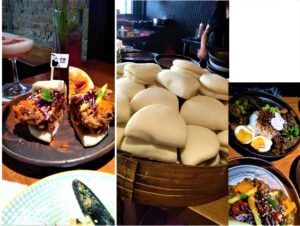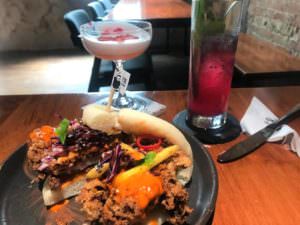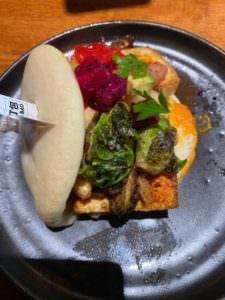 The Bao ('bun') developed in Chinese culture as a filled form of 'Mantou,' is a plain steamed dumpling which is often compared to bread. `Mantou' is said to have been created by legendary 3rd Century military strategist Zhuge Liang. Surviving across dynasties, battles, political upheavals, several culinary experiments for centuries, the bao has been reincarnated in different avatars, and kept alive by chefs and homemakers, true custodians of its antiquity. Here at C0-Founder, Alex Yeo's urban-café-meets-chic-industrial-neon-vibe haven, the bao rises to meet the rigors of modern taste as best as it should, keeping its integrity alive and soul beating youthfully in a new age body double. My introduction was to be a Crunchy Chicken bao with spicy chilly – one of the crunchiest, delicious mouthfuls I've ever eaten, enjoyed thoroughly and will eat again. Followed next with a Roast Pork Bao – Succulent meat so perfectly marinated and celebrated, that I lingered on extra time, just feeling all the tension in my shoulders melt into one big sigh of pleasure.
A delightful compact menu keeps vegetarians and meat eaters (pork, lamb, chicken) glued to their tables, whilst a refreshing spin on cocktails culled from imagination and expertise ensures that you're not going home anytime soon. In a day, the chefs roll over 60 odd baos or more, keeping the kitchen on its toes and ovens piping hot for happy grins across these spaces. From my little tour with Alex, there were aplenty.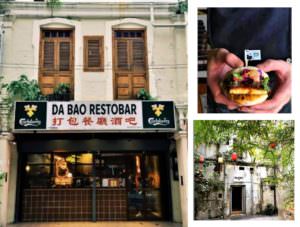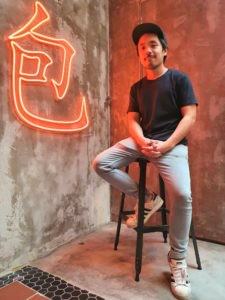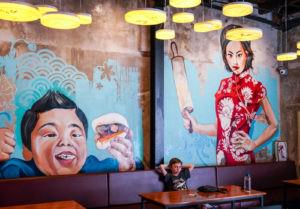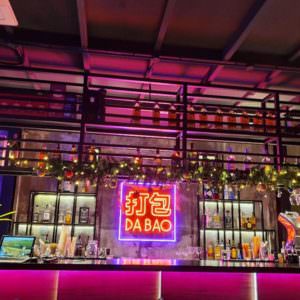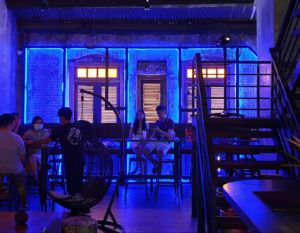 I sat Alex down for a Heart 2 Heart for my readers across the globe to get to know Da Bao upclose.
Ethel: When did Da Bao start and what is the philosophy behind the brand?
Alex: DA BAO started in January 2020 and categorises itself as a fun, casual shop that serves good and affordable modern Asian cuisine. Customers can come in and be assured that they will have a good meal, and at the same time enjoy some interesting cocktails or beers with their food. The shop's ambience is very 'hipster,' and casual, with elements of Chinese, classic Malaysian, and other modern influences. The shop's ground floor sits the main restaurant area, and upstairs is the bar, but customers can enjoy their food and drinks on both floors.
There were no restaurants in Malaysia that specialise in Gua Baos. However, in many other countries like the UK, US, Australia, and Hong Kong, they have many modern bao shops that have been established there for many years. Da Bao strives to contribute to the revival of KL's Chinatown (via projects like Kwai Chai Hong), by being a modern Chinese restaurant that can cater to both tourists and locals alike.
Our operating philosophy includes keeping the menu specialised and simple, so in the beginning Da Bao only had 5-6 baos on the menu with some sides and drinks. This is to reflect the confidence in the product, and to underline the idea of Da Bao being Bao specialists, while ensuring every item on the menu is up to par quality-wise.
As founders, we wanted a name that was fun, simple, memorable and captured what we are selling. They thought of Da Bao because in Malaysia, the word 'dabao' usually means to takeaway, and was never usually used in any other ways before. Hence the wordplay was created for Da Bao – which can be literally translated from Chinese 'to hit the bao,' to reflect something that can be both fun for people and also to showcase how Da Bao truly specialises in Baos.
Ethel: Two signature cocktails that really speak for the brand. I tried them both and they were fantastic #TheStilettoFoodieRecommends Here's why you must try too.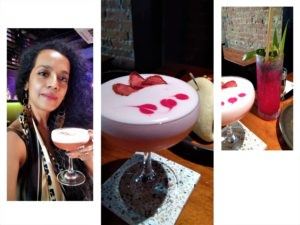 Sirap Limau  –  Consists of Bunga Kantan (torch ginger-flower)-infused gin, red pandan syrup, lime juice and basil seeds. This is our take on the popular local drink amped up with the fragrance of bunga kantan and the botanical notes of gin. This drink encapsulates us as an establishment which strives to pay homage to the traditional, and at the same time offers a unique twist to the classics.
Petaling Street Sour –  Consists of Bourbon whisky, chrysanthemum, agave nectar, lemon juice, and egg white. Our take on the classic Whisky Sour, with a Malaysian/Petaling Street twist.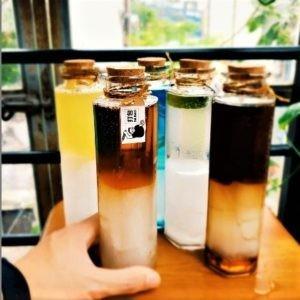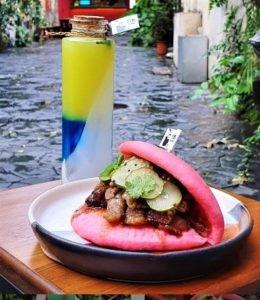 Ethel: Your comment on how revitalizing old townships like Chinatown's Petaling Street has given local brands and local cuisine a global facelift.
Alex: We feel that in an increasingly globalised world, people are showing more appreciation to local cultures and traditions. We believe you will see more and more of these facelift projects locally, and also globally, as this trend of modernising yet preserving the old continues. We felt that Kuala Lumpur was missing out this very trend until recently, and we wanted to be a part of this important project.
Similar to how the surrounding vicinity has been given a facelift, the brands and establishments in the area too indirectly will be influenced. Consequently, you will see restaurants and bars with modernised traditional concepts and cuisines sparking creative interpretations of various dishes and flavours. Ultimately, all these creates a collective rejuvenation of local cultures and traditions.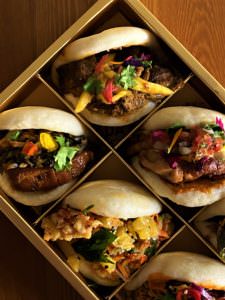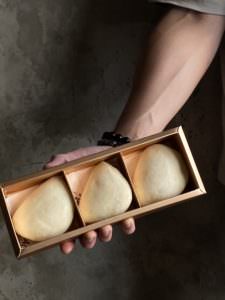 For Bao fans, do not be deterred by MCO. The Bao Box is available for home deliveries in a box of 6 or 3 baos (Pre-order at least 1 day in advance). Alongwith unique ice-filled glass-bottled cocktails ready to drink it straight from the bottle! Freshly made to order for delivery or self-pickup via dabao.beepit.com (click on this link).
A box of 6s (RM88) consists of:
• Pork Bao
• Spicy Chicken Bao
• Soft Shell Crab Bao
• Lamb Bao
• Vegetarian Bao
• Mexican Chicken Bao
A box of 3s (RM48) consists of:
• Pork Bao
• Spicy Chicken Bao
• Soft Shell Crab Bao
Bao Steaming Times: 11.30AM to 9PM 
Closed on Mondays.
Facebook: https://www.facebook.com/dabaomalaysia
Bon Appetite!!
*
*
For collaborations, email: etheldacosta@gmail.com /Work whatsapp +601161781642
JOIN US for food reviews and experiences at The Stiletto Foodie FB page: https://www.facebook.com/groups/73138919999