Being blessed with good genes is just not enough. This I learnt very early in life, being a part of the lifestyle and beauty industry as a Journalist at age 20, and later Editor at 26.  Two decades later, I still stand firm on this philosophy that skin care has a lot to do with self discipline, self love, self care and a good healthy relationship with body, mind and spirit.
A Quest for Quench
Enter the Quench Serum by The M•A•C• Clinic introduced to me personally by Malaysia's respected and highly acclaimed aesthetic expert, Medical Director, Dr Hew Yin Keat when my face (combination skin type) began to act up trying to adjust itself to Malaysia's through the year summer-kinda hot-wet-cold climate. As a biracial woman (mixed genes for certain) with a global travel and indoors-outdoors lifestyle, which also involves experimenting with different food types (food journalism), and co-adapting to the recent woes of maskne, Dr Hew had a solution. My skin was struggling to adjust itself to changing weather patterns and lack of hydration. We've been told so often that drinking enough water aids skin health. Correct. Seems I was not giving myself enough. Don't we all forget in our hustle-bustle to ignore our body alerts? Guilty on several counts.
Produced in Europe and bottle in Malaysia, the Quench Serum is a moisture booster with the highest percentage of sodium hyaluronate (15%) allowed in a serum, along with almond oil and squalane. Which means all these ingredients packaged together makes for perfect hydration for the day, and a round the year GLOW. I'm a huge fan of Vitamin C serums as well, and alternate periodically to give my skin a break, and then get back on the wagon with natural boosters (your kitchen is full of nature inspired skin solutions), and man made products.
How to use the Quench Serum
Apply 1 pump to a clean, dry face and neck. Allow serum to absorb into skin before applying other products. Don't neglect your neck! Bring this serum down to your neck and massage in an upward motion.
Dr Victor Ong of The M•A•C• Clinic unveils the Quench Serum to beauty enthusiasts on why your skin care routine needs a shot in the arm towards good looking best face forward,  inside and out.
My Quench Serum Testimonial
Within three days of the Quench Serum application, my skin began to feel visibily happy, cared for and nourished, without the dryness one experiences with some serums. Within a week, I saw a noticeable difference to my face with a softer glow that comes with deep hydration. The serum was also a perfect companion to be worn under my sunscreen (which is also mandatory). Again guilty for not taking this seriously. I don't wear foundation and sometimes occasionally make the effort if out on a public soiree. The serum sits well under a foundation as well, giving your skin a transculent glow that compliments the sparkle in your eyes. I found myself soon developing an attachment to it with a night cap dap and heading off to bed. The morning after glow is how I love to wake up 🙂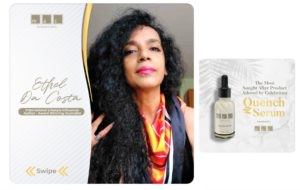 The 30ml milky serum bottle lasts – depending upon usage – for a good two months, which means absolute value for money. Retailed exclusively at The M•A•C• Clinic at RM 208 (original price RM 228), reminds me I gotta get my next fix again to replenish my empty bottle. Remember investment in Self is your highest payback to a beautiful you.
Connect for your purchase inquiries by clicking wa.me/60123212931 OR call at The M•A•C• Clinic Lorong Maarof : 03-22831212 ▫️ 012-3212931
Keep smiling!! 🙂 🙂 🙂
More info at https://www.instagram.com/macclinicbangsar/
*
Connect with me for beauty review/collaborations at etheldacosta@gmail.com/Work whatsapp +601161781642
FOLLOW my IG https://www.instagram.com/etheldacosta/