All things flow to the energy of Chi – Qi. The vital life force or energy flow that is the underlying principle of all living entities. Air, energy, elements that are inherent wholes of Chinese traditional medicine and in martial arts, and beautifully incorporated into a way of life.
Chi is the energy current that runs through our bodies, providing us with circulation, nutrients, and minerals that we need to be whole," says Taz Bhatia, MD, integrative health expert, founder of CentreSpring MD, and author of Super Woman Rx. "In Traditional Chinese Medicine, chi was thought to be the life force and ultimate measure of one's vitality." She is right, as I discover more and more of me in the resonance of old ways. Which also underlines that all good things come to those who wait. And all those who wait, find the rainbow at the end of the gruelling storm. You can centre in, fight or flow, as the situation demands of you. These words of wisdom flowed in synchronicity as the thunderstorm beat down hard the streets of Kuala Lumpur, battering gribble almost into shape, day after day, tossing, grinding, smoothing edges and roadside grooves into submission. The creator hard at work over a sketchpad, adding, subtracting, mining elements that fit, flavour and disfigure. Allowing each performer a spotlight, tiny or big, for self expression.
You are in the kitchen of Malaysia's celebrated Chef James Won at Enfin by James Won (Level 2, Menara Hap Seng, 2, Jalan P Ramlee, Kuala Lumpur, 50250 Kuala Lumpur). Locally known as hallowed ground for some of the finest curated cuisines this side of the Planet. A seat at the table well waited for by the mighty and the novice. A seat I was privileged to be in company with James, sharing a ringside view to his masterpieces.
A staunch Buddhist, and an ardent artist of food, Balance is second skin to this genteel lion sharing his teachings on Buddhism with an eager faced novice – myself. Soaking like a sponge as he shared stories of quest and triumphs, "Breathe," advised James. "It is the only true virtue of life that keeps us alive. So, breathe, mindfully, and all of the Universe within you, and out of you will align you to you," he shared, as thunder roared over the beautifully designed wood tones, metal, and tall glass walls of Enfin. I've always believed in magic, so, my Soul took a seat to listen intently as we spoke on the true principles of Buddhism. "You are more Buddhist that you give yourself credit for," James jested as space expanded and I felt myself transported to a calm bamboo garden in my head.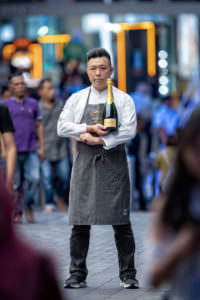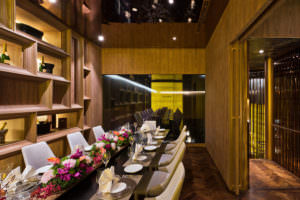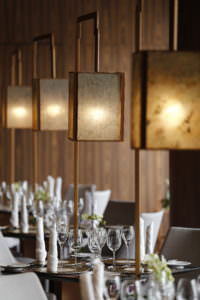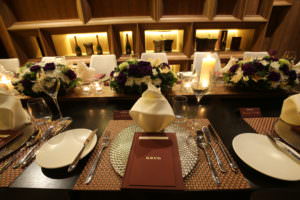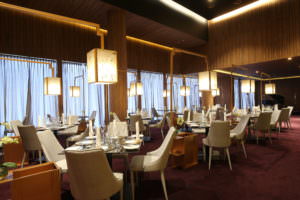 MALAYSIA'S GLOBAL AMBASSADOR FOR CUISINE
As passionately intriguing as it may sound in its complexities, Chef James Won is Malaysia's pride, a sought after global culinary icon, with more accolades that defies print space, and more than what your stomach can hold on a well feasted Sunday. A mantel Chef Won wears with ease, humility and graceful finesse.
His passion for food can be traced back to his childhood, a quality James attributes to his grandmother. A force majeure in the Malaysian dining scene, Chef James Won is the chef-patron of Enfin by James Won, home to Asia's only Krug Chef's Table. The first and only Malaysian to receive such recognition and be inducted into the exclusive Krug Ambassade Network, Chef James is also a 'Chevalier" – Knight by the Ordre des Coteaux de Champagne," for his contribution to the region and industry of Champagne, France. As many may know or not, he is the only returning Hennessy Chef Ambassador to the Hennessy X.O gastronomy series.
Hit the link to SUBSCRIBE to the ETHEL DA COSTA CHANNEL 
Trained in some of France and Japan's finest Michelin 3-star institutions, Chef Won is thus accredited with a profound knowledge of ingredients and haute cuisine. Taking great pride in commitment of quality food, Enfin by James Won practices the preservation of Asian indigenous ingredients, inspired by Malaysia's cultural identity and heritage, infused with the confluence of many ethnic groups. He speaks passionately of Malaysia's influence on culinary diversity, sourcing deep from the jungles of Borneo for secret mushrooms, herbs, chocolate, rice, or fruit to expand his ode to food that births painstakingly in his kitchen. I joked with him, "Do you ever go home at all?"
A short tour of the beautifully designed Enfin by James Won features a bespoke Hennessy Salon (complete with private entry and exits) – a prestigious recognition accorded for culinary and service excellence. With his amazing culinary prowess and versatility in cooking, James has also been honoured as FRIENDS of Miele Immer Besser, an honour akin to an ambassadorship.  And yet, he greets each guest who dines at his restaurant with the humility of a story teller. Letting his guests break ice with his food with humorous narratives of what is in their plate, where it comes from and how it enriches the bio-diversity of Malaysia and her unsung indigenous people.
TABLE FOR A QUEEN
Nobody refuses when James calls for an audience. "Are you free? Come for a meal," is how my phone buzzed awake on a rainy morning. By evening, my sense of anticipation had turned into borderline anxiety. What was I to expect from a man known to weave a spell of culinary bliss? Did he talk to his assorted vegetables before preparing them for transformation? How did the meats feel when he pealed them from the bone to set into a gastronomical canvas? Did he meditate before breathing life into his tools of steel? As I sat at my table, the butterflies in my stomach threatening to escape my throat, a warm hug from James and his super team, mellowed my nerves on edge to calmness. `Remember to breathe,' echoed my mind. So, I listened.
Experimenting with a brand new menu to announce the season, a curated experience to exciting perfection was about to begin. `Ready for it?" James prodded like a maestro about to begin his masterfully designed piece of music.   I was ready.
The Dinner Degustation Menu 5 course meal (Priced at RM 558 per person) is an opera of visual, sensory, emotion and energy that all comes together in one creative burst of flow. It must be mentioned, that as a habit, I eat mindfully.
You can also choose a Krug Grand Cuvée champagne pairing menu of 3 glasses with 5 courses selected by Chef at RM 1168 per person.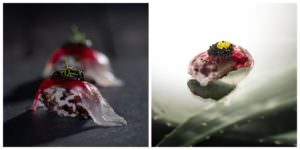 Stage set, the Amuse bouche Beet & Caviar is a curtain raiser into the drama about to enfold. Beetroot, potato tart with Malaysian tropical sturgeon caviar, Aloe nigiri, Bario rice puff, fermented chili and Ikura (Salmon caviar) alongwith a platter of bread and assorted house butter and condiments set the tone. I must mention that before I eat, I pray. Yes, I do, so that what I eat nurtures my Soul. A gratitude exercise that opens all of me to all of everything in-front of me. So, when the bite of Amuse bouche hit my palate, all of my taste buds jumped to rapt attention. With `me time' given to savour the moments, James watched from afar as I gingerly savoured the Barrio rice puff, the earthiness of the grain perfectly complimenting the daintiness of Aloe nigiri. The Caviar and beetroot, tangy, protein and starch, in a slow waltz entrée to inner pleasure. You must rest, moment to moment, through this entire experience, then reach for your flute of white wine to refresh your palate.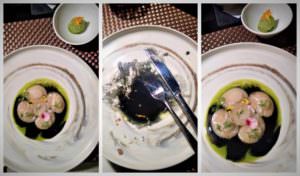 The First Course: Aburi Hokkaido scallop, yam bean purée, pickled turnip, jalapeno granita, wasabi and yuzu dressing, chive, and dill oil, fermented black garlic oil.
Perfect plating is an artwork seeking the guest/diner to participate in its appreciation. With finesse as its benchmark — before your fork can actually dare to disturb the grace of visual balance — you must admire the sheer work that goes into creating each plate to perfection before it leaves the kitchen. I can never hurry through a meal I have invested myself into. So, do take your time, as James repeated the same to his guests as well. Pickled turnip and the black garlic oil in union – do roll your fork generously as you cajole the pickled turnip to take in the yam bean puree and black garlic oil. By now, I was overwhelmed with the duality of sensory and taste way deep into foreplay already. I began to cry. Tears stinging my eyes while a quick to notice staff rushed with tissues for my table. A gentle squeeze of my shoulders, and James was off into the kitchen again.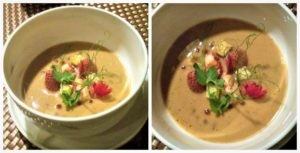 The Second Course: Lobster bisque with seared lobster meat, truffle crème fraiche, ikura and Cameron strawberries, temple basil crouton.
Fairly composed now, the rain continuing to beat the street and trees with tempest grandeur, the lobster bisque nurturing comfort and soft heat peaked with the delightful freshness of Cameron strawberries to cleanse the palate. Homely and familiar, like the salty shores of Goa. Food is a delicate balance of marrying elements and moods into a successful relationship. Achieved here effortlessly as you scoop all of its warmth, lest the chillness of the weather temper its temperature. Delicious!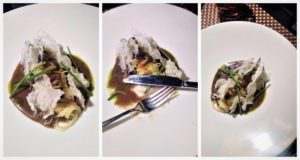 The Third Course: Capellini/Angel hair pasta, truffle, mushroom ragout, burnt coconut, and kerisik, chive, and parsley oil.
Stop and stare for as long as you can, is what I did when this beauty landed on the table. All dressed up to be noticed, how James achieves this drama is a peek into the intricacies of his mind and heart. The mushroom ragout a knockout, all entwined with the Angle hair pasta and the magical coming together of both textures in your mouth. The burnt coconut crunchy and moody. Like love. What's love without a little light and dark push and pull? This was just that. Take it all in, one bite at a time. Trust me, you can bend time to suit your state of mind. So, if you have the skillsets for this technique, flaunt it!
Mains : The Fourth Course: Wagyu beef (MB6), split fat with fermented shrimp paste, pomme purée, braised mushrooms and garlic chips, sambal olek à la Enfin.
Chef James prepped me up for this one, suggesting a medium rare, to which I happily agreed. I love steaks, as I'm never shy from a hearty protein hit. With just the right amount of burn that you taste with the split fat infused into the meat, each bite on this Wagyu beef was a slow chew — just to experience the flavours of the meat coming through. The accompaniments adding layers to the experience, which by now had already sent my brain into happy delirium. Again, there is no hurry, as James reminded me. Take your absolute time. And tell your date the same too. If he loves you, he'll understand. If he does not, what are you even doing wasting precious time with him?! Food evokes such profound wisdom, no?
There is also another choice you can consider, if beef is not your meat of preference. You can order The New Zealand lamb tenderloin, char siew glace, pickled radish and beetroot, ikura, puff Borneo heirloom rice grain, wild celery oil, or the Malaysian sturgeon fish truffle meunière, sturgeon skin collagen, rice kouji, house fermented Bario wine sauce, charred leeks, exotic mushroom, seasonal truffle, rocket oil.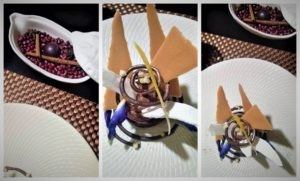 The Fifth Course: Desserts: Damak chocolate gateaux, espresso mousse, Job's Tear with Batang Kali cocoa, coconut crème tuiles, meringue chard, pea flower dust.
By now a good two and half hours into dinner, or was it more, the stars out in full bloom, I had fallen into a beautiful sensual funk. Each portion measured and balanced, each ingredient speaking its own story of beauty and elegance, artfully narrated by Chef James to guests, each table expressing curiosity and happiness. Determined to tell the story of Malaysia through his food, James has scoured regions for local ingredients that he champions like a cheer leader. The Damak Chocolate sourced from Malaysia, its raw earthiness evoking the taste of rich soil rooted into deep jungles, the spirit of the fruit embedded into the soul of the forests. Smooth, grainy and seductive. You must remember that this curated theatre of the senses is what makes James a very special culinary giant. So, honour the land and the labour of the people who birth goodness and health with the work of their hands. Brava, James!!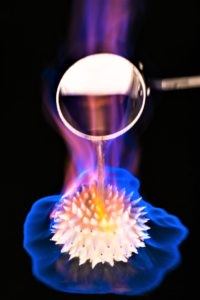 For a sense of adventure, the Bombe Alaska – Passion fruit parfait glacé, Breton biscuit, lemon curd, caramelised orange, burnt meringue is sheer sculpture that you would rather admire than eat. Do order one of each to savour the romanticism that comes with appreciating art.
Of course, the discreet box of tissues continued to wait in silence on my table, way past the repast and the conversation that carried on why we have to awaken our deepest inner voices to be who we are, and do what we have to do in our journey to love and light. Warm hugs are the bestest when shared over happy meals and kindred spirits. I'm tipping my hat to you, James. And to a journey of creative discovery with our paths now entwined.
Website: http://www.enfinrestaurants.com/
For reservations: +60 10 288 7920
BOOK YOUR TABLE https://www.tableapp.com/partner/enfin-by-james-won#/
Photo Credits: Bonnie Yap, Jimmy Khoo, James Won, Ethel Da Costa
For content collaborations, reviews, lifestyle stories, connect etheldacosta@gmail.com