I like the foreplay of drama. In the kitchen or bedroom, a sense of anticipation always leads to mystery and curiosity. Let's admit that there is simply no room for the mundane anymore, ever since the world went to hell and took us all with it. So, when the suave Steven Yap (co-owner, COO of Mingle Café, Mingle Hostel, The Deceased Bar) finally stepped into the world of the living – the lockdown had us make and break appointments in a star-crossed galaxy – we finally set a date and went right to it, before our schedules would play spoilsport again. As fate would have it, an online acquaintance had bloomed into a budding friendship with fellow Goan from Cuncolim, Corporate Trainer, Sheryl Stella now living in Kuala Lumpur . Yes, I had finally met a Goan in Malaysia. So, a luncheon at Mingle Café (55, Jalan Sultan, City Centre, 50000, Petaling Street) was to be our meet-in-person girl date. Followed by a pub crawl, and an advance warning from Steven that we might have to come literally prepared to crawl home. Now, the world knows what happens when two Goans meet over food and drinks. We drink the house down 😊 Easy Peasy.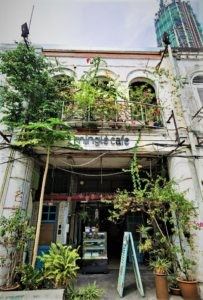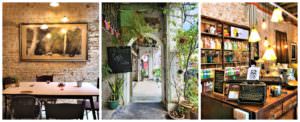 LUNCH DATE AT CHINATOWN
Mingle Café has way too many memories for me. Of love and heart, coffee and conversations, the aftermath always lingering like a dessert you don't want to finish too quickly. That's the comforting ambience of Mingle Café, as Steven settled us into a cosy private booth, and got straight to the point. A popular backpacker destination in Chinatown, the texture, ambience and treatment of the venue evokes laid back nostalgia. Old wood rescued from decay, re-cycled window frames from an era gone by, parchments of records and old labour accounts framed for posterity, torn down roofs recycled into tables, artefacts from home and reclaimed items found during restoration work, a Japanese art heritage painting framed against bare brick walls. In short, no rush comfort. Reminiscent of a vintage bunker, its inmates caught in a time freeze of old Chinatown and the sins and decadence of its ancestors. Then, fast forward to perfect present and juxtaposed with a modern menu that pulls in the flavours of the East with that of the West.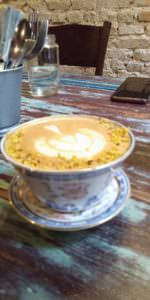 I love old places for the character it lends to its modern voice. As the Japanese Sakura Matcha and Osmanthus latte arrived (complete with dried flowers from China sprinkled in my latte for a grainy aftertaste), we had all broken into easy comfortable chatter around our dining table.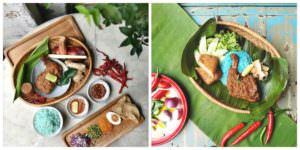 LOCAL AT HEART, GLOBAL IN VISION
Starting Mingle four years back, Steven, a millennial entrepreneur with a keen sense of forecasting business opportunity, created a haven for the global budget traveller, offering budget beds and private rooms, an atmosphere of camaraderie, easy on the pocket comfort food and a glimpse into the history of his native country – Malaysia. "What better place than to package it with Chinatown as the history steeped story teller," Steven remarked. Upgrading the asset frequently since its launch with other branches of brand Mingle around Kuala Lumpur, COVID 19 had put in a dampener to expansion plans for the time period. "We're all waiting for borders to open up, and showcase our brand of hospitality to travellers. I'm hoping now that you're here too, Indian travellers will also experience Mingle," Steven confided to me.
Digging into the Ayam Geprek Rice was a memory of home-felt pleasure. The Indonesian sambal and chilly paste accentuating the soft meat with a flair of tangy spice, the blue rice lending aroma and drama to the flavour, whilst complimenting the balance of assorted finger bites and greens. Young and modern, to suit the demographic of his diners. Salted Egg Chicken Chop Spaghetti with a homeliness of comfort, generous cheese sauce tossed in condiments, chicken fried in crumb (I love it) and an on point, price point. Health and nutrition are a focal point, Steven acknowledged, whilst attempting to showcase a global viewpoint through the food of his country. "Malaysia is a growing culinary destination. It is part of our proud heritage," he shared, as we alternated between mouthful chat and silences, a pot of hot Chinese herbal and floral tea keeping company with the free-flowing conversation, loud laughs and a table of generous hearty food.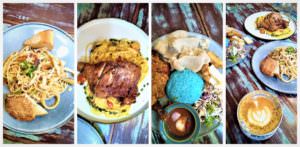 It was Sheryl's first time at Mingle Café, and she shared her experience coming in from India to Malaysia. A corporate trainer settled into the country and marriage, a foodie herself, entertaining at home was a part of her social environment. "Food is perhaps the only universal thing that really has the power to bring anyone in the world together, " she told me whilst commending on the food. "Mingle Cafe laid a spread of some wonderful delicacies," she shared with me later. "The blue rice with Sambal chicken was so fresh to the palate as the spices were all freshly ground. The crispy chicken on a bed of spaghetti soaked in cheese sauce was a treat to the eye and easy on the stomach. The mushroom tossed spaghetti with its light flavours was soothing, perfectly complimented with the hot Japanese herbal tea like a digestive supplement. I really liked it and will bring friends here to dine," shared Sheryl.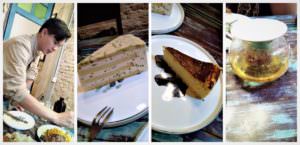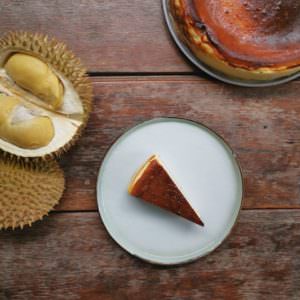 It was also good timing for me to break inhibition and try out the Durian like a local. Mingle Café's most loved Durian Burnt Cheese Cake was going to make or break my spirit for adventure. So, I spooned in bravely, murmured a silent Holy Mary and went straight for the jugular. Now, we know that battles are always won by a general who goes in prepared. Correct? What hits you about a Durian, even if masked in  a delicious cheese cake, is the boom that explodes in your brain, involuntarily, as your tongue encounters the scent and the taste simultaneously. It did mine! To the unfamiliar, sheer balls of steel are required as there is no turning back once you are completely in. Three generous bites later, I had called it quits, as Sheryl (also a first timer with the Durian), and Steven laughed hard. "My favourite was the Cendol Pandan Cake. A simple, flavourful dessert, but a devil in disguise nevertheless," Sheryl had laughed as we dug into its refreshing palate cleansing coconut flavour.
Watch the makings of the coveted Durian Burnt Cheese cake here 🙂 https://www.facebook.com/watch/?v=261617688494849
LIKE MINGLE CAFE FACEBOOK https://www.facebook.com/minglekl/?tn-str=k*F
Mingle Café – 018-200 0262
Opening Hours – 10.00am -10.00pm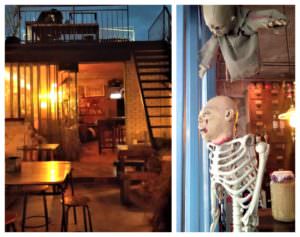 CALLING ALL THE DECEASED BACK TO DRINK
No way was siesta on our agenda even if the meal had stretched just beyond a sun downer. As the tour of Mingle continued, we found ourselves on a narrow dark staircase heading for the terrace to the land of The Deceased. True to its name, it would be where I presumed Chucky the Chopping Doll and Bride of Chucky would be most at ease with, along with Jason Voorhees.  A macabre theatre of bloody faces and ghouls for decor, low lighting in skull heads, the speak easy bar is just that – You call on the dead, fix a hex on some petty troublemaker, stick a wooden clog on a straw head, summon a creaky aunt on the Ouija board, and knock down shots of Tuak (Malaysian rice wine) as many times as you want.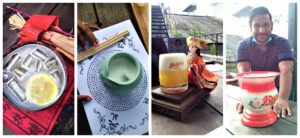 Tarun, our smiling enabler for the evening, assured us that a pub crawl is exactly what it suggested – crawl home when done 😊 The perfect gang setting for boisterous fun, funky cocktails with names that will summon a seedy uncle if you're not watching closely, and really put a hex on some petty fellow who dared to cross your patience. I kid you not, by the time we were done, we could have partied with Dracula and still gone home without a bite to the neck. An absolute must-do with buddies (girls or men), excellent for birthdays, break-ups and make-ups. You get the drift!! Chinatown is really where all the action (they don't tell you about) is 😉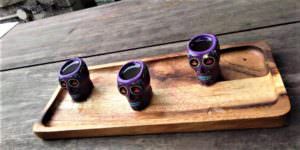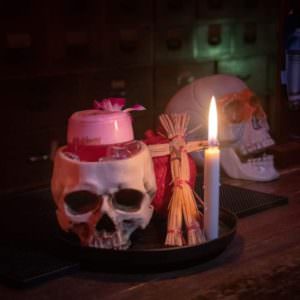 Here's what to expect the unexpected at The Deceased Bar https://www.facebook.com/thedeceasedkl/videos/2727817463999929/
The Deceased – 018-200 0262. 
Open from 4.30pm to 11,30pm during RMCO
Normally open from 4.30 pm to 2.00am daily
Photos by: Ethel Da Costa. Some images courtesy Mingle FB, Find Glocal, Eat, Drink KL
For reviews,interviews,brand collaborations, content and communication services, email etheldacosta@gmail.com