The Goa State Leadership Award is an initiative of World CSR Day (a for purpose organization) & CMO ASIA. The 2nd edition of leadership awards held on August 16, 2018 at a very niche, hi-profile ceremony at Vivanta by Taj, Panaji, Goa, was attended by over 125 C-Level executives, Founders and CEOs from across various business sectors in Goa. The Banking Partner for the event was Yes Bank, supported by Media Partner, ABP News.
The Goa State Leadership Awards and Best Brand Awards 2018 recognized and rewarded leaders who have contributed value and made a change as a strategic tool for sustainable growth, and are impact-full, as well as believe that there is a MAD approach to their work (Making A Difference). This approach is driven by passion and commitment towards Social Change. This year's winner categories were selected across the spectrum of Education, HR, CSR, Best Employer, Logistics, Manufacturing, Pharma, and Leadership.
Pleasure to share that I was awarded the Goa Best Brands Women Achiever Award 2018 for excellence in Media, PR, Lifestyle this year.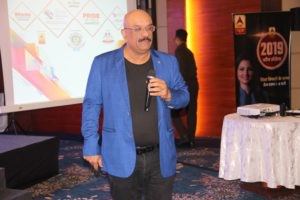 Dr R L Bhatia, Founder, World CSR Day and World Sustainability, stated, "The Goa State Leadership Awards are significant in a beautiful State like Goa and a tribute to the Leaders and Achievers in the State. The aim is to recognise future leaders and paradigm shifters who have set a new trend and have contributed to the economic growth and welfare of the State. Leaders from various sectors are carefully chosen to celebrate something that never goes out of fashion and that is EXCELLENCE. In a hyperactive marketplace, the awards are a "trend setter."
The event was hosted by CMO Asia (www.cmoasia.org) and World CSR Day (www.worldcsrday.com)