It was no ordinary day. The first traces of December's winter had just made its presence felt, blowing gently across the sea of humanity spread across Juhu's Arabian Sea. It was a day of warm gold, so I dug into my own wardrobe and chose colours reflecting my inner core of the moment. Glow.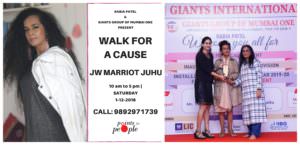 It had been a year of deep lessons, and many occasions of thankful gratitude. I was also walking for Rabia Patel's `Walk For A Cause," my own cause I had come to deeply believe in, and be thankful for.  Led through this year, as if I were, by Mother Universe to experience an existence of using my skills towards creating social impact. My memories still fresh from the field trip organised by Points for People – an NGO that works in the Loyalty Program Charity spaces in collaboration with Tata Trusts – deep in a remote tribal village of Khedbrahma, Gujarat. The experience had left me shaken, seeing women and children toiling a life from the ground of the earth, walking miles to fetch clean drinking water, their homes raw and vulnerable to Nature's element. Yet, their faces so bright with smiles, hard field work scarring their skin and hands, yet generous in their giving of warmth and hearth. What then, I questioned myself repeatedly, is the true role of educated women (and men), cushioned by the comforts of urban living, an ocean of privileges dividing the real truth of a country that stands on the backs of our rural breathen! What if they (rural India) shrugged this unjust weight off their weary shoulders, this country deaf to their voices. It would be the death of democracy, a virtue we urbanites have so taken for granted.
It had been an uneasy week of reckoning coming back to the bustle of the city, their harsh, raw truth keeping me awake many nights…pondering, writing.

When former Giants President, Rabia Patel mentioned the upcoming event on December 1, I decided it was going to be my humble contribution to walk for the women of Khedbrahma. And in essence, the marginalised women of this country that should matter (and do they?) in the social and political decision making of India.
Swearing in the new President for 2019-20, Payal Pokarna of Giants Group of Mumbai ONE, is one busting energy of ideas I happily discovered as I witnessed the proceedings of the event.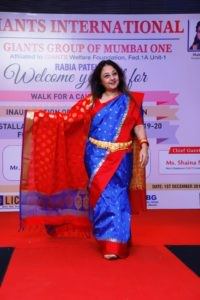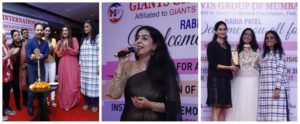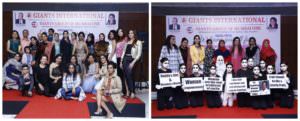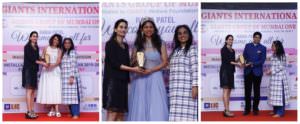 Founded by Global Chairperson, Shaina NC, the event began with a warm up session by holistic health guru, Mickey Mehta, motivation talks by Mr Vikash Mittersain, Dr Aneel Murarka, followed by a skit and drama performance by school children of Anjuman Khairun Islam Girls School. And then finally, the most awaited `Walk for a Cause.' As women across a spectrum of influence and diverse professional backgrounds made a stand for Change on ramp, I was pleased to catch up with Payal and learn that she intends to take full advantage of her new position as President to aim and push for health and fitness as a strategic value for Mumbai's under-privileged. A feat she plans to achieve by empowering angadwadi women to embrace healthy living practices in food, mental and menstrual health, women who will in turn strengthen healthy values in food, sanitation and fitness for young balwadi children in slums. "Giving back to society has always been my core value. This opportunity and position enables me to push ahead these goals in stratas of society where it truly matters. Health is the priority of our country. Yet, it is so unhealthy in reality with rise in cancer, diabetes and women related issues. We need to create more consciousness, more awareness, which will then bring Change from within the grassroot levels. It is these grassroots where we need to start from, to grow from bottom upwards," Payal told me decidedly.
Supported with a dedicated core team – special mention of Giant's Director of Administration, Harjot Kaur here for being as focused and driven – Payal also intends to create leadership opportunities for homemakers and women entrepreneurs, so that more and more women take charge of a future that they can mould on the strength of their own self belief.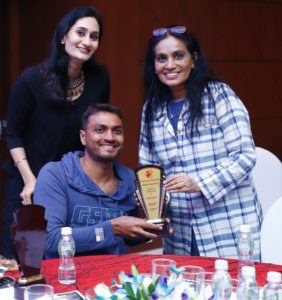 As the evening broke into more women stories highlighting the need for involvement, and a  celebration of those who rise above their own physical, social and mental predicaments, I met the dynamic and humble, Shams Aalam Shaikh. An inspirational paraplegic sports motivator for the differently-abled, who spoke on the increasing need for creating awareness on inclusivity and accessibility. A quiet, but bold, voice rising above his own misfortunes to enable Change for the larger social good. Shams holds the honour of being a world record holder for the longest open sea swimming by a paraplegic person, who was also recently awarded `Best Emerging Leader in Disability Sports and Sports Diplomacy' by the US Department of State Global Sports Mentoring Program 2018. An inspiring fortitude of courage himself, Shams interacted patiently with the audiences, his own actions serving as example of the Change he wishes to see in the world.
What then of us, the completely abled, to do more with all of our thriving faculties? More of us is what the world needs. It begins one small ordinary step at a time, to create giant strides in the march for Change. That's my 2019 resolution.