Years back when I met National award winning film Director, Producer and Film-maker, Vibha Bakshi of `Daughters of Mother India' speaking at the International Film Festival of India in Goa, we clicked instantly, beginning a mutually respectful relationship bonded over women's rights and empowerment.
Mumbai recently witnessed a phenomenal response at the premiere of SON RISE, Vibha's second film unveiled by United Nations Under-Secretary-General and Executive Director UN Women, Phumzile Mlambo-Ngcuka. It was a proud moment.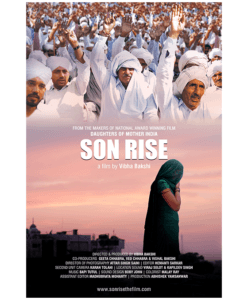 Following the success of her previous film, 'Daughters of Mother India', Vibha released a powerful gender rights film 'SON RISE' aimed at building a safe society where men take it on themselves to stand up against atrocities and biases against girls and women.
Set in Haryana, a strong Patriarchal society with a highly skewed sex ratio due to rampant illegal sex determination and female foeticide, SON RISE touches on the sex ratio imbalance that has led to unprecedented levels of gender crimes, ranging from bride trafficking to gang rapes.
It is in this land of the 'Khap' panchayat that the filmmaker finds 'ordinary' men taking on the 'extraordinary' fight to change the narrative on gender inequality. From a forward-thinking Sarpanch fighting for women to enter the male-dominated arena of local-politics, to a farmer who, in an arranged marriage, decides to marry a gang rape survivor and vows to support to the end, her fight for justice. Can these glimmers of a changing paradigm in SON RISE be the rays of hope we have been looking for? Vibha hopes it will. 
The film is in support of UN Women as part of their #HeForShe campaign under which people of every gender stand in solidarity with women to create a bold, visible and united force for gender equality.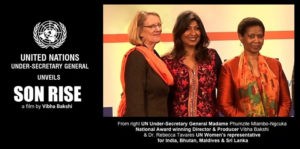 Commenting on the film, UN Under-Secretary General Phumzile Mlambo-Ngcuka said, "The beautiful thing about the art is that it reflects our thoughts, it changes our minds, it demonstrates our foolishness, it brings tears into our eyes but it leaves us with profound opportunity to reflect. The UN Women is very proud to be associated with Son Rise and United Nations is proud to be a part of this journey."
Head of UN Women India, Nishtha Satyam, Deputy Country Representative for UN Women India, Bhutan, Maldives & Sri Lanka said, "The film 'Son Rise' is part of United Nations #HeForShe movement – an initiative under which people of all gender stand in solidarity with women to create a bold, visible and united force for gender equality."
Talking about her new documentary to a packed auditorium at the Royal Opera House  Vibha said, "It's time for men to take a lead in establishing a gender equal society, and to set examples for others to follow- as have the three 'ordinary' men in my film.  They are the real heroes."
The film features examples of real-life heroes like Jitender Chhatar, a farmer from Haryana's Jind district who has not only married a gang rape survivor, but is also supporting her in her fight for justice. Sunil Jaglan, a village Chief (Sarpanch) for a Bibipur in Jind district who started a "Selfie with Daughter" campaign to inspire the society to feel proud of their daughters, and Baljit Singh Malik, Chief of the biggest and most influential 'Khap' Panchayat in India comprising 1,140 villages, who is leading a drive to end female foeticide.
Here's wishing Vibha and team on  her film's roaring success.