"When setting out on a journey, do not seek advice from someone who never left home." Rumi
With much excitement I had boarded the early morning flight from Delhi to Dehradun (also known as Dera Doon. The winter capital and the most populated city of the Indian state of Uttarakhand. The city stands at an elevation of 447 metres (1,467 ft) above sea level and is also known as the 'Abode of Drona.'). A city steeped in history, ancient lore, travellers from beyond the mountains and mythology.
The news of the pandemic spreading across the globe. had just broken all over the news channels in March 2020. As I sat waiting for my flight with other trepid travellers, I wondered what was to become of my passion for travel, and its soul changing experiences that had accompanied my wanderings since I was a child. I sat waiting anxiously for my flight to be announced. The world was changing rapidly. And I with it.
As the clouds and distant mountain tops, like white waves on the horizon, broke bright with the rising sun, I felt peaceful hope rise in my chest. The Universe was preparing me for a life changing awakening. I could feel it in my bones. I was being called. And I had to bravely, and courageously surrender myself to it. For now, She was taking me to an abode for the seekers – Rishikesh (Located in the foothills of the Himalayas in northern India, and known as the "Gateway to the Garhwal Himalayas" and "Yoga Capital of the World.").
Rishikesh is also known as the pilgrimage town and regarded as one of the holiest places to Hindus. Sages and saints have visited Rishikesh since ancient times, to meditate in search of higher knowledge. Rishikesh – A dwelling of mountains for the wild of heart, the free of spirit, the seeker of enlightenment, and the nomads of this world. I was on this road too, making my way to Spashram River Mountain Retreat, owned and managed by international eco adventure and sporting travel expert, MD of Tiger Paw Adventures India Pvt Ltd., Mr Inder Jit Singh. A sauvé, sturdy man, with a strong army background, old school charm, a gentleman. I had met I.J (as friends call him),  connecting and bonding with him at Sabah, during a PATA Conference in February 2020.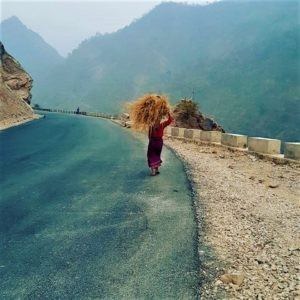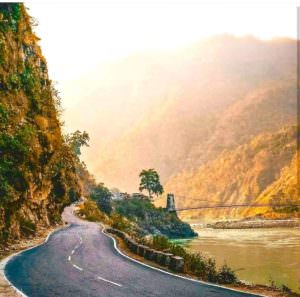 As the flight landed at Dehradun airport, a waiting SUV was ready to take us across long winding mountain roads. Bustling markets of fresh vegetables, locals getting about their early morning, lush forests, peeking rays of cold sunshine, deep valleys of rock and gurling water streams, rolled across the landscape. Like a showreel I had stepped into. Keeping tempo with us, the mighty Ganga in all her feminine sensuality, curving and cutting through the Earth, with her channels of soul feeding waters. Like a child at a fairground, I had stuck my face close to the windows catching all of Mother Nature's masterful brush strokes. Each colour on this canvas so brilliant, so magnificent, that my tongue had ceased to intervene. Words failing into silences of introspection. Did the Gods truly rest here before their ongoing journey further to the Himalayas? The tall mountains jutting into the sky said, `Yes.' My soul was humming a tune, like it had tapped into a frequency of its own. Mystical, magical.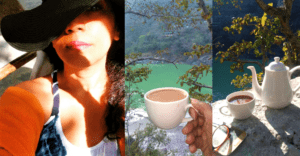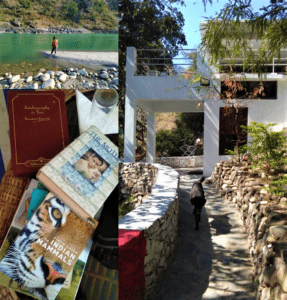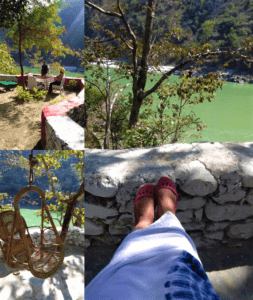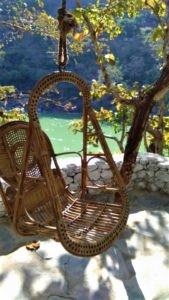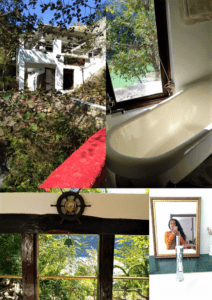 "When will you begin that long journey into yourself?" Rumi
It takes almost 3 hours from the Dehradun airport to I J's Spashram River Mountain Retreat. Perched so close to the bosom of the Ganga, I could hear her pristine waters chanting into my ears. What seemed like a sudden halt on a side curve of a mountain, in the middle of nowhere, was actually the beginning of where my experiences were to begin. I J's able man Friday took charge of our luggage – I had been informed in advance to pack necessary essentials for the cold weather.  Crisp fresh air and oxygen hitting my lungs instantly, a slight heat of delirium pumping adrenalin into my blood stream 🙂
A gateway door structure that one must pass through, takes you all the way down the mountain side. Steep, ruggedy slopes cut sharply into the moutain floor, gradually descend downwards, opening your eyes to the entire breath-taking view of the property.  Wild, ancient forest trees, chatter of birds and monkeys and scenic vistas of the valley as far as sight can see, greets you, raw and real.  I J's eco paradise hidden from the bustle of the city, thriving with life and passion. A discerning and stubborn love for Nature's preservation. The rough land terraced into living spaces, fruit trees planted by I J himself, cliff hanging rock formations with garden chairs, steps cut into the terrain running across the mountain, old lanterns for light at night, decorating plants climbing pillars and walls, hammocks swaying to the breeze, and tastefully done private bungalows (2 bungalows can sleep one couple each) with rooms and bath fitted in modern amenities. By now, I was channelling my Indiana Jane on a mountain safari. I had truly stepped into a movie of my own, for sure.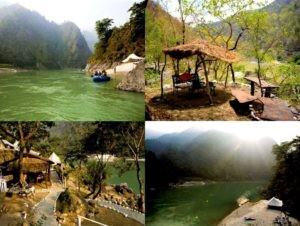 A fine example of eco-tourism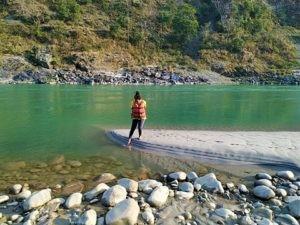 "Respond to every call that excites the spirit." Rumi
Spashram River Mountain Retreat believes in the philosophy of `Come Re-heal Your Self.' Located above the holy city of Rishikesh in the base of India's majestic Himalayas, the lovingly cultivated passion project of estate owner Inder Jit Singh, Spashram has been crafted over a quarter century journey. Tucked into a hillside on the banks of the sparkling upper Ganges River at the Gateway to the Gods, the Retreat is both an experiment in reforesting a riverine escarpment comprised largely of sandy soil, and a stellar example of eco-conscious tourism. Flowing from the glacial waters of the Cow's Mouth (or Gaumukh) Glacier in the high Himalaya, "The river inspired the creation of this unique micro-biodiversity of pristine glade and forest, rich underbrush and small orchard plantation. All of which provides safe haven to a variety of birds and small wildlife," I J explained. With roots in award-winning adventure training, sport, team-building and leadership programs for myriad organizations (from the British Army and RAF to universities and international blue chip companies like American Express and HSBC), the site is renowned for water rafting, rock climbing, kayaking, fishing and trekking. Spashram River Mountain Retreat also specializes in yoga, meditation, Ayurveda, and plain old rest, relaxation and connection with Nature. "We welcome those seeking physical adventure, meditative environments, dietary and lifestyle changes, and beyond. Indeed, adventurers, artists, families, couples, solo travelers and corporate executives all find their way here to unplug and heal," I J told me over a quick al fresco breakfast under the trees. By then, a daring monkey had marked me for his attention (and kept pace and watch over my entire stay at Spashram). Morning had broken across the mountains, with hoots and calls from the thriving wildlife just beyond the river.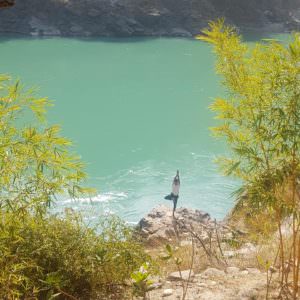 In addition to yoga and yoga retreats, meditation, ayurveda, fishing, rock climbing, hiking, kayaking and river rafting adventures, Spashram is also the perfect jumping-off point for Himalayan treks, village and river exploration, bird watching, wildlife excursions to the National Parks, exploring old British Raj hill stations like Mussoorie or Dehra Dun, or visiting Rishikesh, Deoprayag, Badrinath and Hemkund (and the Valley of Flowers), which hold deep cultural and spiritual significance for Hindus and Sikhs.
"We do not fit inside a box, and thus the normal classifications found in many other hotels and lodges do not apply here. For example, depending on your fitness and vigour, you can raft or zip line, in or out! The natural outdoors is our gym, and the river is our pool (under supervision, or, for experienced swimmers)," I J explained, as we toured the estate, happy that I had been given a unique opportunity to experience this wild beauty. I resonated with her deeply.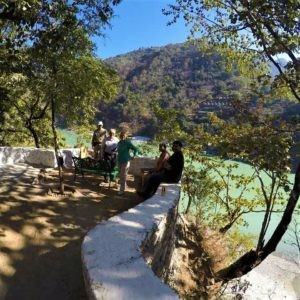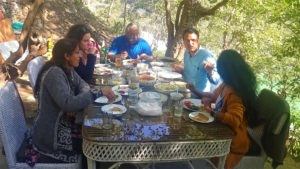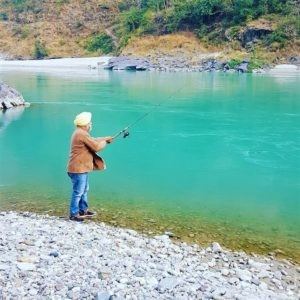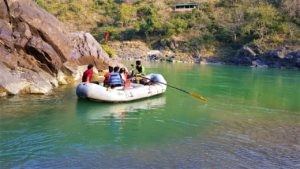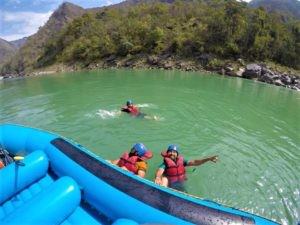 `You are the Universe in ecstatic motion." Rumi
Catching a lazy nap to revitalise myself on a four poster old style wooden bed, thick quilts from Rajasthan and large warm pillows snuggled me into deep sleep. A warm  water bath tub looking outside the windows, the roar of the gushing river felt like a meditative hum. Nature intent to do its rewind and reset. I realised that my blessings were many. I had to count them each day of my waking life with gratitude, and stay fully present in the NOW.
A lazy lunch cooked with fresh, home grown vegetables and set outdoors in a colonial style setting, was romantic. I J clearly the grand master of his territory. Post a siesta – you really don't need a cell phone, or a television to distract and intrude into your interlude with Self  – High Tea, for those who wished, was served inside a grand tent, or, al fresco, set up in one of the many hideaways. Yes, open wifi is available in certain spots for Instagram photos (like can we really do without them?!!), however no television or internet interferes with birdsong and wildlife calls. Including the alarm call of the barking deer when an elusive leopard is about!
"Spashram is a place to engage with harmony and inclusiveness, and with the natural and rural human biodiversity of the surroundings," I J stated over sips of potent Single Malt. For exclusive privacy, you can have your own driftwood bonfire by the private beach of the Ganges. As we cheered to life and its lessons watching the fire break orange sparkles into a deep dark night, bright stars like a canopy of fairy lights spread majestically over the sky. I was reminded of how insignificant our petty worries and human failings were in the play of the mighty Universe. From dust, to dust we shall return.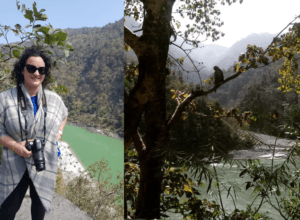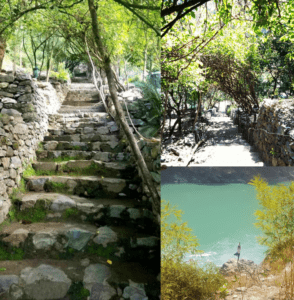 A sumptuous dinner spread (Indian and mountain cuisine, or, continental as per choice of guests) with travel stories and candle light, did feel like a movie scene. And thereafter, a deep healing sleep calming all of the heavy weight lifting we do for no reason or benefit to the Soul. For the first time, in a long time, I could hear the sounds of the night as it crept over my bungalow with its silence. Just an occasional hoot of an owl, a solitary cricket bleating his nocturnal forage in the wild, letting me know that the Universe was watching us.
I was also witness to a Ganga puja. As a local pundit prayed to the Holy Ganga by her banks, tears streamed down my face as the aarti cleansed my aura and energy spaces. The Mother had called me deeply. I couldn't wait to let Her lead me where waters flow pure, and my Soul is brought home to rest. There was going to be happy endings to my journeys after all.
Spashram River Mountain Retreat
Website:  https://spashram.co.in/
Facebook: https://www.facebook.com/pages/Spashram%20River%20Mountain%20Retreat/383637762120867/
TigerPaws Camp – Spashram River Mountain Retreat Rishikesh, Rishikesh, Uttarakhand, India.. PO Byasi, Badrinath Road Village (Gram) Singtali, Rishikesh, Uttarakhand – 249192
WhatsApp/Call: +91 98101 28999 / +91 8860 128999
Email: spashram@gmail.com | info@tigerpawadventures.com
My TripAdvisor review: https://www.tripadvisor.in/ShowUserReviews-g2668089-d2214515-r749477482-Spashram_River_Mountain_Retreat-Singthali_Village_Tehri_Garhwal_District_Uttara.html#UR749477482
Connect with us for brand collaborations, media associations, content, branding, marketing services, Food/Beauty/Hospitality/FAM tours/F & B reviews and digital promotions at etheldacosta@gmail.com
Whatsapp +601161781642
Malaysia| India | Singapore