Before this, I had never heard of Kota Kinabalu, leave alone citizens from my side of town who are no experts in geography. So, when Malaysia Tourism called on me on a media familiarisation trip to Kota Kinabalu, I sat down with the map of the world, and learnt some new things for the first time.
My arrival into Kota Kinabalu (KK as popularly known), State capital of Sabah, set between lush tropical hills and the South China Sea, was nothing short of magical. Situated on the beautiful island of Borneo, Sabah is the second largest of 13 states that comprise Malaysia. Kota Kinabalu (population approx 4 lakh) is a blue lagoon paradise you would want to escape with a significant other, or just yourself. Azure aquamarine waters, lazy waves, and mountains jutting across a landscape of sand and forest. The energy, like a lighting rod, is the first thing that filled my body and buzzing brain as I stepped out of Malaysian Airlines and onto solid land. With a packed travel itinerary and limited time on hands, I decided to maintain a Facebook log entry to capture my `getting to know Sabah' explorations. Travel is always best experienced with all of my six senses.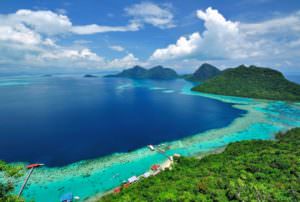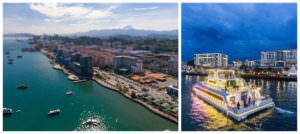 Read #TheTravellingPinkCrocs – FB log, Day 1: https://m.facebook.com/story.php?story_fbid=10156697682706571&id=686131570 
A total of 36 international media from 11 countries flew to Malaysia to participate in the Mega Familiarisation Programme (Mega Fam) organised by Tourism Malaysia. The programme themed "It's Summertime in Malaysia in conjunction with PATA Adventure Travel Conference and Mart" was held from February 11 to 15 at Kota Kinabalu. Focused on #VisitMalaysia2020 since its launch in 2019, Malaysia's Mega Fam programs have been designed to boost the promotion of Visit Malaysia 2020 campaign through media familiarisation events with the aim to achieve 30 million international tourist arrivals and RM100 billion tourist receipts set as a target for 2020.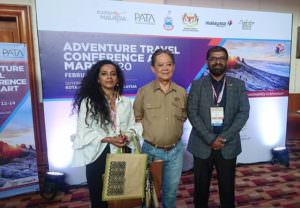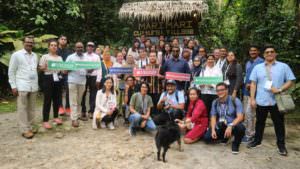 BREATHTAKING SABAH
As we landed across blue marine coastlines and lush mountains capes, I felt my heart lifting. Despite the travel panic that was spreading everywhere no thanks to the corona virus, I knew I was going to be okay. The Universe had my back. This was a call for a test of faith. I had to let Malaysia crack it open. For it is true that pure love can move mountains. Ensuring measures towards safety and good health are not compromised, Tourism Malaysia handed us medical kits with face masks, hand sanitisers and wet towel packs keeping hygiene top priority throughout our stay.
Curating an itinerary that was well paced and meant to showcase each destinations to its fullest, we were given a first-hand feel of the attractiveness of Malaysia through various adventure activities, such as culture, heritage, wildlife and eco-adventure this beautiful land has to offer to adventure hungry travellers.  Sabah's cultural activities at Mari-Mari Cultural Centre, rural tourism experiences at Tagal Tinopikon Park, White Water Rafting in Kiulu and Klias River Fireflies Safari Cruise were some of the attractions that showed us the beauty and bounty of Sabah. Stunning and awe-inspiring in the same breath.  I was trekking a hill to find a waterfall, washing my hair in pristine waters that needed no fancy shampoo or conditioner, the simplicity of her people living in balance with Nature and land, finding my own balance on a rope tied hanging bridge, letting friendly Pelian fish nibble my toes, eating to my soul's content, being awed to tears seeing a night sky full of stars I couldn't count, the elusive Proboscis monkeys living a life of undisturbed bounty, heart stopping sunsets off the South China coast reminding me of my blessed life and why I needed to live each day in gratitude.  Sabah was churning my God hungry soul for His grace.
Read #TheTravellingPinkCrocs – FB log, Day 2 https://m.facebook.com/story.php?story_fbid=10156701982381571&id=686131570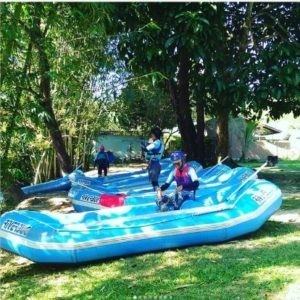 Speaking to the media at the Press Conference, Director General of Tourism Malaysia, Datuk Musa Hj. Yusof shared that the FAM programme aimed to show Tourism Malaysia's commitment to promote Malaysia's destinations throughout 2020, despite the global pandemic. "We would like to assure international tourists that Malaysia is taking greater measures in containing the situation that is faced globally," the Director General said to a room full of media professionals. As I sat at the lunch table of the Tourism Ministry and team at the stunning Pacific Sutera Hotel gorging over mouthfuls of local cuisine, the General Manager, Sabah Tourism Board, Noredah Othman explained to me why Sabah was worthy of global attention for curated holidays, or, as a way of life.  I would move in a heartbeat anytime, I assured her.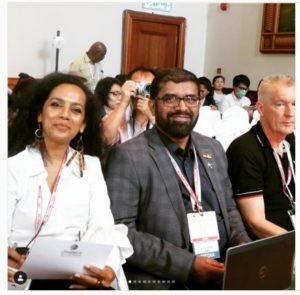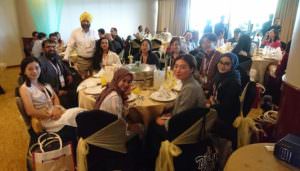 Sabah, home to the Kinabalu Park which is renowned as a World Heritage Site by UNESCO, also hosted the  PATA Adventure Travel Conference and Mart 2020 to travel agencies and travel vendors who came in from across the globe to showcase their brands and travel products.  "The diversity of its culture owing to its 33 ethnicities who speak in different languages offers a truly unique experience, especially to those who are not accustomed to a colourful multicultural society," Ms Noredah shared. "I've heard so much about Goa. Now I know you, I will come," Ms Noredah confided. Apart from cultural, nature and adventure destination spots, Sabah is famous for its exotic marine life that attracts divers and wedding planners from all over the world (More stories on what you can do this summer in Sabah, coming up). "The Mega Fam is specially tailored to attract families, single ladies and young travellers to experience Sabah. This is part of the quick-win recovery strategy to build confidence for domestic travellers as well international tourists to travel to Malaysia," the Minister had earlier shared. The programme received a total participation of 36 international media hailing from 11 countries namely Cambodia, India, Indonesia, Japan, Laos, Philippines, Singapore, South Korea, Taiwan, Thailand and United Arab Emirates.
Read #TheTravellingPinkCrocs – FB log, Day 3:  https://m.facebook.com/story.php?story_fbid=10156704692066571&id=686131570
SABAH, A PAST REWIND
KK traces its beginnings to 1881 as a tiny British settlement on Pulau Gaya, the biggest of five islands directly across the bay. In 1897, a local rebel Mat Salleh and his men fought and burnt the island settlement, forcing the British to relocate to the mainland at Kampong Gantisan, a small fishing village. In 1899, the British named the new settlement `Jesselton' after Sir Charles Jessel, the Vice-Chairman of the British North Borneo Chartered Company. To liberate North Borneo from Japanese occupation during World War II, Allied Forces bombed and completely destroyed Jesselton, leaving only three colonial buildings which now stands as Sabah Tourism Board, the Atkinson Clock Tower, and the former Lands & Survey Building, including a local Sikh temple which was spared of the destruction. A walk around the city during the day or late evening is like a nostalgic rewind to its past and present coming together. A city highlight and `must see' is the Pillars of Sabah, a community art space for budding artists, which were once the burnt-out pillars of a handsome pre-World War II colonial-style Land and Survey Building. Fantastic art murals dot other buildings around the city making it feel like a visual art gallery on the move. I visited the Pillars of Sabah at night just as the moon was rising. It was surreal. Also to learn, as my cell jumped to life, that my buddy in design, Wendell Rodricks had suddenly passed away in Goa. A moment tinged with pain and sadness. Such is life, flitting and ever changing.
Read #TheTravellingPinkCrocs – FB log, Day 4 : https://m.facebook.com/story.php?story_fbid=10156704234901571&id=686131570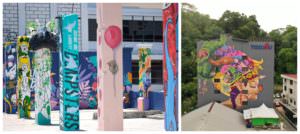 A SUNSET FOR GRATITUDE
Upon arrival to our hotel at the Grandis Hotels & Resorts overlooking the bay and the islands dotted across a distance, a media orientation set the tone for the evening to follow, which took us straight on-board the majestic yacht by North Borneo Cruises bobbing gently at the Sutera Harbour Jetty. The Sunset Dinner Cruise hosted jointly by Malaysia Tourism and North Borneo Cruises felicitated media professionals with participation certificates, and a sumptuous dinner showcasing the best of Sabah cuisine, and music for the merry making. As the day faded into twilight, I witnessed a sunset I will never forget in the days to come.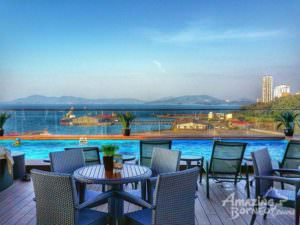 Molten skies and molten sea merging into union as the Sun bid its farewell to an audience of jaw dropping humans watching the magnificence of the Universe. I cried with joy, for it is a gift being alive to know the blessing of life. It reveals itself when the Heart is ready and open for God to occupy His temple. Malaysia keeps changing me, peeling old layers off my spirit to reveal new vitality, new birth, new beginnings and inner growth.  Thank you Malaysia for accepting me into your own heart. And yes, Sabah, I'll be back.
Read #TheTravellingPinkCrocs – FB log, Day 5 https://m.facebook.com/story.php?story_fbid=10156707581236571&id=686131570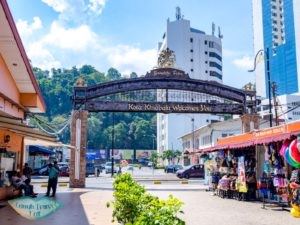 Know more at www.sabahtourism.com
You can book romantic cruises for friends, family and loved ones at www.northborneocruises.com
*More stories on what you can do in Sabah this summer, read https://etheldacosta.com/soul-surfing-in-sabah-and-why-you-should-do-too/
For collaborations, stay-cations, reviews, promotions, contact etheldacosta@gmail.com
Contact: +601161781642