Dear Vishwajit, Babush, Vijay and Rohan,
As  I write this, a fourth tiger in Goa has been murdered for allegedly disturbing human settlements. When it's we who have taken over their land, forest, their natural habitat to accommodate our lives. I feel physical pain at this violence inflicted on those who cannot speak for themselves. Will the Chief Minister act fast on this?
They say correctly the richest have a beggar's mentality. It is never enough. So driven by greed, power and ego, the rich take away from the people, and the land that deserves most their help, support, kindness and integrity. Such is the state of our county. Such is the state of our Goa. And hence, the need to write this open letter to you all, because seriously who understands the nuances of being a Goan then the four of you, born of the land and bred off the land. You also represent Goa's young, intelligent, savvy generation of politicians who have seen the world, and hence should put into practice the learnings of leadership in service, successful economies that support growth, distribution of resources, equality of wealth, employment opportunities, across the people of the land. It is with this Hope that I write. As this optimism resonates with the people of Goa, who are now losing their land, identity, cultural ethos, economic opportunity to the avarice of corruption, mass migration and indifference that has dug its nails and teeth deep into our soil.
Lots is being lost fast. I see it starkly. Every time I come back home, I see more and more of Goa's soul being eaten away. You see it yourself too. Because every man faces the reality of his truth in silence or in darkness. Corruption in Goa has become an ugly cousin who we all want to hide from, or lock up in the kitchen. It is felt in the very fabric of Goa and her people, changing abruptly our own once honest demeanour to join the rats on the wheel. Forever churning, feeding off fear, fast money, loss of individual identity and humanness, losing our soul and sleep in the process. Everyone wants fancier homes, fancier cars and more symbols of status, mindless of the degradation of our environment, climate, culture, and values.  Goa is our blessed State.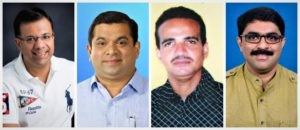 After much thought, this open letter comes to you because I'm a Goan. Like me, there are many who want to contribute to her growth, and can't stand in the side-lines anymore watching what we love go to waste. Therefore, hear out my suggestion. It is simple, and therefore doable. Why can't the four of you put your aside your differences and come together as ONE, UNITED? Irrespective of political affiliations, to re-instil hope, faith, industry, growth and unity in Goa and the people.  United, to protect the land of our forefathers, to redefine, reclaim and rebuild Goa. You four smart, men of vision and strategy, who have made your own monies, who enjoy abundance from the fruits of this land, who have proved to be men of execution, grit and vocal prowess. Four sons of the soil!! Preposterous thought? I don't think so, as nothing is impossible in the eyes of faith. And you are men of faith and family.
In a world of chaos, Goa is not far behind. Threatened by division, hatred, religious persecution, secularism and democracy being torn apart for vested political interests. It has no heart. We have seen politics attempting to tell us what to eat, how to dress, who to pray to, what and when we should speak. Much of our country's youth are at loggerheads today, defending the Constitution and the rights of the people. Divisive politics using violence instead of constructive dialogue. The politics of your party. The same chaos reigns in Goa through the corruption of her land. As real estate sharks, money launders, land pimps, brokers and what not in between sell, sell, and sell, in the greed of making a 2% off protected fields, old heritage homes and forest land, fuelling family fights in courts, brother against sister, thriving off it. We were once an honest peace loving people!! So many Goans cheated by real estate hounds who feed the hyenas sitting in government offices, local MLAs and file pushers in TCP departments. Of course, you know this. I myself have reached out to you in the past with these instances. How much more of our integrity is there left to sell?
The four of you have seen how the women of this State struggle to make a decent living. The issues of safety and crime that are on the rise in Goa. The rising number of broken homes, domestic violence, sexual abuse, and the indifference of the law enforcers to ensure every citizen walks with his/her head held in dignity. We all know that unless a few calls are made, the cops brush aside the common man's grievances. Why? We still pay our taxes year on year! Doesn't that count for a decent, fair, give back to the people? These are not favours. These are duties of the government for the people.
The average Goan still struggles for basic necessities. Water being scarce, unregulated construction, agricultural land sold to real estate, higher cost of living; food adulteration infiltrating our produce and markets; our fish sold to the highest bidders thereby depriving its reach to the common man; our education systems failing in their roles and responsibilities to create humane, holistic beings. You get the drift?!!
Yes, thanks to your intervention dear Vishwajit Rane, atleast our Medical facilities and Hospitals have begun to look like places of care and nurture. Industry that supports men and women needs a major boost in the arm to generate employment for locals, with a re-structuring of infrastructural services (water, electricity, transport, taxes) to boost our Tourism and Hospitality industry. An industry currently being killed because of lack-lustre leadership, haphazard infrastructural development, whimsical strategy to suit personal pockets, and poor execution. We are nowhere in tourism quality in comparison to Thailand, Vietnam, Malaysia. If you can turn one sector around, imagine what more you can do for the economic prosperity of the State as a whole!
Dear Babush, your Taleigao is a shining example of focused face lift and strategic planning. Imagine what you could achieve if all the bare walls and sidewalks across Goa become galleries of public art, more green spaces for birthing gardens and family spaces for recreation and bonding. There are more than enough local Goan artists and creative minds who can paint the length and breadth of this wonderful State, celebrating, uplifting our arts and crafts. Support to self sustain this creative industry is vital. As also sustaining local farmers who have stepped back from agriculture, fishermen who have lost livelihoods to mechanised fishing, traditional occupations that have died, and should be revived urgently. Goa's low population density is a boon. Hence rather than increasing FSI, let's take advantage of new road connectivity and space out development. Build entertainment zones in lesser developed talukas, so people can have a great time without disturbing neighbourhoods, decongest our towns and cities. Goa's green identity and natural resource is a gift. Messing with this is messing with Goa. Inspire architects and builders to design housing and infrastructure with cultural aesthetics adhering to strict rules of construction, safety, respect of the environment, scientific preservation and development of waterways, garbage management, balancing space and concrete for proper city planning, sewage, drainage and healthy living of citizens. It is all possible!!
Vijay Sardessai, once the voice Goans looked up to as an alternative to the State's dynamic future. You agree self servicing mistakes often cost us face and sleep. Because you cannot forget that with great power comes greater responsibility, at all times. A good leader puts self sacrifice before self service. Turning Margao into a heritage beacon of suave and sophistication would have been your legacy. A town you love so much. Yet, nothing stops you today from winning over the hurt hearts of your people, and come shining like a phoenix from burnt fire. Our best tests come from hardships and failures. It turns the ordinary into men of wisdom.
Marrying all of Goa's development with seamless technology, erudite communication, trained skills, a passion for ideas, innovation, start-ups, pulling industry stalwarts together to contribute towards a holistic development. A cakewalk for Rohan Khaunte. Because of a will and opportunity to prove himself. So, what stops you?
Four skilled masters of their craft, four intelligent men, four young politicians, driven by passion, purpose and vision, bring back the people of Goa scattered across the State and our NRIs. Bring them back to contribute to Goa with their skills and expertise. To work together as ONE for the land we love so much. What a shining example you would be for the rest of the country to admire and follow suit.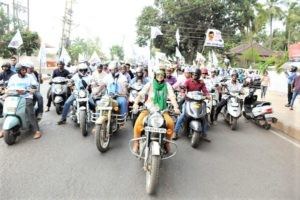 I've been said to be optimistic, sometimes idealistic even. Both positive qualities of the heart. Because optimism is the key that continuously seeks the good even in the bad, that does not give up Hope – the only value money cannot buy. Imagine the future of a 16 lac people loved by the world as peace loving, secular. Get our support to work along with you, to change the fate and future of our beloved State, together.
Hope makes mountains walk. It is only Hope therefore that the people of Goa stand to believe in and fight for themselves, if better sense does not prevail in the politics of our time.
Best always,
Ethel Da Costa
This article was first published in the Herald, Jan 12, 2020
http://epaper.heraldgoa.in/fullview.php?edn&artid=OHERALDO_GOA_20200112_19_2&fbclid=IwAR1wpEUJ1JcjIeKFeVXd1vcmpCcQdQJ3MrGAjJF8z7d6wkAJuMKoUp5YdJ0