The New Year 2020 opened with a bang for me. Like literally!!
Heading to Goa on invitation to launch my own lifestyle web-series `Reserved Experiences with Ethel Da Costa' and participate as co-host team at the  'Reserved Experiences,' the handcrafted event was exclusively curated for a select few who have a discerning taste for the finer things in life. With this being the new year's first and most exclusive celebration, the 'Reserved Experience' in Goa was the perfect amalgamation of exquisite performances, art, fashion and culinary delights. Besides an eclectic mix of invited Goan talent from artistes, designers, chefs, media, influencers, architects and the social glitterati, who were all there on-board the majestic Angriya Cruise Liner, choppy sea notwithstanding.
Boarding the vessel at the Captain of Ports jetty, Panjim (while other guests on-boarded from the Mormugao port, Vasco) to explore the nuances of art, music and food like never before, Goa was brought alive with an eclectic 'Ages Ahead' day which is an exclusively handcrafted experiential event by Blenders Pride Reserve Collection.  Taking this entertainment experience to a whole new level this year with a 'Sea-esta,' that transported guests to a vessel of immersive experiences, the event combined multiple platforms and themes with a unique celebration of living life full. That is the vision board for many of us this year, including mine 🙂
https://www.instagram.com/p/B7ASniCDG7D/
https://www.instagram.com/p/B7AVaM4DYMM/
Hosted by designer Malini Ramani, whose love for comfort, balance and harmony makes her quintessentially Goa, the tasteful cruise on the luxurious Angriya Cruise Liner saw the sun set on the first week of the new year. And it was gorgeous.
Guests on board the cruise were enthralled by the blue waters of Goa, the tastefully curated experiences on board, and the fantastic views of the open sea all around. Adding music to the mix were one of the defining proponents of modern music, DJ extraordinaire Karsh Kale and Jayant Luthra. To top it all was a gourmet food experience with elements of modern, fusion and forward techniques, specially curated by Celebrity Chef Vicky Ratnani.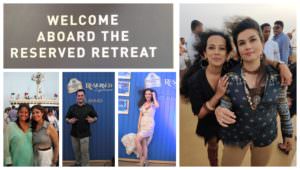 Ishwindar Singh, GM Marketing, Pernod Ricard India said, "Through the immersive evening of modern luxury curated by Blenders Pride Reserve Collection, we endeavor to celebrate the art, music and food, imparting an eclectic taste of 'Reserved Experiences' to those who have a refined taste and are 'Ages Ahead'."
Showcasing the seamless 'Ages Ahead' mix, the evening was a blend of pulse-racing music, culinary fusion, and mixology sessions. The maestros captivated the audience with sublime experiences, including mood-setting artistic installations, along with a customized food menu made for the perfect setting in the midst of the sea. While the music boomed, streamed and beat to make it into one whole Ages Ahead evening under 'Reserved Experiences,' many of us took to the dance floor and left off it with sore feet 🙂 It was awesome music, gentlemen.
Designer Malini Ramani said, "Goa's second home for me and I'm so happy to be curating an experience that's so in tune with my aesthetic in this gorgeous setting. Blenders Pride Reserved Experiences are a perfect amalgamation of art, fashion, music and food, which make them the perfect settings for some curated shots of happiness."
It was way past midnight and the morning baker by the time I got home from the party session, but that's for another story coming soon. Oh, I've missed you, my Goa 🙂 🙂
For collaborations, events, fashion shows, hospitality staycations, web-series partners, email etheldacosta@gmail.com