What do you say when four local Malaysian techies get into a kitchen with a blow torch, sleeves rolled up, cooking prime steaks on a grill, throwing spices on red meats and looking cool at a barbeque? A happening party, right? Correct. That's what happened at my year ending Sunday potluck brunch at home. Grill set up in my balcony, an assortment of meats – chicken, duck, beef – ready pickles, condiments, vegetables, serving boards, and a delicious spread of finger licking meats fired up the house with aromas and a vibrant happy mood. The  party rolling right away past siesta time.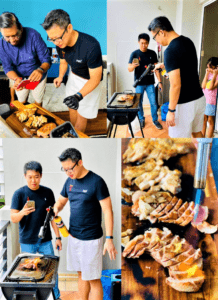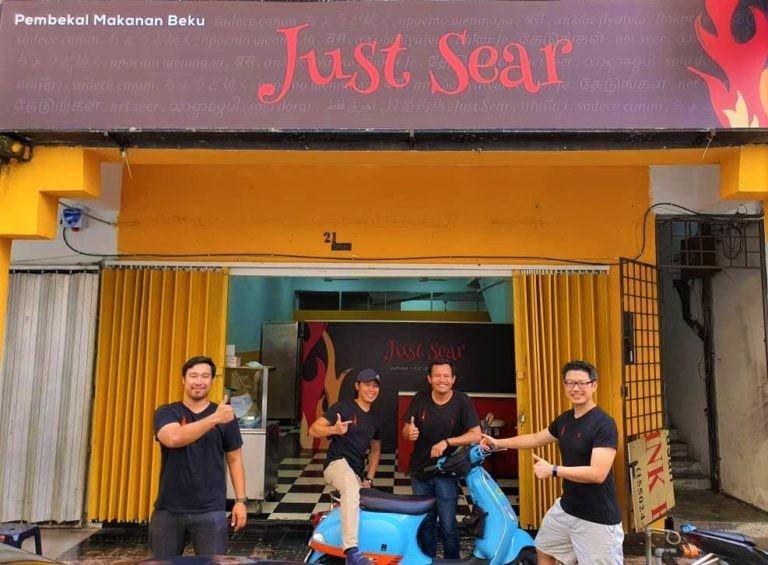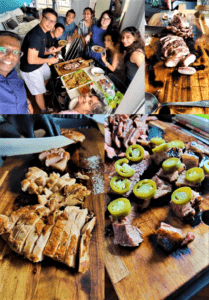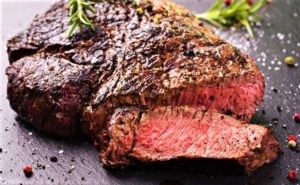 Meet the Founders of Just Sear – Techies by profession, but a conjoined quartet over a unified love for steaks who decided in May 2020 that every household in Malaysia should have a home-experience of great steaks cooked in the backyard. Or, at a patio lunch party. Even a balcony will do!!
The Just Sear motley crew consists of Saheran – meat lover, Hisyam – meat scientist, Wai – meat explorer and Wan – searing expert. Their mission? "To make Halal premium quality red meat accessible to everyday Malaysians at an affordable price." With a simple formula of Defrost. Pat Dry. Just Sear, clients can select from an array of premium pre-marinated meats – Wagyu Briskets, Japanese Picanha, Wagyu Tomahawks, Wagyu Tri Tip, Shobu Shobu Angus from Australia, Japanese Wagyu A5 Striploin, Juicy Ribeye, Blackmore Wagyu – and did I mention my drool dripping already? I'm a sucker for steaks. Because as I write this, I'm already smelling the char of burnt meat, hints of pepper, garlic, olive oil and other secret spices filling my nostrils. Add baked potatoes, grilled carrots and beans, and you get the drift! Chilled beers? Hell, yes!! Popular already at home based parties and outdoor family events, setting a date in advance with this team is to be followed up diligently, lest you be put on a waiting list 🙂 Or, miss out on experiencing an outdoors occasion with friends, beers and barbeques. No grill event is complete without a gang to celebrate with. BTW, they come ready with their own grills, your pre-selected meats, pickles, condiments and blow torch or flame thrower, depending on the size of the party!!
This MCO 2.0 Just Sear introduced home deliveries and their star attraction – the Wagyu Beef Wellington (at RM 80). There's also the Lamb Wellington variant available at RM 50 and Chicken at RM 30. As predicted, the Beef Wellington currently is a huge hit, going by Sold Out deliveries and repeat orders coming in fast. You gotta wait for a good thing, no? A limited edition MCO sale at www.justsear.com with an 8.8% Off on all Wagyu meats, is keeping the cash registers ringing, so you might want to hurry and get yours too.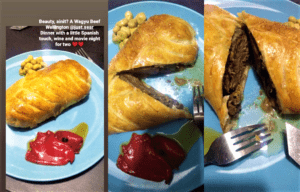 As luck would shine it on my fate, my Wagyu Beef Wellington came home in a 24 hour timeline, as I waited ready for my little soiree for two at home. As the knife dived into the resting and still warm Wagyu MB7 Sirloin wrapped in Duxelle and beef bacon and covered in a puff pastry, a bouquet of aroma instantly floated into the still air, pulling me closer for an intimate whiff of seduction. I paused, watching the juices slow spilling in release as the meat breathed, as if finally free of its confinement. Now I know for sure that a connoisseur will eat her/his meats slowly, chewing through the tender muscle as memory banks flood open. It does to me. Subtle tastes and smells take me to childhood home cooked meals by my mother, her delicious beef curry with roasted coconut, spices, potato, turnip and curry leaves. Or, the memory of a great date and excited tension crackling in the air;  a high street eatery in Singapore whilst I knifed through a gigantic ribeye steak, eating it all by myself, at my own pace. Or, a hot Brazilian steak night grill in Lisbon….memories tied with smells, sights and sighs. Food experiences are sensual. You can never hurry through a good thing.
Getting the Just Sear team together at one place was a task, as they zipped through different locations and schedules. They gallantly agreed to do a video interview so I could let you, my dear reader, know more of this party of four, and why you should now add them to your weekend party speed dial.
Let's Chat with Just Sear. Listen in 😊
SUBSCRIBE TO THE ETHEL DA COSTA CHANNEL https://www.youtube.com/channel/UCymyZOVU4HgWGgPHrhZRcrw
Want to host a party at home? Inquiries: +60123961473
Order your prepped meats at www.justsear.com
Instagram: https://www.instagram.com/just.sear/
For those of who who love Steaks, here's 15 different types to make for dinner tonight 🙂 https://www.countryliving.com/food-drinks/g30913158/steak-cuts-types/
Connect with us for brand collaborations, media associations, content, branding, marketing services, food/beauty/hospitality reviews and digital promotions at etheldacosta@gmail.com
Whatsapp +601161781642
Malaysia| India | Singapore