My mother told me that `we are who we are, and to be proud of it.' Or, was it my grandmother? Both women of full spirit and quiet sophistication. With Goan and Portuguese genes that make up my genetic pool of spirited, energetic, passionate heritage, all that resonates with these qualities are drawn to each other, and me, naturally. That's how I met Aida Perez Palau, Founder, Director of MYSybaritas (www.mysybaritas.com) "MY for Malaysia, SYBARITAS ~ Plural of Sybarita (Latin) for a person who loves expensive and unique things. Pleasure and Luxury. This word comes from Sybaris, an ancient Greek city in South Italy noted for its wealth and luxury," Aida explained.
Over a finely curated Spanish master class morning at her beautiful bungalow in Bangsar, I floated into a little haven. Her home tastefully decorated with curios, art, paintings, sunlight streaming through a sky roof, delicious smells coming from her kitchen, a life size painting of Mexican artist Frida Kahlo gazing over the long wood laden dining table, tropical lush cushions around sitting areas, a flamingo walled paper corner under an intricate staircase that brought the grasslands home, fashion and home decor knick-knacks my eye could spot everywhere (all items are for sale and can be picked up during a dining experience), and a vibe of easy sophistication. I knew immediately it was synchronicity in flow.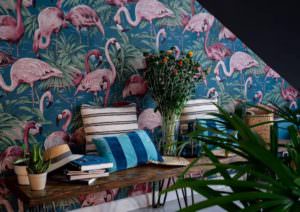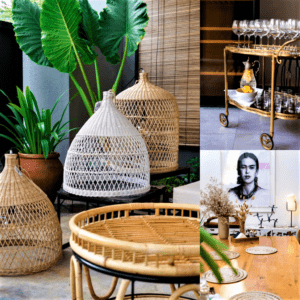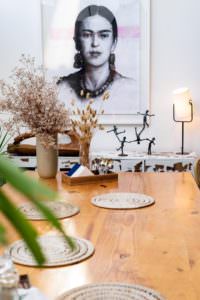 Inviting me warmly into her home like a long known prima, Aida curated a one-on-one master class for me of her exquisite olive oils sitting across her kitchen table, and chatting to a dozen. Each produce with a personality and a story, as I found out soon, taking me through her passion work of bringing to Malaysia some of Spain's best products for discerning Asian palates. Succulent cured meats tasting of sunny Spanish skies and spices, pickled peppers, baby beans, asparagus, condiment infused olive oils, sun dried Iberian hams, aged cured sausages and cold cuts with history as old at the land it came from, fiery red paprika and tasty sardines conjuring visions of languid sun drenched shores, shiny tanned skin, long post lunch siestas. Add to this, an assortment of cured salts that would wake up sleeping giants, or, spice up a roaring wedding party. The Spaniards are warriors and lovers, like the Portuguese. Fierce in their passions, and feisty in their dispositions. I should know. We are practically country cousins. And now you know why I mentioned flow 😊
Popular for curating special wine tasting events (for her brand and for clients), intimate sit down lunch/dinners for selected guests, Spanish catering for events and soirees, Aida was commemorating the upcoming Year of the Ox Chinese New Year festival (CNY) with special edition curated hampers of Spanish delicacies. "Clients can choose what he/she would like to take home, or, gift a loved one," Aida explained. A beautiful hamper came my way too. All dressed up with handmade fabric wrapping and a red wood tray full of artisanal products, chopsticks for special effect and a dried bunch of peonies. A little note accompanying the hamper 😊 Chic!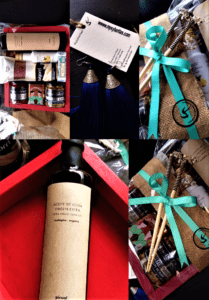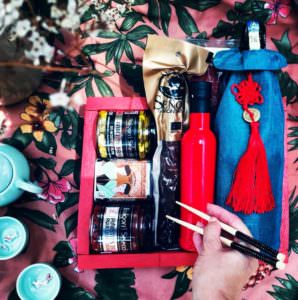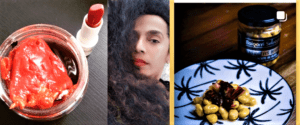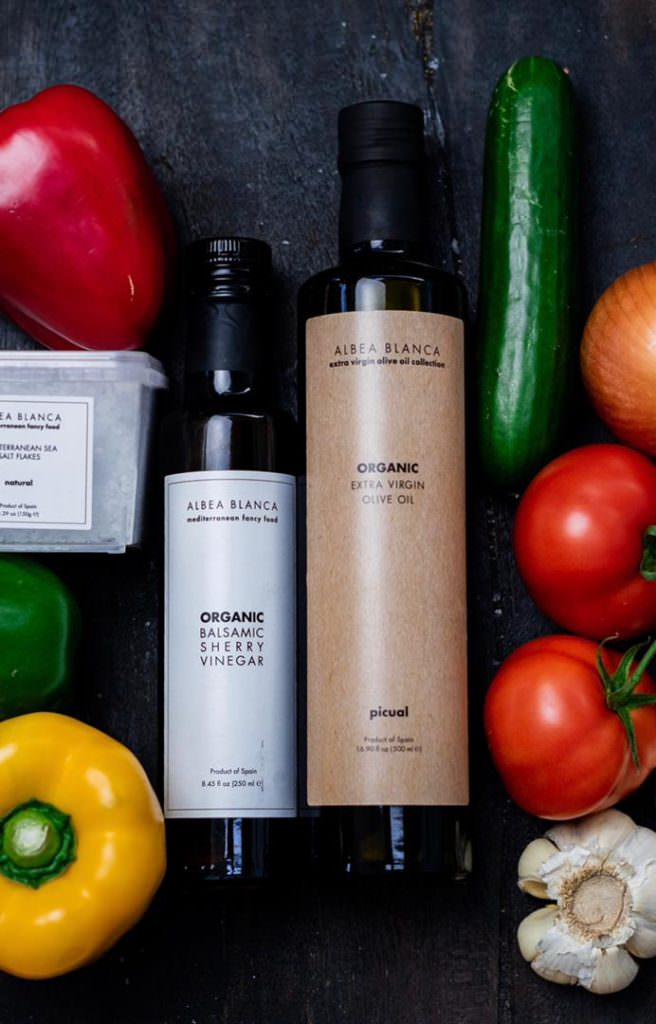 My hamper contained gorgeous red Piquillo Peppers, Baby Beans in Olive Oil -Baigorri Selection, Asparagus Buds "Yemas" -Baigorri, White Tuna Belly – Queridina, Acorn fed Iberian Ham, Hot Paprika, Mediterranean Sea Salt Flakes Red Wine, Organic Picual Evoo Extra Virgin Olive Oil, and Organic Lemon Evoo. As an extra touch (because details is always about class and character), a product guide accompanied by email on how I could combine and create to my own palate. Also, not to forget, the vast selection in Spanish wines you can choose from, to gift, woo, or, add to the gift hamper. Se me hace agua la boca 😊
It was a full moon night when I laid out my dinner table in my open balcony to jazz and candlelight, curating my own special experience. It was beautiful.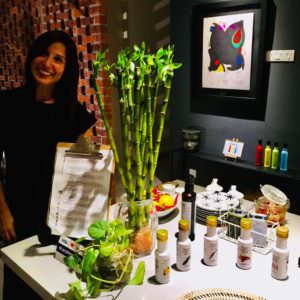 Here's letting my readers know more about Aida's journey from Spain to Malaysia. So, join in and here goes:
Ethel: Tell us your journey from Spain to Malaysia and how you found a new calling in Malaysia
Aida: I came to Malaysia because my husband was hired by Malaysia Airlines 10 years ago. At the time I did not know anything about Malaysia or Kuala Lumpur, but that changed very fast. I was eager to immerse myself with the people and the culture of Kuala Lumpur. I quickly fell in love with Malaysia which nowadays I can proudly call it my home.
Ethel: What is My Sybaritas all about?
Aida: MYSYBARITAS grew out of the desire to make a difference in Malaysia's culinary world, and to get the public's attention in Spanish high quality products. Our intention is to focus, both in service and quality, thus creating through MYSYBARITAS a new image of the Spanish product that has never existed in Southeast Asia before.
We bring items that can be found in any Spanish restaurant or home, and at the same time luxury food that cannot be found yet anywhere in the Malaysian territory. My intention is to put them now within the reach of everyone. Among our products you will find a variety of extra virgin olive oils, truffle oil, balsamic sherry vinegar, sea salt flakes, canned foods, De La Vera paprika and all kinds Iberian cold cuts.
Our future plans include expanding the initial offering and grow to new cities and countries. MYSYBARITAS foundations are Seriousness, Service and high quality Gourmet products. We are a refreshing and modern image of Spain based on traditional values. Our imported items aim to reach Mediterranean cuisine restaurants, shops specialized in luxury food products, and to anyone interested in enjoying fancy Spanish food within the comfort of their homes.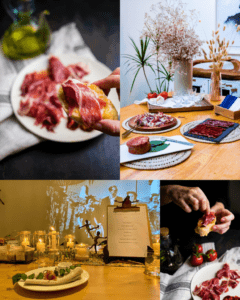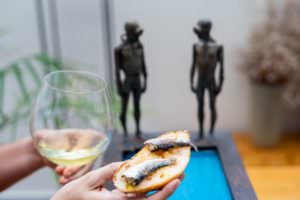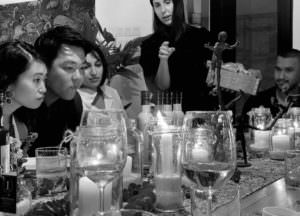 Ethel: You've been hosting beautiful Spanish lunches around food and art. How did they come about and what has been your experiences so far?
Aida: All my life I have wanted to have a big table full of people like a big family. Enjoying their company, the food, the wine, sharing thoughts  experiences, and ideas.
When I opened MYSYBARITAS, we move to a bigger house in the Bangsar neighbourhood, with the idea of inviting our customers to experience Spanish Culture and try our products in a homey environment. Little by little and with the designs of our beloved @Metissemaison (furniture design brand which brings together Caribbean south East Asian and European style), and the art pieces and paintings of @ATR gallery (which brings unique  Spanish art to Malaysia). This has evolved and became our @Mysyshowroom, where we  host many different events. And launching brands like @Pitaya, handmade and versatile kimonos and dresses, among others. Our latest concept with Chef Bonnin – where he uses his magic and takes our first class products to the next level – is a full dining experience for guests.
So far our expectations have exceeded, and we feel so lucky to meet so many different clients. We are enjoying every minute of it.  In a near future, we are looking forward to exciting new events and projects that will come along.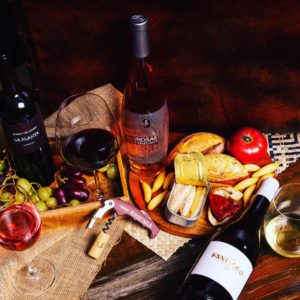 Ethel:  How are you coping this MCO and what plans this 2021?
Aida: We have taken this time to take a step back and think of ways to improve customer needs and satisfaction. During this MCO, our ecommerce at www.mysybaritas.com  sales have skyrocketed. We have also taken this time to be more active and visible in social media and sell though Lazada and Shopee.
Ethel: Your CNY hampers are special. What kind of brands/products are you showcasing? 
Aida: The idea of our CNY Hampers is to combine Chinese tradition with our gourmet Spanish products. This hampers are original and refreshing for those who want to innovate when giving/gifting to their loved ones during this Chinese New Year. You can find Olive Oils (liquid gold), vegetables as Baby Beans, Asparagus and Piquillo Peppers (healthy foods), Mediterranean Sea Salt Flakes, and Paprika (condiments and spices), Iberico Ham Acorn-fed and Cold Cuts (dry meat). Together with our selection of Spanish wines.
Now you know how to impress a girlfriend, or, man of romantic interest and show off your culinary knowledge. Gift them a MYSybaritas CNY hamper. Thank me laters 😊 Besos querida.
Website: http://www.mysybaritas.com/
Facebook: https://www.facebook.com/mysybaritas/
Direct Call: 017-308 2438
Connect with us for brand collaborations, media associations, content, branding, marketing services, food/beauty/hospitality reviews and digital promotions at etheldacosta@gmail.com
Whatsapp +601161781642
Malaysia| India | Singapore