India is the toast of 2021. The country bounced back into action despite the ravages of the pandemic seen in 2020, putting the country back on its feet and onto the global map supporting neighbouring countries to health with free aid of COVID 19 vaccines; projecting economic growth at a healthy 11% for the financial year, and now comes celebrated Indian designer, Rahul Mishra with his exquisite Couture Spring Collection 2021 titled `The Dawn', sending global fashionistas and editors alike in a swoon. I am too, in a swoon that is. And naturally so. Rahul has made more than my admiration and respect as an avant garde creative design genius, and my deep affections for his humility and grounded-ness as a person.
NATURE IS FASHION'S MOOD BOARD
Drawing deeply from Nature whilst the pandemic ravaged the world, Rahul has been known to use crisis for personal analysis, and somehow using it to create beauty from destruction. Reason why his creativity has indeed made him the darling of Paris fashion ramps, and an indomitable power house in India. Designing sell-out collections and putting the spotlight on India's handicrafts, textiles, techniques, craftsmanship and heritage, The Dawn takes your breath away. Seeking inspiration from Nature's bountiful beauty and regenerative life force, Rahul's collection pays homage to Nature's incomprehensible ways to recreate, rebirth and sustain herself, no thanks to the human species.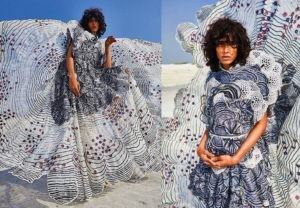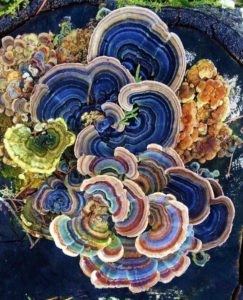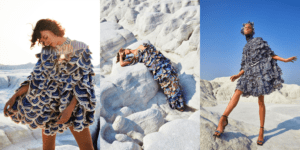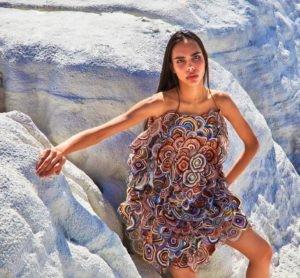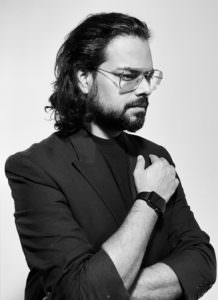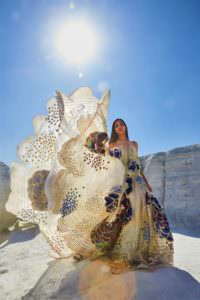 "When the last tree is felled, life will sprout from the cracks and blanket what is left behind. The starry night will conspire with crystal dew drops and concoct an array of bright hued mushrooms in the day. Rings of magic will emerge. Entrapments of old souls, akin to a billion years ago, frilling in layers and ornamented with wildflowers. This will be penchants of a new dawn," Rahul says of his inspiration.
Using `Death' to transmute into Life, "Like a beautiful beginning veiled in a painful ending," weeds, lichens, cut down tree stumps, wild flowers and wild mushrooms render old to the new as his design mood board. Mother Nature prevailing with new life where death may seem a certain constant. We know this only too well in our `new norm' of day-to-day living. "The Soul lives on," Rahul asserts through his collection, celebrating life despite the reality of death.
"'The Dawn' contemplates the state of environmental damage and imagines the world that shall live beyond the interference of the human species. It emerges from an intensified realisation during the lockdown that humans may not have to save the planet, but themselves. The Planet perhaps shall survive regardless and the human species may succumb to their weakness," Rahul further clarifies.
DESIGN CELEBRATES MOTHER NATURE
Filmed in a pristine marble dump-yard situated in the state of Rajasthan in India, the collection starkly juxtaposes itself against a barren landscape. A retrieval of colour to a world drained of its natural resources, abundance and animation through years of piling marble dust. He couldn't have chosen a better location.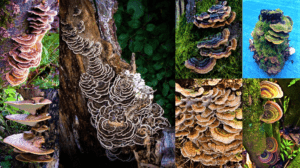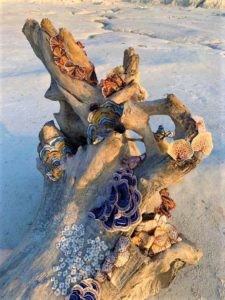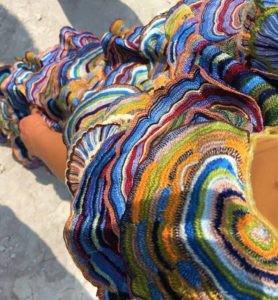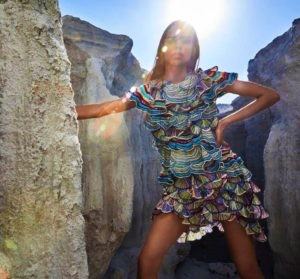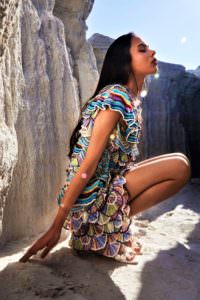 The models, as Nature herself, wear exotic mushroom garments separately hand tacked over glimmering tree-bark-textures, hand embroidered on tulle and silk organza, that is further embellished with wildflowers. Influenced by the botanist, Nicholas P. Money, Rahul's collection uses wild mushrooms as motifs explaining the botanist's viewpoint on Mother Nature's unique regenerative super powers. As a designer, Rahul has been known to actively engage with works of inspired scientists and artists therefore elevating his expressions even higher than just garments designed for a collection. Making each silhouette a statement of art in itself. "Mushrooms are masterpieces of natural engineering, the most wondrous inventions in evolutionary history. The overnight appearance of the fruit body is a pneumatic process with the inflation of millions of preformed cells extending the stem, pushing earth aside, and unfolding the cap. Once exposed, the gills of a meadow mushroom shed an astonishing 30,000 spores per second, delivering billions of allergenic particles into the air every day. A minority of spores alights and germinates on fertile ground and some species are capable of spawning the largest and longest-lived organisms on the planet," states the botanist, while Rahul has beautifully illustrated his design with his team of `magicians' crafting his vision into reality. Individually engineered garments through a unique pattern making process is assisted by novel hand embroidery techniques to achieve a realistic fall and movement of the garment. The result is a stunning collection of the designer's interpretation of originality, technique and expression.
"My garments wish to propose to its viewer a simple question—do we wish to continue witnessing the marvels of Nature presented to us on this Planet? Because we may be required to dig within ourselves for wisdom and realise that Change is inevitable," Rahul concludes.
A Story of Dawn by Rahul Mishra
A Film by Storyloom Films. Film Direction by Keya Vaswani & Nidhi Karmath. Photography by Hormis Antony Tharakan & Taha Ahmad.  Styling by Priyanka Yadav. Shoes by Rahul Mishra X OCEEDEE Shoes.  Location Kishangarh Marble Dumpyard, Rajasthan, India. Models — Laura Gavrilenko, Mansi, Nitin Baranwal.
About Rahul Mishra:
Rahul Mishra is the first Indian designer to showcase at the Paris Haute Couture Week and the first Indian to win the International Woolmark Prize (in 2014), championing slow fashion with traditional Indian textiles. His eponymous label with two flagship stores in India and a thriving national and international distribution channel, finds its genesis in the ideas of sustainability that presents fashion as a tool to create participation and empower the local craft community of India.
The brand's purpose defines the process. The achingly slowed down process of hand-weaving and hand embroidery allows to build sustainable livelihoods for more than 1000 artisans. International fashion critic, Suzy Menkes, an avid follower of the brand's work, regards Rahul as a "national treasure," while the late Franca Sozzani has praised him as "successfully highlighting the best and most peculiar features of his homeland." Rahul has also been featured on the global influential list of 'BoF 500' since 2014, and in 2019 was graced by the 'Rare Talent of the Year' award at the Centre du Luxe Summit, Paris.
Website: www.rahulmishra.in
Enquiries : sales@rahulmishra.in 
Contact:  +91 81466 11379
Connect with us for brand collaborations, media associations, content, branding, marketing services, food/beauty/hospitality reviews and digital promotions at etheldacosta@gmail.com
Whatsapp +601161781642
Malaysia| India | Singapore