You would think that a little rain, sound and light show would keep these brave hearts away? No chance. Not when the rainbows decided to shine brightly and colourful at 2OX – The chic bistro at The Row hosting International Lifestyle Journalist & Influencer, Ethel Da Costa's chic and buzzing The Stiletto Foodie Empower Experiences soiree, to a curated guest list of women entrepreneurs, home grown business owners and a gent this time.
Well known in Kuala Lumpur, Aesthetic Physician and Director of M.A.C Clinic, Dr Hew Yin Keat, also a consummate foodie, braved the moody weather and graced the soiree. He raved about the medium rare Wagyu Burger on the 2OX menu. "I had paired it with my French Sparkling Water, and not wine, and it was just as good," he commented. Making new connections with new friends over this networking afternoon, Dr Hew shared insights of his work as a celebrated aesthetician giving women attendees little beauty tips on how to take care of their skin. Needless to say, he was the life of this party.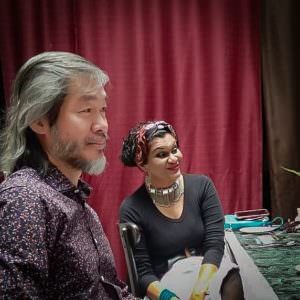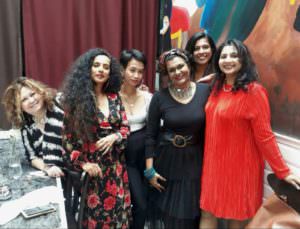 Executive and team coach who works in organisations to raise the productivity of its leaders, Tessie Lim, Co-Founder AlphaPlus Algorithm Fund and World Center of Personal Excellence was all curious to know more about the soirees, and how she could make a difference to women in particular and her community at large. Creating support systems to help adjust mindsets, beliefs and reconnect people to their resourcefulness and self-trust, "As a coach I enable more clarity, focus and purposefulness. These conditions help support performance and productivity increases," she shared with guests, whilst enjoying her 3 course lunch of fine French cuisine – French Onion Soup a la Paul Bucuse, Emmental Cheese and succulent Coq Au Vin Blanc, Free Range Chicken, Red Wine Sauce and Confit Crispy Potato.
Dr Julianne Huh, Director of 2OX took the gathering through the nuances of French cuisine while sharing her own experiences of being an entrepreneur from Korea, now settled in Malaysia.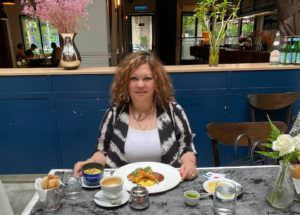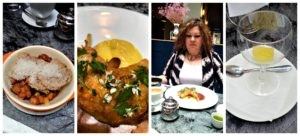 "It was lovely to meet Ethel who is simply a powerhouse and a beacon. Through her initiatives, I learned much about networking and got to meet other amazing personalities. Not to forget the sumptuous French cuisine of 2OX," Tessie declared.
Calling herself a `happy-go-lucky' mum of two beautiful teenage daughters, Kavitha Krishnabahawan ventured into digital marketing to pander to her desire to write. "It will be an empty nest soon," she laughed. Calling the soiree "a delightful meeting of strangers resonating into a sense of camaraderie and joy," Kavitha, a vegan, loved her Mushroom soup, Salmon Trout and Vanilla Crème Brulee. "The taste still lingering in my mouth," Kavitha told The Stiletto Diaries.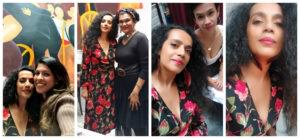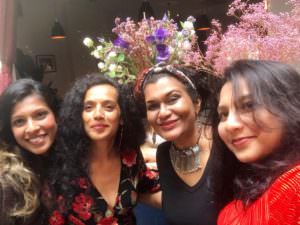 Stylishly good looking, Head, International Business & Commercial Planning Business Acquisition advisor to an established oil & gas company in Malaysia, Rubini Arasalingam scouts new territory opportunities for her company, setting up presence and supporting operations. It was also her wedding anniversary on November 21, and was surprised with a dessert and a sparkling candle by team 2OX. "I had so fun meeting people from various backgrounds and sharing experiences over French cuisine. Thank you Ethel for bringing women together for a common cause," she gushed over her Instagram.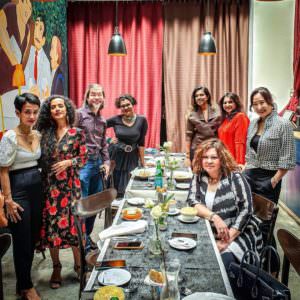 And the rain opened the skies to sunny sunshine, pouring light over the tall sky roof of the restaurant, selfies, business cards, introductions and shop talk was interspersed with life anecdotes. Lena Bright, Managing Director, Jamaco Luxury Home and Co-Founder of Jamaco Global Creative Digital manages a robust real estate portfolio and creative digital brand that consults on design, management, branding of real estate properties. Shy, but warming up immediately to the energy in the room, Lena briefed guests on the nature of her work, "happy to establish new relationships and finally meet the Editor in Chief of www.etheldacosta.com in person."
An advocate on women's empowerment, PR Professional and Founder-Director of Ad My Concepts, Vanitha Krishnasamy brought in the fireworks talking about stronger relationships among women entrepreneurs, overcoming personal and professional prejudices and urging women to bond through communication, empathy, a growth mindset and support.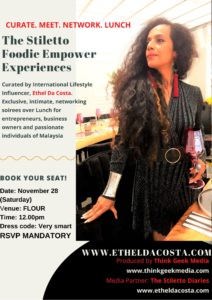 "Stepping into 2OX, a stylish French Bistro in the heart of KL for the first time, was a pleasant and welcome surprise. Right from the moment I walked through the front door, this bistro exuded a certain French air akin to being in the city of love. The insta-worthy ambience is tastefully decorated and is juxtaposed with colourful murals along the walls. The food is authentically French and cooked to perfection with the right amount of tease to excite the Asian palate. The owner, Julianne Huh, was kind enough to give us an insight into her "baby." However, what made the afternoon even more pleasurable was meeting new, like-minded people from various walks of life. All in all, The Stiletto Foodie Empower Experiences soiree by Ethel Da Costa was a hit!" Vanitha summed up enthusiastically.
It was late afternoon as the soiree winded down and gave The Row a lookover for photographs, before hailing Grabs onwards home. What a lovely day to bring the Stilettos out to play.
See you at the next soiree on November 28th at the iconic FLOUR.
Soiree inquiries and mandatory seat reservations, call +601161781642
Photographs: Dr Hew Yin Kit, Vanitha Krishnasamy, Kavitha Krishnabahawan and Ethel Da Costa