Serendib – name for the island of Sri Lanka (Ceylon). The name, Arabic in origin, was recorded in use at least as early as AD 361. Serendib derived from the Sanskrit compound Siṃhaladvīpa ("Dwelling-Place-of-Lions Island").
Many may know Sri Lanka as an island of the mighty Ravana, the demon King of Lanka who passionately and stubbornly fought a war to keep another man's wife. And lost. Because true love is not for the random taking, but in earning it with acts of valour, nurturing and giving. It cost Ravana his kingdom, wealth, power and his life. And the people of Lanka a war that marred the goodness of its land, the humanity of their spirit and the isolation of spiritual context that history and mythology will forever resonate with.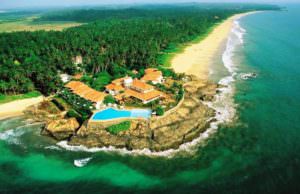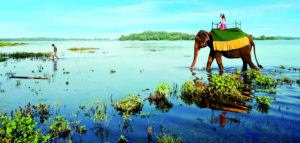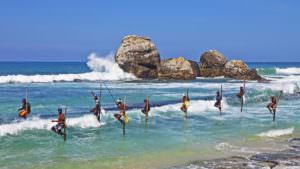 My attempts to get to know Sri Lanka failed. Each time I made a plan, or a booking, work pulled me away from this coastal beauty. So, I kept her for the right time, to explore her shores of pristine sand, mighty rocks and mountains, her wealth of Nature and bounty, flora and fauna thriving in abundance. I could smell the salt in the air around my space and close my eyes to the gust of her wind on my face. Such is the allure of Sri Lanka.
Bound to India by a shared history of brotherhood, blood, and warring politics, an ancient bridge of rock and stone built by King Ram to reach his abducted wife, Queen Sita, with an army of monkeys the likes never seen before in history, still lies cold underwater. It was recently discovered by scientists who affirm its historical significance. Lord Ram crossed the mouth of the Indian Ocean into Sri Lanka, to bring Sita back to her own land.
Would I feel the desolation of Ravana rejected by the stolen prize he sought to keep? Would the mountains share with me the thunder of his anger, rebuffed by the woman who could not be his? What would drive a mighty powerful man, despite all the knowledge of his intelligence, to commit an act of theft, that would eventually bring ruin to him and his powerful land? Was it lust, pride, power or love? Did Sita's beauty, femininity, fierceness, devotion melt his warrior heart to hers?
When the Consul office of Sri Lanka in Mumbai planned to organise a travel-staycation for me, I was thrilled. But alas, like a Greek tragedy in the elopement of the beautiful Helen of Troy with Paris, my travel hit a roadblock, again. And with it the mountain drenched dreams of tea gardens and moonlit shores.
A TALE OF SERENDIB
What do these stories have to do with food in Kuala Lumpur, you would say!? But everything. Especially when you bite into the rock hard claws of a giant Sri Lankan Negombo Mud Crab at Serendib (Lower Ground, G Tower, 199, Jalan Tun Razak, 50400, Kuala Lumpur), and you wake up to Sri Lanka with a jolt. Rushing to awake each cell of your tongue to the stories of her stormy seas, the crashing of giant waves on tempered rocks, the bounty of her stoic mountains lush with abundant green forests, the most aromatic spices, pepper, star anise and curry leaves culled by weather beaten hands, root of her vegetables as sturdy and ancient as the historic soul of the land, her chillies fierce, scarring juvenile skin. Her Gods dancing rituals unfettered by modernity. Raw, ravishing, and rare. Just a Mud Crab to some. To me, my first glimpse of a Lanka who had now found me after all.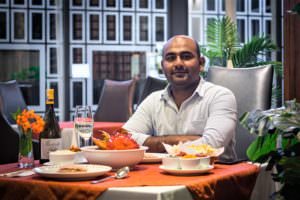 Over a chilled homemade Ginger Beer brewed in-house, Dilanth Silva, born and bred in the coastal city of Negombo, Sri Lanka, had only warmth and big smiles to share when we met. Having worked with some reputed restaurants in Sri Lanka, he had moved to Malaysia and worked with starred restaurant chains. But it was the spicy flavours of his home that he craved for, he told me, as we downed the delicious Ginger Beer now making for an encore. Cooking for his friends and family on his off-work days, he "Discovered that a lot of my friends loved the spicy, rich flavours of Sri Lankan cuisine. I realised that I had a customer base for my favourite food and soon things fell into place. I got into action. It was always my long lost dream of opening my own restaurant," Silva shared.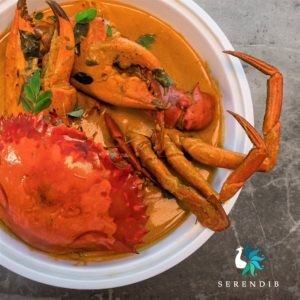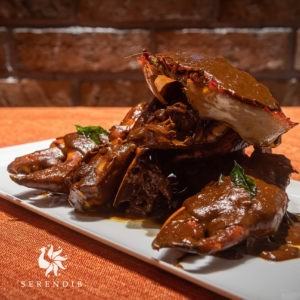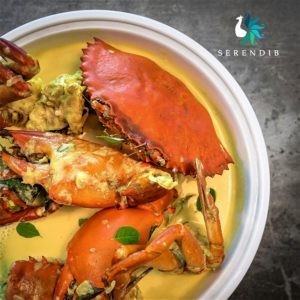 With friends pitching in support, "Things really kicked off when I met my colleague and friend, Chef Raj also from Sri Lanka," Silva smiled at me broadly. Being from Negombo and having grown up eating his mother's crab curry, Chef Raj knew exactly how to cook Silva's Sri Lankan Crab Curry to perfection. "We source live, fresh 800g to 2 kg Sri Lankan mud crabs which is a speciality on our menu," said Silva, hence confirming my instant almost telepathic encounter with the island in one fiery bite.
A SRI LANKAN SERENADE TO APPETIZERS
Sri Lankan cuisine, like her people, speaks of hearth. Requiring the heart of a lion or lioness to sit through a full stomach hearty Sri Lankan lunch. The Ceylonese Sambal Set with Pappadums (Appetizer) with a spread of Seeni sambol, coconut sambol, katta sambol and curry leaves sambol that woke up every pore of my skin like ground opening to rain (including my lymphatic gland 😊). The Vallaria Sambol also called Gotu Kola (Salads & Sambols) of chopped vallarai, onions, chilli and fresh coconut mixed with lime juice, salt and black pepper complimented the Ginger Beer perfectly. I asked for another beer to hydrate, as I ate along 😊 The Fish Cutlet (Tuna fish, potato and vegetables mixed with selected spices and coated with bread crumbs) reminiscent of the mackerel fish cutlets my mother made on Sundays.  Soft Mutton Cutlet (minced lamb meat, potato and vegetables mixed with selected spices and coated with bread crumbs) that would make a shy coconut toddy very insecure, and Mutton Roti Rolls of minced mutton meat, potato and vegetables mixed with selected spices enveloped in bread and grilled to perfection, very happy to have met me.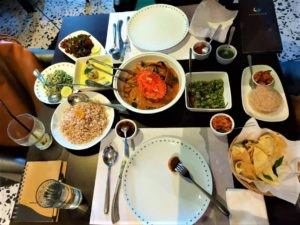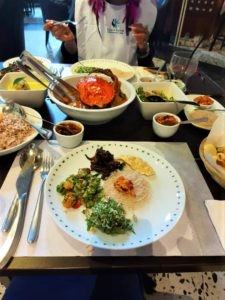 Silva regaled the table with many stories of his hometown, and his explorations of Malaysia's street food. All I could see and feel as the food warmed my lungs was the energy of the mighty Ravana, who had always remained a mystery and an enigma to me. Was this the cuisine that made him so fierce and feared? Silva decided it was a Ceylonese feast that was going to be my introduction to his country. I prayed that my stomach was as enthusiastic as his hospitality, for the onslaught of flavours and spices that was just beginning for the day.
THE THUNDER ROLLS LOUD
And it did with the delicious Main Course beginning with the Fish Sothi (Kiri Maalu) — marinated with Sri Lankan spices and cooked with coconut milk, turmeric, tamarind and fresh onions to give it a yellow tangy coconut gravy. Paired with Ceylonese Red Rice, the gravy delicious and aromatic was a 10 star rocker on my scale of 5. By now our table laden for a Queen with the Mutton Pal Pori (Deep fried mutton cubes mixed with fried onions, curry leaves, chilli paste, fresh lime and salt), Wambatu Moju (Brinjal Moju) and Stir Fried Okra, I could literally feel my blood pressure rising, and the heat pipping out of my ears. I paused for a deep breather. My mind rolling with sounds, images, feelings and an overwhelming cascade of emotions. `Do they eat like this every day,' I asked a bemused Silva, now grinning at my obvious excitement and sweaty forehead. `Yes,' he chuckled, "this is everyday food for us at home."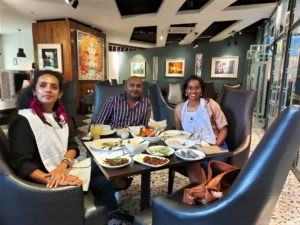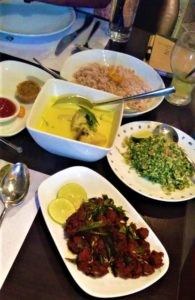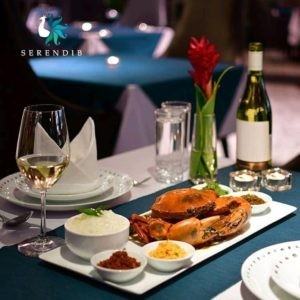 Marrying a local Malaysian, now turned Sri Lankan – you cannot afford to stay virgin to a culture as sexy as this – Sri Lankan is all about `capture and confine' (no pun intended to any references to politics 😉) It is her cuisine which is all about never-going-back-to-wherever-you-came-from. My conversion now imminent, Silva introduced Chef Raj to me. Sturdy as a Rhino, his hands thick, skilled and assured.
Hailing from a family of cooks, Chef Raj has learnt to cook from his grandmothers – one from Jaffna (northern Sri Lanka), the other from the South, allowing him to master both different styles of cooking and learning `trade secrets' of traditional Sinhala and Sri Lankan Tamil home cooking. That explained the fire in his dishes. Combining his culinary knowledge with skills, the know-how of his spices, understanding the palate of the local Malaysian and international diner, Chef Raj has achieved a mid-balance that becomes the core backbone of his culinary forte. A feather to his cap includes working under the reputed celebrity chef, Publis Silva, who specialises in traditional Sri Lankan style of cooking. Taking my flushed skin as a compliment, Chef Raj smiled widely from his heart, "I've always wanted to meet you," he grinned, as the colour rose further to my cheeks.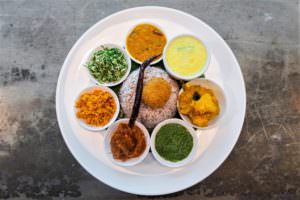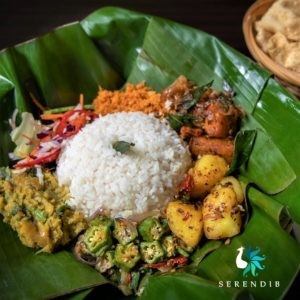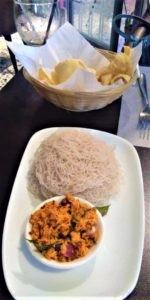 WHY THE WORLD NEEDS PEACE AND MORE DESSERTS
Where in the world would you think one would still have space for dessert? But of course, you do. Like Peace. You make a place for it. Pausing between bites and deep breath to allow all the activated chakras to settle down into a rhythm, my funk now all in a groove, cooling down was a priority. And that's what happens when you eat a Sweet Appam. Fermented rice batter and coconut milk with dissolved jaggery. The kind that could stop a Terminator from an assault mission to reconsider. I did mention my hyperactive imagination on food crusades!!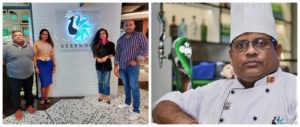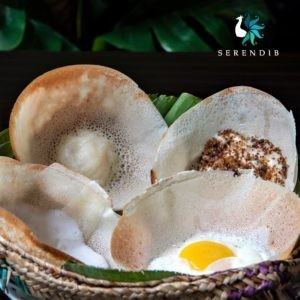 A piping hot Masala chai brought the long lunch to a blissful closure, all body parts intact and in prime function mode.
Serendib, I learnt, is not just only about the food. A table cover for 100 odd diners, a well appreciated Sunday Lunch Buffet (now temporarily suspended on account of CMCO), Silva matches a special selection of wines from Spain, Italy, Chile and Australia to his fiery Sri Lankan cuisine. You would think it odd, but, yes, very possible, to an array of best selling dishes like Negombo style Crab Curry, Jaffna style Dry Crab Curry, Mutton Bone and Marrow, and Hot Butter Prawns.
His future plans include taking Sri Lankan flavours to all major cities in Malaysia and South East Asia, and expand the Serendib brand as a statement of Sri Lankan cuisine. I did mention `capture and confine,' didn't I? That's how it's done in Sri Lanka. You can never go back in the same body you came with.
Happy Diwali to my dear readers 🙂
Photographs by : Angeline Arumugam, Ethel Da Costa and Serendib
Facebook: https://www.facebook.com/Serendibkl
Website: http://www.serendib.restaurant/
Open: 11.00am-11.00pm daily
Reservations and Home Delivery: +60321814647
For food, beauty, product reviews, staycations, content collaborations, contact etheldacosta@gmail.com/Whatsapp +601161781642