Meet two completely different individuals, tied-up together over the love of food and the mission of taking India's rich culinary diversity to the world. The way to their hearts is definitely through their stomachs, I've discovered, bonded as I am with these two with the sheer passion of their Farm to Fork organic food concepts – which made me re-look at every ingredient stocked in the kitchen, focus on my own food quality, and change my eating habits for the better — ever since I got introduced to the much lauded Tasting India Symposium hosted annually in Delhi.
Launching  SWAAD, a joint public-private initiative led by the Ministry of External Affairs, Govt of India, to celebrate a day (or days) towards showcasing Indian gastronomy through strategic partners and eminent chefs across the world, meet India's culinary knights, Sourish Bhattacharyya, a food and hospitality journalist-critic in India, and Sanjoo Malhotra, an experiential travel and gourmet professional from Sweden.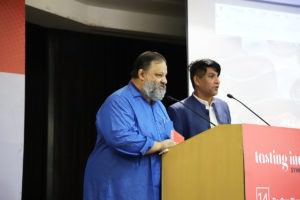 Working closely with the Food Safety and Standards Authority of India (FSSAI) towards building and strengthening a sustainable food policy, distribution, and eat right initiatives for India's burgeoning population, Tasting India powered the `How Can We Power The Great Food Transformation' conference in association with FSSAI, EAT Forum and the Global Alliance for Improved Nutrition (GAIN) on April 4th. Can we feed a healthy diet to a future population of 10 billion people, within planetary boundaries? To answer this question, the event brought together 37 of the planet's foremost experts in the food eco-system From Government officials to schools, colleges, Development Partners, Professional Associations, Nutritionists, Industry Partners, start-ups and representatives from embassies, to propose scientific targets for what constitutes a healthy diet from a sustainable food system perspective. These learnings, Sourish informs me, will now be shared with the aim to empower, 62 colleges across the country. The occasion also marked the India Release of the EAT- Lancet Commission's Report 'Food Planet Health' at FSSAI's FDA Bhawan, Delhi.
So, if people have been telling me lately that I look younger, healthier, its thanks to Sourish, Sanjoo and FSSAI for inspiring how I re-look at everything I eat since.
Here's sharing the journey of this dynamic duo, and inspiring you, my readers, to join in the movement.
Ethel: How did the idea of Tasting India come about?
Sanjoo: The birth of the idea was generated in Stockholm, when Sourish came to cover Namaste Stockholm Festival that I arrange. It started with the question on how India should be branded with food, one of our biggest soft powers, and how we could take a holistic approach.
Ethel: What is your vision of India as a culinary destination for Indians and international tourists to India, and from India out to the world.
Sanjoo and Sourish: Our vision is very clear. To make India the leading food destination in the world. On February 28, March 1 and 2, we launched our pilot edition, which inspired journalists from Dubai, Norway, Sweden and Turkey to report on the country's culinary wealth. From the street foods of Delhi and the story of the tandoor, to home-stays in Uttarakhand and Sikkim turning into a 100 per cent organic State. The experience was repeated in the second and third edition of Tasting India: Farm to Table and Eat Right Symposiums, which provided an opportunity for journalists and chefs from across India to discuss culinary tourism possibilities. From city food tours to foraging for ingredients with chefs. International journalists attending the symposium went to Chettinad to discover the food wealth of the region at The Bangala — Internationally renowned writer, television personality and actor, Madhur Jaffrey, went for this immersive experience — to Nashik, for the wine experience at Sula Vineyards, and to Palghat, Kerala, for an exposure to the principles of ayurvedic cookery at Kairali, to Kolkata as a melting pot of food cultures and Bengali cuisine, to Pondicherry, Chennai for Tamil delicacies. Claus Meyer went to Bikaner in Rajasthan for an out of the world Royal cuisine with a royal family, and to Bangalore to discover both vineyards and local fare. These international journalists have all reported to us that India's food depth and diversity was, as yet, an unexplored story, for the western world knows very little beyond 'Chicken Tikka Masala' and 'Naan Bread.' We, as a nation, could do so much more to cater to the rising number of culinary tourists, who are mainly well-travelled, well-heeled FITs, mostly Europeans and Americans in the 35-60 age segment, who have outgrown shopping and are not inclined towards adventure. For them, an authentic sampling of their destination country's food culture is the biggest takeaway.
https://www.instagram.com/p/Brj8K_nhOfu/
Ethel: What are your views of this vision versus reality, and the perceived failures to take off in its totality and spirit?
Sanjoo: The depth and diversity of India's gastronomical heritage is being increasingly recognised by the world as the nation's strongest soft power, but our travel and tourism sector has not yet capitalised on this wealth to create a strong "another reason" for international travellers to make India their port of call. One of the negatives working against travel to India, in fact, is the fear of 'Delhi Belly', which is a major impediment in the way of the promotion of Gastronomy Tourism in India — an instance of a market where this fear has had a deleterious effect on tourist arrival numbers is Sweden, which provides more than 900,000 tourists to Thailand, compared with a minuscule 90,000 to India.
The Ministry of Tourism, Govt of India, has yet to recognise the potential of Gastronomy Tourism as an organised activity. It figures neither among the 13 thematic circuits being grown under the Swadesh Darshan Scheme, nor as one of the 10 niche tourism products identified for development by the Ministry.
Gastronomy tourism, as a result, continues to be an unorganised activity in the country, with corporate efforts such as the Sulafest wine and music festival, and public events such as Palate Fest and the Asian Hawkers Market, as well as individual initiatives such as Delhi Food Walks and Sahakari Spice Plantation in Goa; Facebook groups such as Eat With India; former royals who have converted their palaces into heritage hotels; bloggers such as Kalyan Karmakar (Finely Chopped) in Mumbai; and home stay providers such as Ayisha Manzil in Thalassery, Kerala, organising experiential activities centred around food. What these individual efforts need is an organised projection and push, and an organised system of safety certification to address the global safety concerns over with Indian food.
Sourish: We started Tasting India with a mission to address the above issues. For the vision to succeed, we are working on a number of initiatives. As this is a new vision for India, we will focus on getting this off the road. The first idea which we have already started to implement is by bringing International journalists to India with the support of Incredible India to give them a taste, diversity and passion of Indian cuisine seldom seen in their countries.  Then, we have started an initiative called SWAAD, the International Day for Indian Gastronomy in co-operation with our missions/ Embassies abroad, ICCR, and with both top Indian restaurants and International restaurants that Indian cuisine and Food destinations are demystified and  celebrated.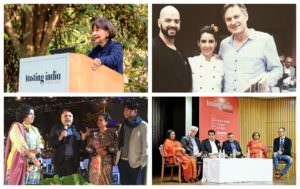 Ethel: India continues to draw less tourists vis a vis international destinations smaller in size and limited in its culinary wealth. Comment.
Sanjoo and Sourish: For India, the message is loud and clear. It is time for us as a nation to project the soft power of our gastronomy to the world. To be able to create a differentiator that will make the country stand out in a changing global tourism market, where travellers are increasingly looking out for intangible experiences, especially those that give them bragging rights, and not the traditional mix of sightseeing and shopping. It is time for India to harness this soft power, not only to generate higher tourist footfalls from both international and domestic markets, but also create new economic opportunities for entrepreneurs, especially for women in rural areas. To give Gastronomy Tourism in India an organised thrust and enhance its global appeal, we propose a 10-point action plan:
Create a National Database of all individual operators engaged in Gastronomy Tourism — namely, providers of speciality experiences in tea, coffee and spice plantations; rural home stay operators; city food walk organisers; heritage hotels offering royal cuisine; travel agents offering gastronomic tours; destination restaurants; and Facebook food and travel groups. The database must be available online and on an app.
Declare 2020 as 'Khao India' ('Incredible Treats'), the year of Gastronomy Tourism, on the lines of Restaurant Australia and Culinary Germany, to drive higher footfalls from the segment of the international tourist market that is driven primarily by the search for new food experiences. Align such promotions with initiatives such SWAAD: The International Day for Indian Gastronomy, which has been proposed by the Tasting India Symposium to the Ministry of External Affairs.
Bring Street Food to the center of the national tourism discourse, and try and rid it of the 'Delhi Belly' tag, by aligning with initiatives such as the Food Safety and Standards Authority of India's Safe Street Food Hubs and Eat Right Mela, and encourage State tourism departments to promote and participate in such initiatives.
Institute National Street Food Awards, in conjunction with the Eat Right Mela / National Street Food Festival, to recognise and incentivise entrepreneurial business operators in this sphere of gastronomic activity from across the country.
Launch an international Instagram photography contest to activate and reward amateur food photographers and get them to celebrate the depth and diversity of Indian cuisines.
Recognise Home Stay Providers, Food Walk Organisers, Public Food Events, Food Books and Food Travel Groups at the National Tourism Awards.
Develop a National Food Museum, Library and Activity Centre in New Delhi to showcase the country's food history and living heritage, as well as to create a hub for all food-related intellectual and creative activities. It will be followed by regional food museums being set up in State capitals.
Encourage State IHMs to put together regional panels of scholars and food writers to research Indian food history and culture to be able to publish a multi-volume encyclopedia highlighting the depth and diversity of cuisines in the country.
Finance the publication of a series of books — following by television and web campaigns — to focus on the emerging Gastronomy Tourism opportunities, such as tea trails, spice experiences, coffee plantation home stays and wine tours.
Appoint Gastronomic Tourism committees across States to identify new players in the vertical and constantly update and upgrade the National Database.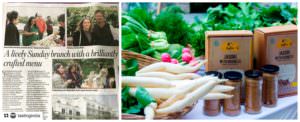 Ethel: How supportive is the Ministry of Tourism of India in supporting this vision in letter and spirit? 
Sanjoo: Very supportive, as we have seen an increased engagement from them in the last two years. Ministry of Tourism has also changed their website last year, where Cuisine is now shown under destinations, which was not the case before. They have also created promotion films and have started actively working towards the International media to bring Indian cuisine as a soft power of India, to the forefront. Incredible India's support for the vision is great and we will work towards creating a deeper partnership.
Ethel: The 3rd Tasting India Symposium saw a collaborative association with Nordic Food Policy Chefs and Influencers. What does it mean in the larger context of the vision and execution through both private, public and government associates.
Sanjoo and Sourish: The Nordics are a great case study to see how a food movement can be created that creates an impact on its people, society, business, culture and tourism. From the new Nordic Kitchen Manifesto which helped launch the New Nordic Cuisine with restaurants like Franzen and Noma accelerating Gastronomic Tourism to Nordic interventions and policies on health, nutrition lowering sugar, salt and Trans fat, school meals. With the Nordic countries focus on its values connected with sustainability, trust, openness, welfare, equality and technology, we feel that India can gain so very much, as the Nordics are happy to share their best practices, and knowledge with us. Our partnership with the Nordics can help India leapfrog in these areas.
Ethel: What does SWAAD mean for India and who are its true ambassadors?
Sanjoo: Firstly what is SWAAD.
A day (or days) for annually showcasing Indian gastronomy to the world (along the lines of International day of Yoga)
A joint public-private initiative, led by the Ministry of External Affairs, working in coordination with key strategy partners on one hand and eminent chefs across the world on the other
In essence – A declaration to the world of India being proud of having one of the world's leading cuisines and our confidence in the quality, and attractiveness of its sophistication, depth, diversity and versatility
MISSION: To showcase to the world the rich wonders of Indian gastronomy
Incredible diversity which goes far beyond just the variety of regional cuisines
Fascinating culinary history and traditions that stretch back into millennia
Potential for enhancing health due to deep rooted links to Vegetarianism and Ayurveda as well as other indigenous wellness systems
GOAL: To tap the full potential of this USP of India internationally –
To enhance India's image
To attract more tourists
To create and expand the international market for Indian Food products including traditional super foods like millets.
The true Ambassadors of SWAAD will be its Chefs, including Home Chefs who are promoting the diverse cuisines of India, Story-tellers, Culinary Historians. Our grand Ambassadors will be the foreign Chefs, writers who have fallen in love with the diversity of Indian cuisine and want to explore and promote India's gastronomic wonders. 
Ethel: Will Tasting India soon be an India wide movement?
Sanjoo: Yes. We have plans to do smaller versions of the main Symposium in different parts of India. We have to do this to bring the knowledge, subjects and engagement to different parts of India and to succeed with our mission.
Ethel: As passionate foodies yourself, what is the one legacy you would like to create, pursue, and accomplish?
Sanjoo and Sourish: To position India as a leading food destination in the world, and the world travels to India for its cuisine and sustainable food. We would like to see International Tourism increase ten-fold in the coming 15-20 years, where gastro Tourism becomes the main reason for people to visit India.
Ethel: What can we look forward to this 2019?
Sanjoo: We have an exciting year ahead of us. We just launched the Eat Lancet Report on Healthy Sustainable diets this April. This summer we are hoping to have done two trials of SWAAD in London and Copenhagen. In December, we are planning an exciting Symposium with the theme of Circular Food and Smart Food Cities. We are also planning a Food Culture and History Conclave in Kolkata or Cochin in December 2019.