As one of my favourite brands, ZARA has been my go-to work and sundown wear every time I need a seasonal wardrobe update. As the new collection `Chasing the Light' Woman Spring Summer '19 hits stores in India, and online, I've picked up my ZARA whites to add to my Spring spruced and Summer ready new me.
The collection draws inspiration for sun-kissed prairies, orchards in full bloom, freckles,  oranges, airy outdoors, wispy haystacks, countryside blossoms showcases a range of yes, of course, whites, flowy tunics, pearl accessories, sun teased gold, bead bags, cutwork embroidery, lace details blouses, lazy jackets and comfort focused breezy silhouettes. Reminded me of Greece induced sun downers, and brunch soirees in Morocco. Take your pick. I've selected my light benders and really love the mood of this collection, and how it uplifted me when I touched the fabrics and brought them home. Click link to shop Happy Summer!!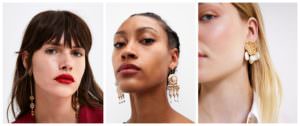 For the TRF Woman Summer Packaging collection colour pops this cherry. And it's beautiful block prints, flower mesh knits, citrus beach bags, tropical inspired accessories,  tie-dye skirts, citrus inspired eyes and sun tan.
All images courtesy by Zara.