Say Jaipur and 'Pink city' is what flashes in our minds. But for Falguni Peacock, it is a sack bag of memories from her latest sojourn. As the designer walked through the City Palace of Jaipur, Falguni shares that she was captivated by the intricacies of design and architecture that would usually be a blind-eye to passersby. It's ornate architecture comprising of resplendent domes, imperial carvings, non-descript doors, intricate frescos, imposing gateways and paintings depicting the sublime beauty of the palatial city,  is captured in the collection in its magnanimous glory.
"The benevolent energy of the place fills you with a solitary calmness, reflecting the bygone, imperial era that is still omnipresent and reverberates through Jaipur's kaleidoscopic culture," says Falguni. The silhouettes presented at FDCI India Couture Week 2019 #ICW2019 called `Bonjour Amer' on the 26th of July 2019, 8.30 pm at Hotel Taj Palace, Chanakyapuri  weaves a web of modern eccentricity and yesteryear elegance. The collection thus evoking a rich repertoire between the two contrasts. On ramp will be stellar lehengas juxtaposed into red-carpet-worthy gowns, asymmetrical layers cascading into long, sweeping trails, giving the garment graceful fluidity.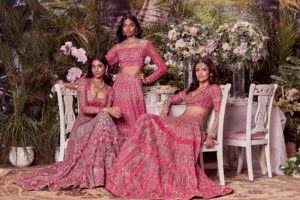 The ensembles are an explosion of dimension and grandeur; it plays with the idea of elaboration, while retaining its unconventional aesthetic. The colour story seamlessly binding the collection together with shades like Spanish vanilla, lavender fog, smoke green, pewter, ballet pink, prism silver, scallop shell, Tuscan gold and midnight blue.  With 'Bonjour Amer' Falguni Shane Peacock aims to escape the ordinary and celebrate the extravagance of Jaipur's eclectic landscape and vivid colours.
The Show is on the 26th of July 2019, 8.30 pm @ Hotel Taj Palace, Chanakyapuri, New Delhi.