You would expect India's powerhouse designer, Manish Arora to be anything, but high octane dazzling. And he did live to his reputation at Paris Fashion Week 2018. Kicking off a vigorous spring show with a colorful portrait of beloved French football star, Kylian Mbappé on the front of a T-shirt; the back read "Girls just wanna have fun." Paired with an iridescent miniskirt and neon stilettos with red-and-blue Paris Saint-Germain socks, it carried a certain energy in its kitschy unconventionality.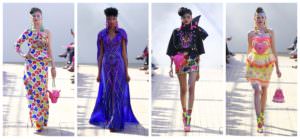 Arora built on this opener, sending down a lineup of sequined, beaded, ruffled and embroidered pieces in searing colors, and various forms and lengths. There were flames too, and a leopard face that popped off of a sequined top and sprang onto shoulders and belts. Three dimensional, it also became a handbag, with eyes that flashed green. "Manish has the biggest heart ever and he gives so much love," said jewellery designer Noor Fares, close friend and muse to Arora, making this latest outing very much conceived with her in mind.  "I was so touched; it was the sweetest thing ever," she gushed before the show, noting that they had travelled to Burning Man together last year. Arora, as we know, is a Burning Man festival regular. His inspiration very much a constant in this collection as well.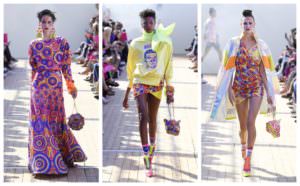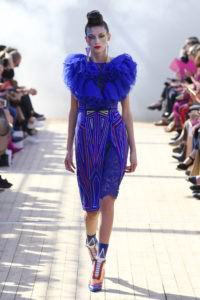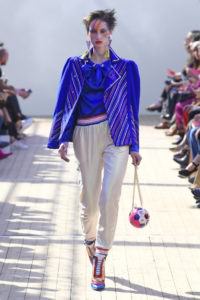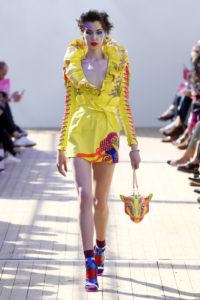 Combining a dizzying variety of captivating prints and a heaping dose of sequined dazzle, Arora showcased motifs reflecting cross-cultural references, both far and wide: Aztec animals, Arabic mosaics, wallpaper florals, and more. The ornamentation spanned delicate Indian zardozi embroidery to Native American feathers."It's a girl who is very much Eighties, she's coming out of illustrations of Antonio Lopez, but with a sporty vibe of the team, people, of Paris Saint Germain football club — real sport but sexy sport," the designer said.
Silhouettes from that go-go era were adjusted in ways that made sense, slightly streamlined, sleeker and lighter. Sports jackets were made in ultralight fabrics, and ranged from a series of shimmery Windbreakers to one in pale denim, embellished with bead work and elegantly gatherings on the back.
As Arora  reaches out to a global audience — the PSG soccer club merchandise will be sold through select distribution channels in China and India from February — it also felt as if he nudged the collection upmarket a notch, trimming away some of the excess without losing any of its punch.
All images from the show and Manish's instagram