Four months ago in the thick of the summer heat in Goa, I had a harrowing experience. I had just landed home on a red-eye flight from Mumbai, and headed straight home to open the door to darkness. Absolute pitch black darkness. That night I'm sure all of St Cruz's mosquitoes had announced a rave at my cost. Sleepless and red faced, post the blood fest bite marks, I realised from  my neighbours that my electricity meter had been cut off in my absence. Without a prior notice from the electricity department on why this action had merited my current situation. Infuriated that my work had come to a grinding halt, I charged to the office of my builder for a resolution. Now we all know that there are just a handful honest builders left in Goa. During this interim, I also realised that despite paying the necessary sum to the builder for electricity meter transfer, purchase of meter etc., he had not initiated any paperwork nor transfer towards the flat owner's name  – here my good self. Meanwhile, with the flat locked –since we had not yet moved in – and without a single bulb in the flat during this period, my meter had accumulated a whopping electricity bill close to Rs 1 lakh! Yes, you do see stars in the daylight sometimes! It was my turn that day. When the builder demanded (in a tone of subtle blackmail) for further money to initiate the process of transfer, restoring electricity back, irrespective of the fact that I as a woman had been put to inconvenience, I lighted the fireworks!!  People who have worked with me in corporate and government know my stand on corruption. Bill in hand and red faced like a Spanish bull who had seen red, I stormed to the Electricity Department at Bambolim, armed with RTI letters for inquiry, meter investigation and consumption history, fortified with my lawyer's counsel. I'm not one of those, in Bollywood terms, who believes in `deti hai' or `leti hai.' This was going to be a fight!! Yes Sir.
Making first port of call with the Assistant Electricity Engineer, I demanded that my letters of protest towards the inconvenience caused to me, be accepted, inwarded, followed by a detailed case history of electricity consumption, followed by a renewed process of meter transfer to my name. Time, in India, has no value. Don't we know this so well, with Goa now also wearing the dubious reputation of being from its former avatar the `most honest' State, to now the `most corrupt.' The A.E promised action. But first, the electricity bill had to be paid to restore the connection. I protested. `I will not,' I informed him, till I had the information I sought given to me in writing. In India how we hate people who ask questions. Right? You bet. Many feet were dragged, resulting in my spending a week at home without electricity, because if you seek justice with clean hands, they think you are a fool. In India, it needs greased palms, right from the top to the bottom. To the seekers, Justice is fought with the Truth.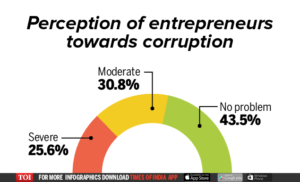 On the 7th day of no electricity, poker marked face (as the mosquitoes of St Cruz had declared a national feasting week, and I'm sure quite healthy now), I approached the MLA of St Cruz for action. Followed by the local Panchayat for investigation, and yes, I did write to the TCP Minister Vijai Sardessai on the complete lack of accountability and harassment flat owners in Goa (I know of many such cases which came to light during this time) who also face harassment and extortion at the hands of corrupt, unethical builders in Goa. My four page letter to Vijai is yet to be officially replied back to me, while I've kept RERA posted of the same too.
Now MLA Tony Fernandes is a good hearted Goan. Besides welcoming me to St Cruz as a local resident, he personally called the A.E to ask what was the matter and why the same was not resolved. Which put the machinery at Bambolim suddenly into gear, as file and paperwork moved. Upon investigation I found out that my electricity meter – first said to be faulty and hence the hefty billing – was in fact in top working condition, and yes, was erroneously reported by the local billing chap as `not working.' As all kinds of tests were done on my meter, electricity personnel on ground stood red faced to my angry outbursts. I had suffered one week of no electricity in the blistering heat of May, and no, that was not acceptable by any standards. Long story short, the bill charges were reversed, and the transfer of ownership completed within a week. Not a single rupee exchanged hands, except for the revised arrears that had to be paid. Yes, my dear Goan, and Indian citizens, Justice is possible when you know how to fight the fight. Next, my fight for the Car Park still not given to me, which I promise will be my next story.
Watching Director Shree Narayan Singh's social drama on rural India's struggle against electricity issues and corrupt power giants, I told my mother who was watching the movie with me, that every citizen, big or small, has the power in his/her hands to demand justice, and fight for it, if denied. As the hero entrepreneur of this movie narrative attempts suicide in a moment of moral weakness, the courtroom drama provides much relief and succour to the common man and woman, who may feel intimidated with the process of seeking justice, and hence give in to corruption for quick resolution of the problem. I appeal to you, DO NOT. I know of so many who have `paid' corrupt builders and service providers to fast forward and avoid personal bouts of stress. But that's not how we want to teach our children to be enablers of corruption instead of fighting it, because we are too comfortable or lazy to take a stand for what's right. If so, then we are truly creating a nation of cowards, and our democracy, the right to quality of life, the right to self expression, the right to seek re-addressal, murdered and buried under the weight of the corrupt. Because wrong thrives in silence. And we will not be silenced anymore. Empower yourself with INFORMATION. Demand your right to a life of quality and respectful living.  Question everything.
This article was published in the HERALD, Goa, Sept 29th 2018
http://epaper.heraldgoa.in/imageview_6179_574399_4_71_29-09-2018_6_i_1_sf.html