Yet another weekend and I get the TGIF updates from my friends. And I am jealous since I realise I don't fit in the TGIF category. Why! Because I have no offs on Saturdays. So to make myself fit into the category I consider it to be, TGIF (Thank God It's Food).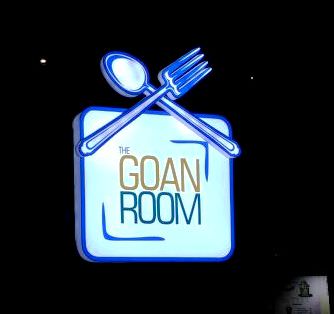 So this Friday I got indulged myself at The Goan Room. It's just opened up a couple of months earlier this year. A lovely place tucked away in Dona Paula. As I entered I was welcomed with this amazingly painted walls, and as I looked around my eyes were caught by these hanging shades which just went perfectly with the wall art.
Before I get to the food, let me talk about the interiors at The Goan Room. The wall art depicts different moods of the Goan culture. From a cool tourist in Goa to a daily life of a Goan. The local fish markets, the festivals from Carnival, Shigmotsav and Sao Jao. You have a glimpse of Goa on every wall. And well, these walls are painted by my artist cousin, Rohit Chari. Utter Brilliance!
Now coming to the food, my soul feeds on prawns and by default I order Prawns Rava Masala Fry everywhere I go. I am very over-particular when it comes to the size of prawns, but was well pleased when my plate of medium sized perfectly circular shaped prawns arrived on my table. Also the Squids Butter-Garlic were cooked just right and as I wanted it with loads of garlic adding to its flavor. And of course, a glass of chilled beer on the side.

Next on the table was a plate of soft and creamy Chicken Malai Tikka with pudina chutney and little salad on the side.


And for my main course I had my all time favourite Chicken Cafreal and Pao.


Well, I didn't opt for any desserts, but they have a lot of options from Caramel Pudding to Dodols and Bebinca.
Overall this vibrant and colourful space has already won my heart in terms of the ambience and food. The service was equally pleasing and the staff was very polite. I am always on a lookout for places like this which blends food and art and nature. And if you also admire art along with good food, you have to visit this place. Until then, keep calm and carry on eating.
The Goan Room, Primerio, Dona Paula Jetty Road, Goa-4030004
#blogger #blog #food #goa #wheretoeat #TGIF #fridays #weekend #thinkgeekmedia #contentwithimagination #bloggerslounge