It was a Daawat (Invitation to a feast) that simply could not be refused, when I discovered this cosy nook in the arm road to Chinatown. Guarded by sturdy men, dark hair and thick moustaches, like a comic book coming alive in 3D. The country of rivers, rowboats, dark broad shoulders, thick black hair and kohl lined black saucer eyes – Kerala. So, my foodie-in-arm partner on food trails, May Kuen (a licensed tourist guide with Malaysia Tourism and a relationship coach) – who calls herself an Indian in a Chinese body – was the perfect companion to share this feast with hosted by techie and foodie, owner of Daawat, Mr Deepak Menon.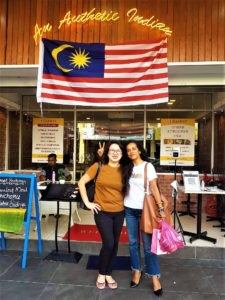 May shared her experience gorging on the beautiful food as soulful in health and taste, as nourishing as our heartfelt friendship.
Stepping into Daawat (131-133, Jalan Tun H S Lee, Kuala Lumpur, City Centre) in the middle of Chinatown was a welcoming sight. Being a big fan of Indian cuisine, I felt like a kid in the candy store, big eyed and excited to taste what was in store. The smell of freshly painted walls and spices filled the air as I waited for the arrival of my friend Ethel Da Costa, lifestyle journalist and an avid restaurant reviewer. Glancing through their menu was a little bit of a torture as I could visualize them…taste them almost.
Daawat, which means a festive, joyous meal, or an invitation to feast was certainly befitting. It offers authentic Malabari, coastal Kerala and Indian cuisine which can be a little tricky to find as many restaurants have localized the cuisine to suit local palates. Deepak Menon, one of the owners greeted Ethel and I, giving us a brief overview of how Daawat came to be. Originally located in Klang, the restaurant was a huge success. They decided to move to Chinatown which would allow both locals and foreigners the opportunity to enjoy what they had to offer. Pure courage and faith in their business was Deepak and his business partner Ihsan relied on as they opened their new location in the midst of the RMCO (restricted movement control order).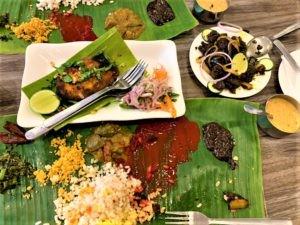 Our introduction to Daawat started with a popular drink in Kerala called Kulukki Sarbath. Made with syrup, water, Sabja seeds (also known as basil seeds), lime, salt and green chili. Ethel and I quickly tasted the unique drink, savouring the freshness of the lime. Little did we know the green chilli would give us quite a kick! We were wide awake for our meal for sure. We left the food order in the safe hands of Mr Deepak, who recommended us their Keralan specialties Mutton Roast, Curry leaf Chicken Coconut Fry and Fish Pollichathu.
In traditional Indian style, we were served on a banana leaf as our 'plates' with a special rice called Palakkadan Matta rice, also known as Kerala matta rice. It was also an excellent alternative to white rice due to its nutrient rich content. With our dishes served, Ethel and I dug into our food feverishly. The mutton roast was exquisitely tender and succulent with a rich, mildly spicy flavour, while the chicken coconut fry was finger licking good as the spices were used with restraint without overwhelming the dish. The star of the meal was hands down the Fish Pollichathu. Wrapped in banana leaf, it was akin to opening a Christmas gift as Ethel and I carefully unwrapped the leaf. Every mouthful of the fish was bursting with flavour; spicy, moist, and divine. It was heavenly.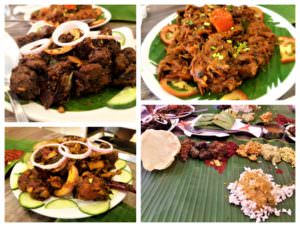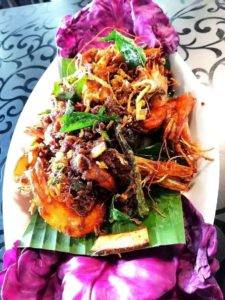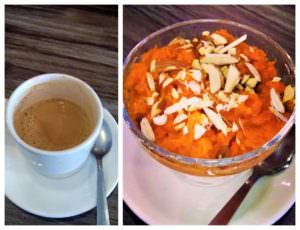 As we sighed with happiness, and very full tummies, we were served with a hot cup of Cardamom Tea and Gajjar Halwa, also known as carrot halwa, a perfect way to end a hearty meal. We thanked Deepak and Ishan for their warm hospitality and promised we would return with friends and family to taste the delightful Malabari/Kerala cuisine. Living up to its name, Daawat certainly invites its guests to a feast with a confident promise that, "If you don't like what you eat, you don't need to pay." A board at the exit says it loud and boldly. So, now you know 😊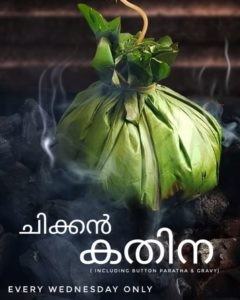 We Recommend: For a quick lunch experience, indulge in a Pothi Choru (food wrapped into a banana leaf parcel with matta rice, curry, fish, pickles, a vegetable), the Butter Milk with spices (Yummm), Kulfi (with saffron and almonds), Prawn Dry Fry (marinated overnight and fried in coconut oil), and the Beef Fry/Beef Roast on request.
The banana leaf servings of Dal, Rasam, Pickles, Pappadam are unlimited.
Daawat also delivers lunch box plans to home or offices, with week day menus. Call to order yours at 0163657527
Facebook: https://www.facebook.com/DaawatRestaurantkualalumpur
Open 11.00am-10.30pm
Reservations: +60328563557
For food reviews, staycations, content collaborations, launches, connect at etheldacosta@gmail.com
FOLLOW my INSTAGRAM for daily lifestyle stories https://www.instagram.com/etheldacosta/