MCO might have dampened the mood on this OX ready to break the stables. But seeing the Chinese New Year this year upclose, or, as close as one can get, spirits across Malaysia are begining to lighten up. Beginning with the blood red colour – Ox Blood as my favourite MAC lipstick would like to state my shade of sexy.
My first encounters with the Chinese tradition of Yee Sang began when I started seeing photographs of generous plates full of gorgeous vegetables, raw fish, strange ingredients all set in tune with each other, in beautiful Chinese bowls or plates. What was it? Curious to know more, I wanted to experience it first hand.
According to Chef Terrence Foong, the executive Chinese chef of Lai Ching Yuen at Grand Millennium Hotel KL, "It all started in Melaka, the port where many of the Chinese came into Malaya from back in the day. "That explains why it is a tradition practiced mainly by the Chinese in the Southern states (pre-dominantly Selangor, Negeri Sembilan, Melaka, Johor and neighbouring Singapore).Yes, other states in Malaysia have adopted the custom too now.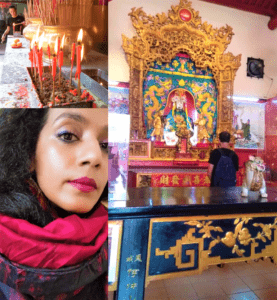 More interestingly, according to Chef Foong,  "it started out as a poor man's food. Times were hard back then, so instead of having the 8-course dinners we're accustomed to now, the Chinese made do with vegetables that were easily attainable from their own garden — like leek, carrot, turnip and cucumber." These vegetables are chopped up and dressed in equally simple dressings like sweet plum sauce, vegetable oil, salt and pepper to flavour it. "To add a bit of 'yu' (bounty or prosperity in Chinese) to the simple meal, they added fish (also called 'yu') hence the appearance of salmon or some form of seafood in the mix. Thing to note is that the fish has to be raw, or 'sang' in Chinese, because 'sang' also means to grow and prosper."
The chosen vegetables weren't simply picked on a whim. Seven symbolic vegetables can always be found in any yee sang platter:
Leek: In Chinese, leek is called 'qiu tao' which also happens to sound like the Chinese term for 'ideas.' It is hence eaten with the hope that one will get more ideas to grow and prosper, whether in business, relationships or life.
Cucumber: Cucumber, or 'ja kua' in Chinese, shares the same pronounciation as the word for 'returns'. It is thus symbolic of having many happy returns in all your ventures.
Papaya: The Chinese term for papaya, 'mog kua', also sounds like the best returns. Eat it and you'll not only have the best returns in all your endeavours, you'll also be the best.
White ginger: Ginger has always been well-favoured in Chinese cuisine for its healing and anti-bacterial purposes. Because yee sang is a raw vegetable salad eaten with raw fish, the ginger is tossed in to kill bacteria and freshen up the palate.
Red ginger: Like its white counterpart, red ginger also serves to kill bacteria and get rid of the fishy smell of raw fish while adding a nice splash of colour to the mix.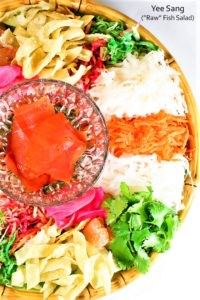 Carrot: With its bright orange colour resemblant of gold, carrots signify mountains of treasure that one hopes to have in one's household.
Raddish: To fatten up the whole salad and make it substantial enough to fill many tummies at a go, radish makes up the biggest part of the yee sang because it is one of the cheapest and most easily attainable root vegetable. Turnip is also a popular replacement.
Pok chui crackers: On top of the vegetables, extra ingredients are often sprinkled on top before the tossing. These crackers are symbolic of the gold bars and taels from the olden days, thanks to their golden brown colour. Their sprinkling is likened to having gold spilling all over the ground so you'll always have money in your home.
Peanuts and sesame seeds: The chopped peanuts not only add a nice crunch and nutty flavour to the yee sang, you are essentially being blessed with many children and a healthy future generation with it, a descendent line that grows and spread far and wide like peanut roots.
Sweet Plum Sauce: Yee sang has to be sweet, so your year ahead boasts nothing but sweetness. The most popular sauce is plum sauce, but many renditions have sprouted in recent years, from apple to sweet walnut sauce.
Vegetable Oil:  Vegetable oil represents liquid gold pouring over your life and affairs, so not an area is missed from being covered in auspiciousness and prosperity.
Pepper and 5 spice powder: These two are sprinkled as means to invite more wealth to come by. The 5 spice powder also represents the 5 branches of happiness that the Chinese believes in – kindness, wealth, health, family and happy ending, no matter where you turn.
Lime: On top of adding zest to the raw fish, spritzing lime juice, 'kat zhai' in Chinese, is also symbolic of having a endless luck coming your way ('tai kat tai lei').
Toss it high and make a mess:  On your end you gotta make sure you toss it high and make as big a mess as you possibly can. The higher you toss, the higher your life and social standard will improve, and the bigger a mess you make symbolises the bigger the grounds all these well wishes will cover in your life.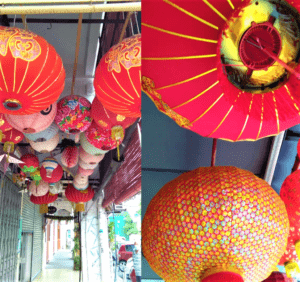 For my first Yee Sang  experience, Celebrity Chef James Won of Enfin and Bouchon Enfin invited me over to the den to see how its all done. Adding his own, but of course, unique touch to his interpretation, the White Jade  Truffle Bowl Yee Sang (aimed expecially keeping in mind Valentine's Day on February 14th) sparkled in the dimlit interiors of the restaurant, sweet Parisian tunes like waves in the sunset flowing into the evening. The platter of ingredients sat waiting for the mischief makers (us) to begin the ceremony, and the story telling. Coriander, Spring onion, Sweet potato, Seng kuang, Carrot, Lobak, Cucumber, Sesame black and white, Pickled onion, Pickled Kew Tao, Pomelo or pear, Five spice powder, Pepper powder, Sesame oil, Cherry chili marmalade, Kaffir lime rind, Lime juice, and wait for it, rice paper bowl with truffle and fresh edible flowers, all prepped.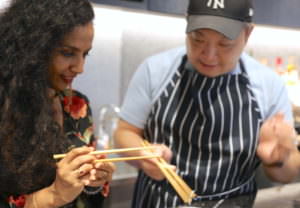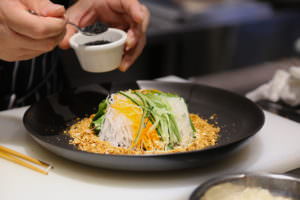 Known as Yusheng, yee sang or yuu sahng (in Chinese), did you know that the common form of yusheng is the qicai yusheng ("seven-coloured raw fish salad") served in local restaurants during the Chinese New Year period. Also referred to as facai yusheng ("prosperity raw fish salad") or, xinnian yusheng ("Chinese New Year raw fish salad"), this present colourful take on yusheng has an uncertain origin. However, there are two competing claims to the origins of the modern take on yusheng: First was said to be invented by a Malaysian named Loke Ching Fatt in Seremban, Malaysia in the 1940s; Second was said to be created in the 1960s by chefs Lau Yoke Pui, Tham Yui Kai, Sin Leong and Hooi Kok Wai, together known as the "Four Heavenly Kings" in the Singapore restaurant scene. Their recipe generally included ingredients such as shredded white and green radish and carrots, ginger slices, onion slices, crushed peanuts, pomelo, pepper, essence of chicken, oil, salt, vinegar, sugar and more.
Fascinating, I thought, as we said prayers of prosperity and went about tossing and messing the plate with greetings of wealth, health and good tidings 🙂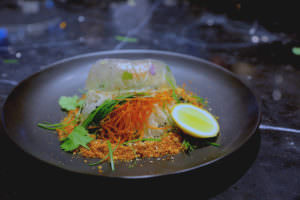 Adding the White Jade Truffle Bowl to the Yee Sang a la Bouchon Enfin (Entree) to the Be My Valentine 3 course menu on February 14th, "Lends a romantic touch to V Day," Chef James noted. "Feb 14 is the third day of the Chinese New Year when husbands and wives go to their respective family home to partake of the family celebration. It's only so special that Valentine's Day should follow the CNY festivities," Chef James enlightened me. `Take my meat Heart with Truffle and mushroom parmesan wild rice risotto' (Mains), followed by `Molten Lava with Creme Anglaise (English Custard Sweet Memories/Dessert), and adding that extra oomph with a delicious special cocktail pairing `Be Kissed' with berry cherry chocolate Kettle One Vodka  (this you gotta taste in person, so mmmm)  dares to give diners a feel of both the festivities in a one special day menu.
Priced at an unbelievable RM 228 ++ per couple (for 2 pax)!!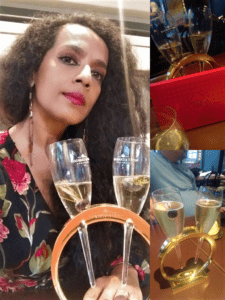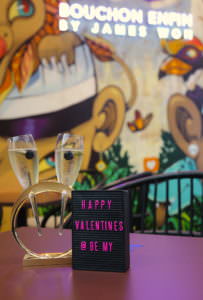 As I went home wishing the full moon had stayed longer, or, showed up for the weekend, I know why I simply love Malaysia. I've been here before, in a lifetime some time, riding into the sunset on a boat with the day's catch for a grilled fish on the sand, on God's beautiful planet.
A heartfelt Happy Chinese New Year and deliciously naughty Valentine's Day, darlings.
*Additional inputs, courtesy Tatler Malaysia. Additional photos courtesy Google.
Connect with us for brand collaborations, media associations, content, branding, marketing services, food/beauty/hospitality reviews and digital promotions at etheldacosta@gmail.com
Whatsapp +601161781642
Malaysia| India | Singapore