The Taj Mahal is more than just a mausoleum – quoted by the late poet Rabindranath Tagore as a 'teardrop on the cheek of eternity'. So, without any second thoughts, I quickly jumped and grabbed the offer when the opportunity to visit the Taj Mahal fell into my lap. It was like a now or never moment for me, my sixth sense whispered saying 'it has to be now' and I'm glad I did it! Soon the preparation and planning began, right from booking air tickets to airport pick up, to hotel drop and next day pick up from the hotel to the monument which is located in Agra.
After the work day got over, we headed straight to the airport to catch the late evening flight to New Delhi. It was an exciting moment – never thought I would be seeing this majestic monument in this lifetime. By the time we finally reached New Delhi, it was late night and checking out with the luggage, we got into the waiting cab and headed towards Agra, which is 200 km from New Delhi. The Taj Mahal is located in Agra, in the north Indian state of Uttar Pradesh. Located on the banks of the River Yamuna and it is easily accessible by road. The journey from New Delhi airport to Agra by road took over three hours to reach the hotel. After checking into the hotel room, I was told the white pure ivory marble monument was visible from a distance. My excitement overpowered me, having a sleepless night with just one thought playing on my mind was to see the monument the first sight in the morning. And, it happened! When I saw the beauty standing from a far away distance with hints of early morning sunrays reflecting on the white marble giving it a golden hue even on a foggy morning, made me gasp at the sight! With my eyes transfixed on it, tears rolled down. After feasting on a spread of delicious breakfast at the hotel banquet, we took off to visit the monument of love.
As we know – the Taj Mahal at Agra, is declared as one of the seven wonders of the world, for reasons because it is more than just a magnificent monument. And, the name "Taj Mahal" is derived from Shah Jahan' third wife, Mumtaz Mahal which means "Crown Palace"! It was built in memory of his beloved late wife. Wow! The exquisite white marble monument is truly synonymous with love and romance.
So, we stepped into the main entrance for security formalities – do take a note the only items that are allowed to carry with you are the following: mobile phones, small cameras, small video cameras, small purses carried by ladies and water in transparent bottle. Those items which are not allowed are kept with the security along with a token number.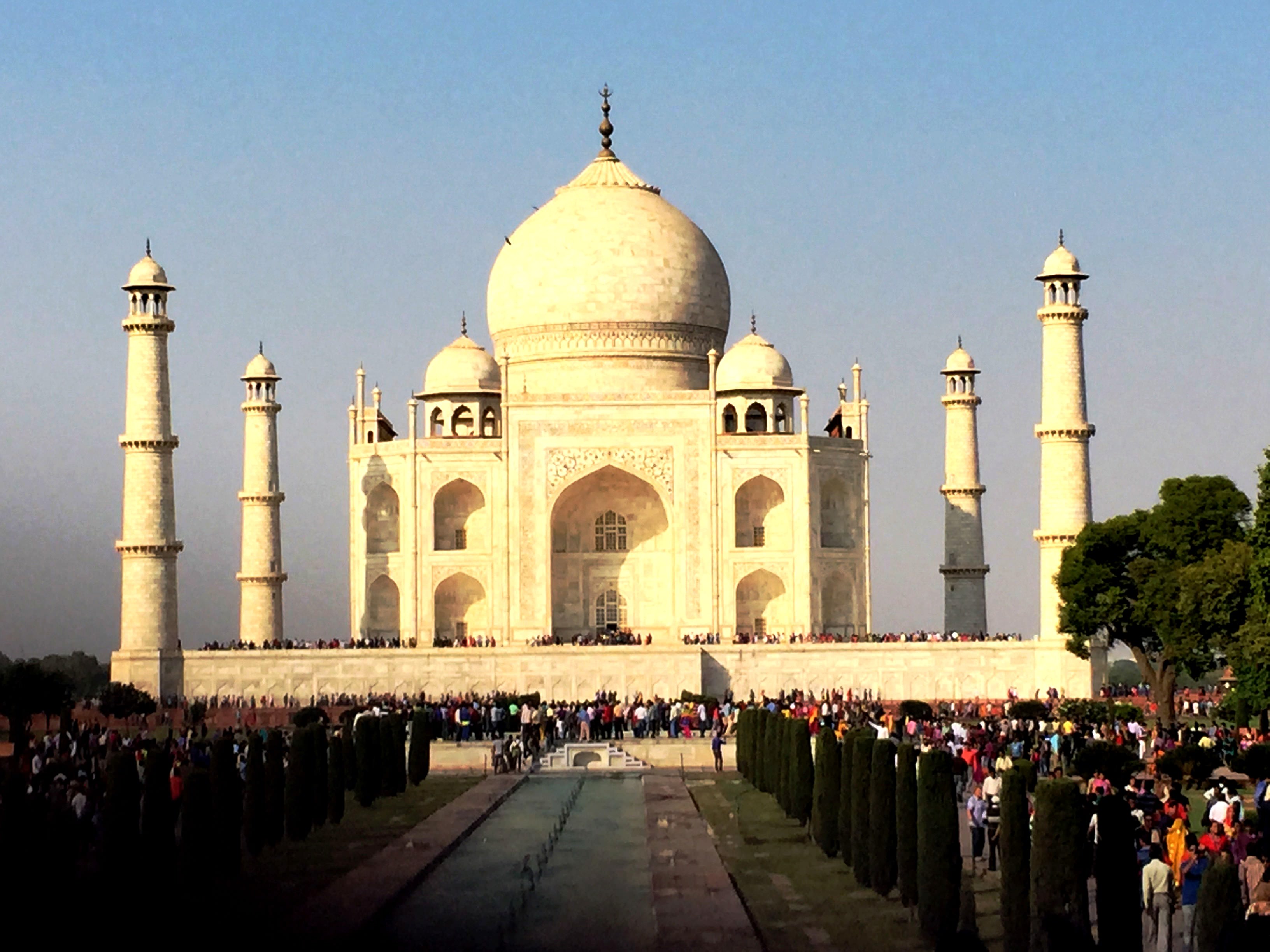 A simple yet an important tip here – everyday the place is buzzing with numerous people from various walks of life, you really need to be super careful with your belongings, everyone looks the same, so you won't even know which one would turn out to be notorious to flick your things and get away with it, believe me it can happen that quick, cause the crowd is such. Be alert all the time till you get done with the sightseeing. Also avoid the tourist guides big time, their charges are skyrocketing, if you already know the history that should be enough. Also keep the entrance ticket with you till you come out.
The whole process till you reach inside is like a suspense hanging over your head, wondering at how the Taj Mahal will look before your eyes. Take it from me, it took my breath away! This is something I never saw before except on television and magazines. If you've been there, you will know exactly what I mean. Nothing compares to this magnificent monument, standing tall and proud in its unique beauty. No wonder its one of the Seven Wonders of the World and truly it is! Simply incomparable!
The beauty of this monument is such, it is beyond the scope of words. As if it is straight from a magical tale, leaving every viewer awestruck including me too by its sense of grandeur. During the Mughal dynasty, there were many mausoleums built in the Indian subcontinent, but the Taj Mahal is undoubtedly the finest one. The monument which is a tomb, is built entirely of while marble, set on a high base which four tall minarets at each corner. The tomb faces a garden which is laid out in charbagh style with a central walk away with fountains and viewing platforms with greenery and trees on either side.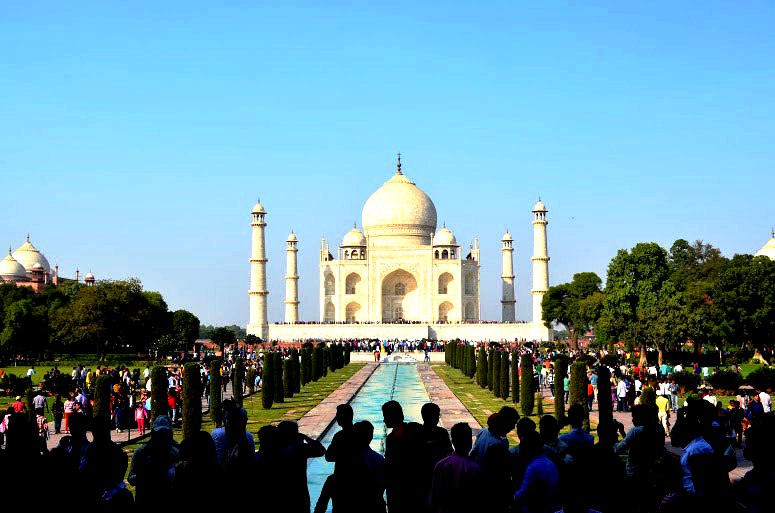 The constructing of this magnificent monument didn't come easy. As history says – the work began in 1631. Since, the tomb was an epitome of love, the Mughal Emperor Shah Jahan made use of the services of 1,000 elephants and 22,000 laborers who were masons, stone cutters, inlayer, carvers, painters, calligraphers, dome-builder and other artisan who were requisitioned from the whole of the Mughal empire and also from Central Asia and Iran. The monument is entirely built out of white marble which was brought in from all over India and Central Asia. The source of materials used in the inlay work inside the tomb are from different varieties of semi-precious and precious stones. The stones like lapis lazuli came from Afghanistan, sapphire from Sri Lanka, turquoise from Tibet, jade and crystal from China, carnelian from Arabia and jasper from Punjab. The white marble from the tomb was sourced from Makrana in Rajasthan. The Taj Mahal was finally completed in the year 1653, which approximately took 22 years to build with an expenditure of 32 million rupees. The monument was built according to the Islamic architecture.The epitome of love for his beloved wife was such that Shah Jahan, later, after the construction of the tomb was over, ordered to have the hands of all the labourers to be chopped off. Because he wanted his symbol of love to be exquisite. Very reason why, there is no replica of this monument anywhere else in the world.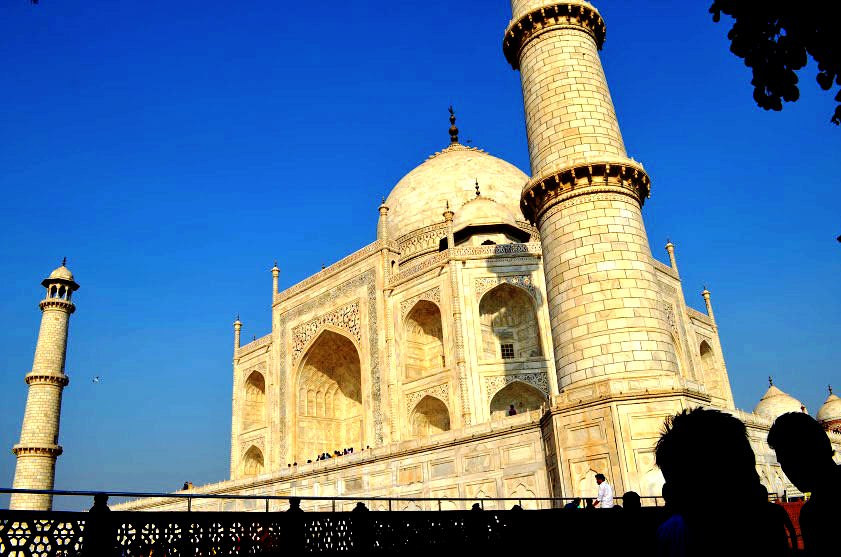 Exploring the monument and its surroundings can be tiring, do carry water as not to get dehydrated due to exhaustion. There are a couple of benches laid out in the garden area. I would suggest to take a little rest in between. Being a part of the overwhelming crowd and walking around the vast area can get too much and also the heat starts getting into your skin, especially when the sun is high up at noon time.
On full moon nights and a night before and after a full moon, the Taj Mahal complex is open for those visitors who wish to view the Taj by moonlight – surely would be a spectacular sight to see. This would be on my must-do list on my next time visit there.
Coming back to my trip, you can travel from New Delhi to Agra, to visit the Taj Mahal, and return in one day. But, if you wish to see more of the historical sites in Agra and the shop in the city's markets, then it would be a good idea to stay overnight in Agra or even plan a one day tour to explore and discover what the city has to offer.
Agra, is also known as the city of eternal love. It has lot to offer its visitors. In addition to the Taj Mahal and other historical monuments, the local markets and marble workshops around the city are of extreme delight. I can vouch on this! This city exposed me to variety of marble, for me it was a fascinating experience.
For women who don't want to miss out on shopping, the old city known as Kinari Bazaar is located behind Jama Masjid would be just what you are looking for. There are a tangle of narrow lanes with variety of wares including spice, jewellery, clothes, saris, shoes and snack stalls. The old city is a place where traditional arts and crafts are very much existing and in demand.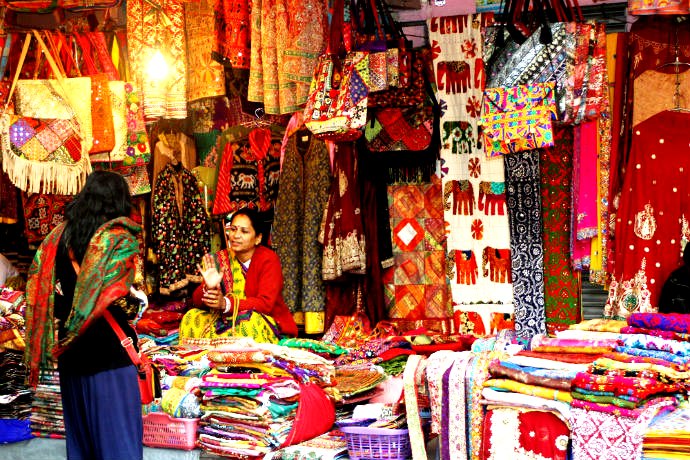 For those families with kids, want to spend quality time together, then head straight to Sur Sarovar Bird Sanctuary. It is located 20 km from Agra on the Delhi-Agra Highway. In 1991, the sanctuary was declared a National Bird Sanctuary which is a home to 106 migratory birds who visit the sanctuary every year. This place is a must visit, especially for kids, it will be a one time life experience for them. The Sur Sarovar Lake is an ideal picnic spot to have fun while enjoying the natural surroundings.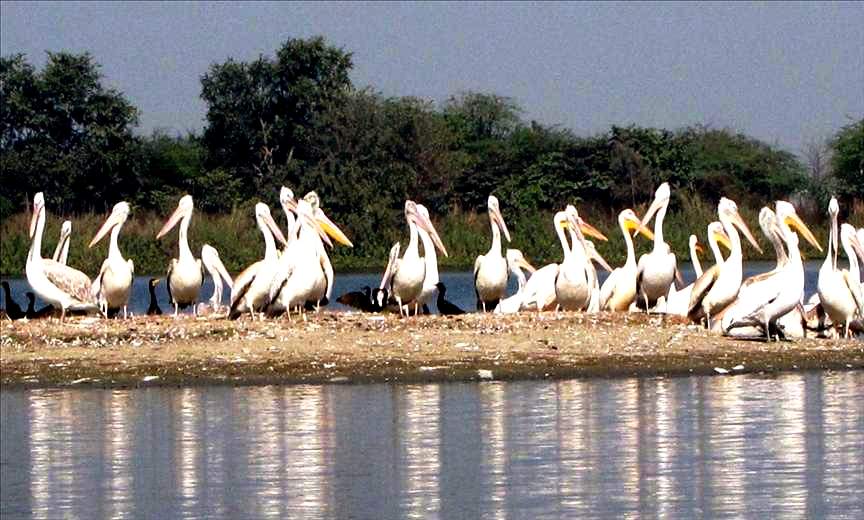 A must try when visiting Agra. A trip to Agra is incomplete without indulging in the famous Agra ka Petha – a delicious sweet, which is semi-transparent soft candy made from white pumpkin or ash gourd. Agra city has everything for everyone.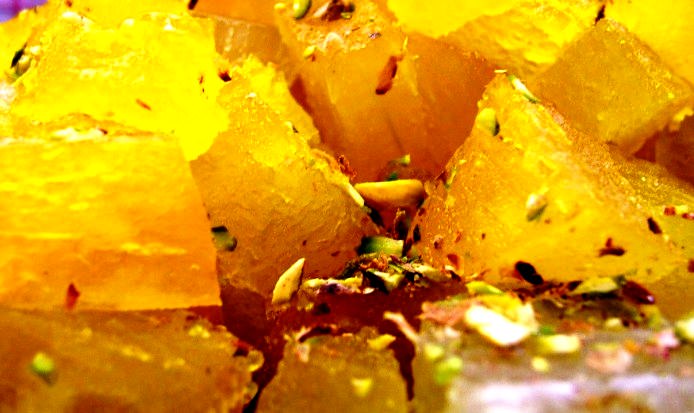 Here is my little advice for those who would be interested in visit the Taj Mahal, the best time is between October to February. Try avoiding the visit during the peak of summer, which can almost kill you due to extremely hot weather. Make your visit plan accordingly. Surely one deserves a visit to the Taj in their lifetime as much as the Taj deserves your visit once and more.
My conclusion after the tour was – the very sight of the Taj Mahal leaves visitors mesmerized and perpetually enthralled. The monument till today continues to captivate people worldwide with its history, architectural design and its symbolism that represents 'eternal love'.
Taj Mahal photo credits: *Caroline Fernandes
About the Blogger: