It came completely as a surprise to us, but most of our food journeys in Malaysia have been anything, but mundane. Excited to be invited #TheStilettoFoodie to this unique launch held at the Shangri-La Hotel in Kuala Lumpur, The Stiletto Diaires was happy to witness the occasion.
Attended fully by Malaysia's media, homegrown F&B company, Asia Innovative F&B Sdn Bhd  introduced an exciting new product for dessert lovers with the launch of  'Cendolah,' the country's first instant, Ready-to-Drink Cendol beverage. Voted among the top 50 of the world's best desserts by CNN, Cendol holds a special place in the hearts and taste buds of Malaysians, often sold by stalls and roadside vendors.
Premiering the refreshing taste of Cendol for the first time in ready-to-drink concept, Cendolah is made using key ingredients such as coconut milk caramel syrup, red bean and green rice flour jelly, to make for a refreshing experience.
Serving chilled tall glasses of ice, the media was requested to open packs of the product and pour into the glass for a on-the-spot taste of Cendolah. It was truly very refreshing.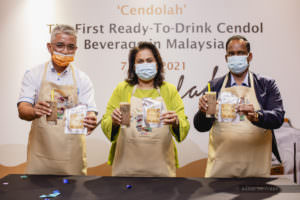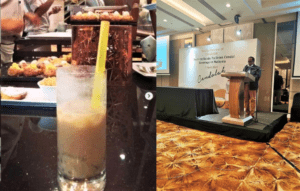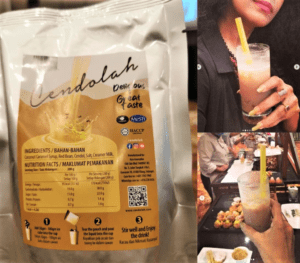 Speaking to the audience, Founder of Asia Innovative F&B Sdn Bhd, Mr Vathumalaai Sooratanam @Malai, informed that having devoted over 30 years of his life to food innovation–analysing, researching and looking at innovative ways to make local favourite foods, he aimed to make desserts and beverages more accessible to the global market.
"The idea behind Cendolah is to make Cendol more convenient for the people by reimagining it as an easily consumable, off-the-shelf beverage. Through the application of food technology and innovation, we were able to successfully replicate the taste of authentic cendol and I can confidently say that when you try Cendolah, it would remind you of the last time you visited your local neighbourhood cendol seller," Mr Malai shared.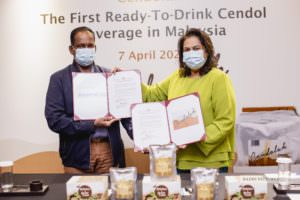 On top of having a shelf-life of two years, we also learnt that Cendolah's recipe was developed using the right balance of sugar, carbohydrate and protein, altogether creating a healthier version of the local favourite beverage. Speaking at the launch event, Malai also thanked the Malaysian government and other agencies for the unconditional support they had given him to develop Cendolah.
"Being a homegrown SME company with aspirations to spearhead our local products at an international level, Cendolah was only possible thanks to the firm support of various government partners including MARDI, MATRADE, SMECorp, SIRIM, HDC, JAKIM, and more.
We are also happy to have collaborated with a reputable partner like Tateyama Japan Food Industries, whose expertise in retort products helped the conceptualisation and production of Cendolah," Mr Malai said.  Adding, "We take great pride in the fact that Cendolah is a proudly Malaysian product with Halal, HACCP and MeSTI certification. The big dream is to elevate Cendolah into the global market, and we are already working towards this as we speak," he concluded.
Retailing for as low as RM4.90 per sachet, Cendolah is now available for purchase online via Shopee and also in the leading retail chain, Mydin. The company is also actively working towards increasing its distribution channels by welcoming more retail partners onboard soon.
Might we also add a suggestion: If you are travelling overseas and want to take some local gifts for friends or family, or, just for yourself so you don't miss your home dessert too much, this works right into ideal food gifting plans. Just pack a box (some 6/8 sachets in a box), safe to pack into a suitcase./or hand luggage, and sip safe. Enjoy.
For further information about Cendolah, kindly visit www.cendolah.com
Featured photo courtesy Reef Omar. Thank you.