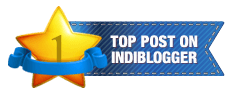 The dust might have settled on
Lakme Fashion Week
2019. But the buzz around this miracle
Tagua
(known in India as
Corozo
or Vegan Ivory), continues to stir conversation around the topic of sustainable fashion, and alternative vegan sources to replace non-biodegradable and/or animal products. In this age and time of man-made environmental disasters, and climate change, a sustainable life is an absolute must.
Promoted by
PRO ECUADOR
, a part of the Vice Ministry of Promotion of Exports and Investments under the Government of Ecuador,
Corozo
– which comes from a native wild palm that grows abundantly in the Ecuadorian rain forest – hot-stepped to the spotlight in collaboration with sustainable fashion label,
Ka Sha

.
The collection of garments and accessories made use of
Corozo
in the form of buttons, jewllery, art and embellishments as part of the Sustainable Fashion Day (SFD) at LFW. The collection and the unique combination of
Corozo
embellishments was raw, fierce, and beautiful.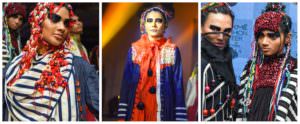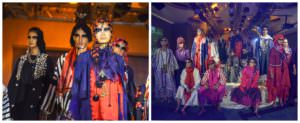 Corozo, which comes from a nut that grows wild in the tropical forests of Ecuador, is collected by the local communities that live in the forests. Its collection constitutes an alternative and an incentive for the people to take care of the forest, making its  vegetable origin, a pure, organic, non chemical, vegan product.
Ecuador is the only country in the world that produces and exports corozo blanks, which are used to make eco-friendly buttons, jewellery, embellishments, handicrafts and if powdered is also used as a natural ex-foliant (replacing plastic microbeads in beauty products). Due to its colour and malleable, resilient nature, it is considered a vegan ivory (replacing animal ivory).  Durable, malleable, light weight, and beautiful when dyed have attracted button manufacturers from Italy, Turkey, China, and more recently India to import this miracle resource, which also contributes to the protection of the rainforest.  Each blank is handmade, one by one, by artisans, so to have a corozo button on a garment is to have a piece of art from the tropical forest, while those who use them directly, brands like Raymonds, Blackberry, SS Homme, help to the conservation of these forests. So empowering when brands consciously make sustainable fashion choices.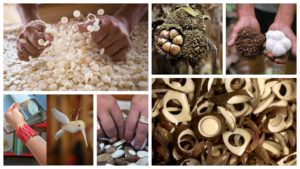 My new found admiration for Corozo as a fashion sustainable product, would not be complete without knowing some more from Cristina Chiriboga Tejada, Trade Officer from the Commercial Office of Ecuador in Mumbai.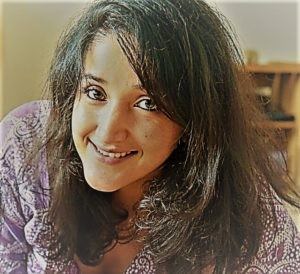 ED: Do you perceive India as a market for your products? How do you plan to collaborate and sustain this exchange?
Cristina: Consumer's choices in India has been changing. Sustainable fashion is a trend that is picking up (of course it is at a nascent stage). Creating awareness is critical, since many brands and designers do not know about the product. Participating in events like LFW creates this awareness. Our experience in LFW 2019 was very productive.
ED: Has `Sustainable Fashion' become a trendy social word to mouth, or, do you see a conscious change in the way the industry perceives and produces fashion?
Cristina: Sustainable fashion is at a nascent stage in India; however, it is very encouraging to see more brands and designers getting interested in how they can make their garments more eco-friendly.
ED: Do you think the industry will end up putting more pressure on Nature – through irresponsible sourcing of materials without consciously replacing what we take so freely from it? 
Cristina: In the case of corozo -vegan ivory- there is no chance of putting pressure on Nature. The tagua palm tree can't be planted, it grows in the wild. The nuts has to fall naturally so they can be used to make blanks and handicrafts. That's the beauty of this product.
ED: Comment on your recent collaboration at Lakme Fashion Week, and what it means for Ecuador. 
Cristina: The experience was very positive and productive. We had the chance to connect with various designers and labels interested in using corozo. LFW is the right platform to create awareness about sustainable alternatives for our clothing choices.
Since, I am now a legit fan of Corozo and the beautiful country of Ecuado that produces this miracle nut, do watch this beautiful video to know more about this seed to finished product, and how a sustainable wild palm tree is building up this economy.